Next weekend, 10 million Brits will be cackling at their television sets, for this Saturday night is the 60th anniversary of the Eurovision Song Contest – the flamboyant musical symposium watched by around 200 million Continent-wide, and I'll be chuckling along with the rest of the nation.
The capering, tinsel-clad numpties! The stool-infesting schmaltz warblers! In recent years we've seen the contest won by a foot-stamping Ukrainian warrior princess and a troupe of wannabe Conan the Barbarians (Ukraine: 2004); cleavage-baring frauleins trying to solicit votes via the erotic use of a butter churn (Poland, 2014); and tone-deaf Eurorave-loving grannies attempting to bake a loaf of bread mid-song (Russia, 2012).
There's no denying it: Eurovision is funny.
But it isn't a joke. Not really. As we cackle, we tend to assume that the rest of Europe's bonkers Eurovision entries are what they consider to be the height of tasteful cultural entertainment: the sort of thing you'd find on the Cypriot equivalent of The South Bank Show. They're not, though.
Eurovision 2015 contestants
Eurovision 2015 contestants
1/38 Serbia's Eurovision 2015 entry: Bojana Stamenov

Serbia's larger-than-life entry Bojana Stamenov has a big voice and a sense of humour to match (assuming she's not taking herself seriously in her promotional photos). The former Serbia's Got Talent finalist says: "I know how to knit and cook…But, watch out, my voice will blow up your mind."

Slobodan Sarić

2/38 Poland: Monika Kuszynska

Poland's contestant, who has been a wheelchair user since 2006 after being partially paralysed in a car crash, hopes to "build the bride of tolerance" this year with her song "In the Name of Love".

Stanisław Leszczyński

3/38 Austria: The Makemakes

The Makemakes were chosen out of an initial 16 candidates who participated in the Austrian national selection this year. Their name is derived from the dwarf planet Makemake

Copyright: Milenko Badzic

4/38 Italy: Il Volo

Pop opera trio Il Volo have performed all over the world, released massively-selling albums and joined songstress Barbra Streisand on tour

Credits: Daniele Barraco

5/38 United Kingdom: Alex Larke and Bianca Nicholas of Electro Velvet

Electro Velvet, a musical duo with an electro-swing sound, will be performing "Still in Love With You", which has already had over 1.6 million views on YouTube.

BBC

6/38 Russia: Polina Gagarina

Polina is a well known actress and model as well as a singer. She has released two albums and lent her voice to the Russian dub of Oz the Great and Powerful in 2014.

Copyright: Respective broadcasters

7/38 The Netherlands: Trijntje Oosterhuis

Well known in her home country, Trijntje Oosterhuis has previously served as a judge on The Voice of Norway. She has also shared the stage with the likes of Lionel Richie and Herbie Hancoc.k

Copyright: Carin Verbruggen

8/38 Armenia: Genealogy

Genealogy consists of six singers who were internally selected by the Public Television of Armenia to sing Face The Shadow in Vienna, a "powerful anthem about peace, unity, and love"

Ruben Martirosyan, Public Television of Armenia

9/38 Switzerland: Mélanie René

Twenty four year old singer Melanie is originally from Mauritius. She wrote her entry song "Time to Shine" while studying contemporary music in the UK.

Copyright: SRF/Oscar Alessio

10/38 Slovenia: Maraaya

Married couple Marjetka and Raay have come together to form indie pop band 'Maraaya'. Raay is better known as a producer, while Marjetka likes to perform wearing her headphones on stage to "evoke the same emotions in the studio".

Copyright: Tanja Zrinski

11/38 San Marino: Anita Simoncini & Michele Perniola

Yes, San Marino - the tiny Italian microstate with a population of 32,000 people - will be competing at Eurovision this year. They will be fielding two 16 year olds who previously competed at the Junior Eurovision Song Contest.

Copyright: Carlo Terenzi

12/38 Romania: Voltaj

Voltaj are one of the most popular bands in Romania, and are using the Eurovision stage to raise awareness of children left alone by parents who leave the country to work abroad.

Copyright: Respective broadcasters

13/38 Montenegro: Nenad Knežević Knez

'Knez' is one of Montenegro's most popular artists, having released 10 albums 23 years.

Copyright: Bojan Stnic

14/38 Portugal: Leonor Andrade

At the age of 21, Leonor Andrade has been performing since the age of four. Like almost every Eurovision 2015 contestant, she has also taken part in The Voice of Portugal.

Copyright: Edgar Vale Fonseca

15/38 Norway: Kjetil Morland & Debrah Scarlett

Morland was born in Norway but has lived in the UK for most of his life and is part of the British band Absent Elk. Debrah is best known in her country for taking part in The Voice Norway in 2013.

Copyright: NRK/Julia Naglestad

16/38 Moldova: Eduard Romanyuta

Ukranian-born Eduard Romanyuta has been performing on stage since the age of four. After Ukraine withdrew from the competition he decided to compete for Moldova

Copyright: Respective broadcasters

17/38 Malta: Amber

Amber is 23 and has competed to represent her country at Eurovision five times before. She was a backing singer for Malta's 2012 entry Kurt Calleja

Copyright: Aaron Briffa & cngfotography

18/38 Lithuania: Monika Linkytė and Vaidas Baumila

Monika Linkytė has previously attempted to represent her country in the Song Contest in 2010, 2011, 2012, 2013, 2014 and in the Junior Eurovision Song Contest in 2007

Copyright: LRT

19/38 Latvia: Aminata

Born in Riga in 1993 to a Latvian mother of Latvian and Russian descent, and a father from Burkino Faso, Aminata thinks of herself foremost as Latvian

Copyright: Martins Cirulis

20/38 Israel: Nadav Gudej

Nadav Guedj, 16, is a French-Israeli singer who will be performing "Golden Boy" in Vienna

Copyright: Ronen Akerman

21/38 Ireland: Molly Sterling

Self-taught 17-year-old musician Molly Sterling is at her happiest when she's singing and playing her piano in her County Tipperary home

Copyright: Richie Mooney

22/38 Iceland: Maria Olafs

Maria Olafs is an actress, singer and songwriter who will be representing Iceland with her song "Unbroken"

Copyright: Jonatan Gretarsson

23/38 Hungary: Boggie

Boggie is a jazz musician best known for her music video Nouveau Parfum, which has been watched over 6 million times on YouTube

Credits: Enikő Vár

24/38 Germany: Ann Sophie

Born in London but raised in Hamburg, 24-year-old Ann Sophie will be representing Germany with "Black Smoke"

Photographer Rolf Klatt | copyright eurovision.de

25/38 France: Lisa Angell

On stage, the French participant will perform N'oubliez Pas - a song of "hope and peace, of courage and solidarity"

Copyright: Nathalie Guyon / France TV

26/38 Finland: Pertti Kurikan Nimipäivät

"The members of our band are four middle-aged, mentally handicapped men. The music is, of course, Finnish punk," – Sami Helle, Pertti Kurikan Nimipäivät

Copyright: Anton Sucksdorff

27/38 Georgia: Nina Sublatti

Former model Nina will be performing her self-written song "Warrior", a song in which she shows her "power and strength, both vocally and personally"

Copyright: Levan Leko Chkonia

28/38 FYR Macedonia: Daniel Kajmakoski

Daniel is a Macedonian-born pop & rock singer, composer, songwriter, and guitar and piano player living in Vienna, where he moved with his family at the age of six. He was named after Daniel Popovic, who represented Yugoslavia it the 1983 Eurovision Song Contest

Copyright: Andreja Damjanovic

29/38 Estonia: Elina Born & Stig Rästa

Three years ago Estonia's hottest songwriter Stig stumbled across a young girl's video on YouTube, where she was singing Christina Aguilera's song Cruz. It was Elina - and the rest could be sweet Eurovision history

Copyright: Stina Kase, Stig Rästa & Elina Born

30/38 Denmark: Anti Social Media

Anti Social Media is a pop/rock band inspired by the warm sounds of the Sixties. Their mission is to revive the simple and happy spirits of bands such as The Beatles

Copyright: Ditte Chemnitz, Anti Social Media

31/38 Cyprus: John Karayiannis

John Karayiannis is 20 and comes from Limassol in Cyprus. In September he will be moving to London to continue his music studies and record his first album

Dre Photo work

32/38 Czech-Republic: Marta Jandová and Václav Noid Bárta

Marta Jandová is a well-known singer in the Czech-Republic and Germany, while Václav Noid Bárta is a popular composer, actor, arranger and singer

Copyright: Monika Navrátilová, Václav Noid Bárta

33/38 Belgium: Loic Nottet

Seventeen year old Loic was a finalist during the third series of The Voice Belgique and has since signed to Sony Music. His favourite artists is Sia

Photography & Art Work by Josh Brandão

34/38 Albania: Elhaida Dani

Elhaida Dani is a real star not only in her home country, but also in Italy where she won The Voice of Italy in 2013

Class Photography

35/38 Belarus: Uzari&Maimuna

Pop music composer and classically trainer lead violinist Uzari and Maimuna share a joint love of Lord Of The Rings

Credits: BTRC

36/38 Eurovision 2015 contestants

Greece's entry was born in Cyprus but has lived in Greece for most of her life. In 2014 she won the Voice of Greece TV show

Copyright: Sophia Dranidou

37/38 Azerbaijan: Elnur Huseynov

Elnur has previously sung in the Eurovision Song Contest in 2008, representing Azerbaijan along with singer Samir

Copyright: Magnus Ragnvid

38/38 Australia: Guy Sebastian

Former Australian Idol winner Guy Sebastian will be representing Australia, which has been invited to take part for the Song Contest's 60th anniversary

Respective broadcasters
As a long-standing Eurovision fan, I've watched the contest around the world, from the gay bars of Oslo to living rooms in Athens and, trust me, they're not sat there saying: "It's a shoo-in! They've clad the accordion player in PVC body armour!" Sometimes, when it comes to international competitions, you end up with a duff entry. Lest we forget, in 2009, we entered a contestant whose career highlight was having won Billericay's Got Talent. Last year, we sent an England squad to the World Cup who didn't know how to play football.
From the off, Eurovision has always been more than a song contest. At the 1956 meeting of the European Broadcasting Union, where the show was first mooted, they weren't brainstorming effective ways to get European toes tapping. They were looking for ways to create a strong European cultural identity. One that would stop the Cold War from either turning our continent into an annexe of Russia or "that bit of the US where they have a decent healthcare system".
Admittedly, its avoidance of Americanisation hasn't been a huge success – see entries produced by US R&B superstar Timbaland (Russia, 2008) or the year that Dita Von Teese was paid to loiter onstage on a sofa (Germany, 2009). But it has made a huge cultural and social impact. When Israel's Dana International took to the stage of Birmingham's National Indoor Arena in 1998, she did so against a backdrop of hatred.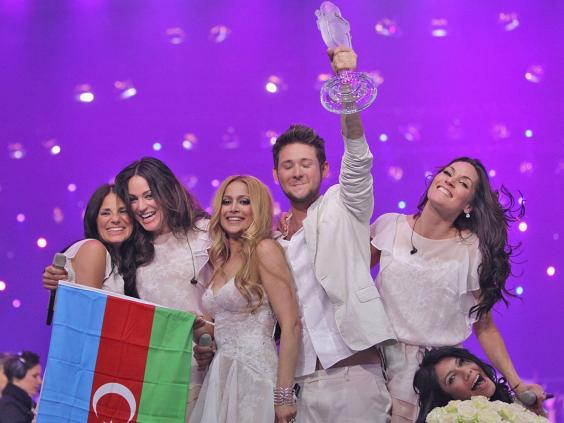 For months leading up to the event, Orthodox Israeli MPs were so incensed at the selection of a transgender woman that they'd begun laying the blame at the feet of the British government, calling her nomination "an abomination" and "a message of darkness".
Yet, as the Eurovision audience watched almost certainly the first transgender pop star they had ever encountered, they didn't boo. They didn't jeer. Across the continent people reached for their phones and voted her straight to No 1. The citizens of Europe had spoken, and they had said: "Ignore the haters: we love you!"
Cut to 17 years later and the contest is about to feature Eurovision's first wheelchair user and this year's Finnish group all have learning difficulties. Other individuals that Europe has opened its heart to include lesbian Romany Gypsy Marija Serifovic, who won in 2007 with a ballad of unrequited sapphic love, and Austria's bearded beauty Conchita Wurst.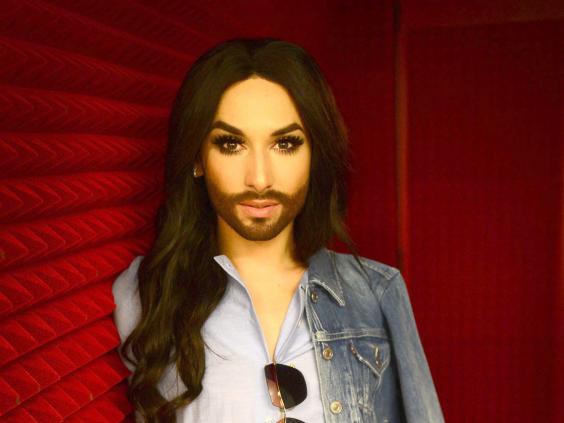 After Wurst's victory last year, the Secretary General of the United Nations, Ban Ki-moon, released a statement calling her "a symbol" for the "fundamental principle embedded in the UN Charter and the UN Declaration of Human Rights". Wurst's message of tolerance so inspired the Austrian Chancellor that he announced his intention to legalise gay marriage.
Though when it comes to Eurovision's political reverberations, that's not the half of it. In 1974, the Portuguese entry wound up sparking a revolution, after it was played on the radio as a signal to rebel troops to take to the streets to overthrow their authoritarian government.
In 1968, when the Austrian government wanted to make overtures to the plotters of a revolution in Prague – whose aim was to end the Soviet regime's repression of liberties such as free speech – they did so by inviting Czech singer Karel Gott to be their Eurovision entrant. And when the 2012 competition took place in Azerbaijan – a country with an atrocious record of human rights abuses and a government known for suppressing critics – hundreds of citizens were allowed to march through Baku, calling for democracy and freedom of speech.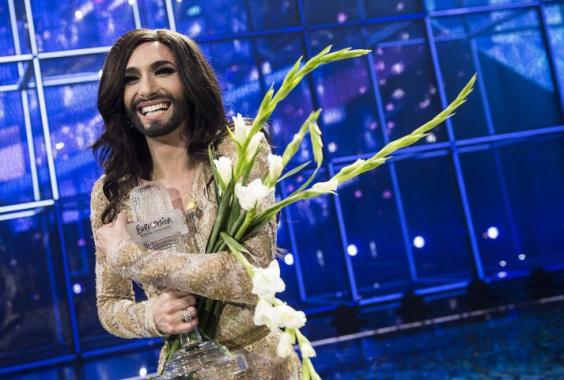 Other things that we can thank Eurovision for? Given that the 1997 contest pioneered the technology required for tele-voting on a mass scale, you can pretty much chalk up the existence of reality TV to Eurovision. Plus, it was a key factor in the development of the pan-European network of fibre optic cables that allow us to watch major sporting events. So key, in fact, that the network's very name is "Eurovision". And the ability to watch a Champion's League semi-final from Nou Camp stadium, without it looking like 22 stick men being attacked by a blizzard of static, is down to the fact that TV executives needed the technology to transmit Cheryl Baker's skirt being ripped off (1981) in clear vision.
Granted, it hasn't always been a well-oiled machine. In its first year, a number of member nations – including the UK – were disqualified after missing the entry deadline. Hence a desperate attempt to bulk out the broadcast that included the Luxembourg entrant simply changing his jacket and hoping no one would notice him performing the same song twice. And, in 1969, the final sparked such controversy that the following year five countries boycotted the contest.
Not just because they awarded sixth place to a 12-year-old singing about his mum. Not just because the female host staggered around the Salvador Dalí-inspired stage under the weight of a 14-kilo porcelain dress. But because it had never occurred to Eurovision's creators that they might need a tie-breaking mechanism. So, when four countries earned the same points tally and the host was left stuttering "Erm, what do I do with the prize?", they had to announce a four-way win and wheel all four entrants back on stage to perform the winning songs.
More recently, one of the biggest embarrassments has been Britain's record. In 2011, the BBC gave up televising the selection of our entrant altogether and resorted to coaxing faded pop stars out of retirement. It was certainly brave to launch this approach with boyband Blue and a publicity blitzkrieg that included a naked shoot for Attitude magazine in which Simon Webbe sternly pointed at his penis as though the reader were an erratic cleaning lady and his nether regions an unmopped patch of lino.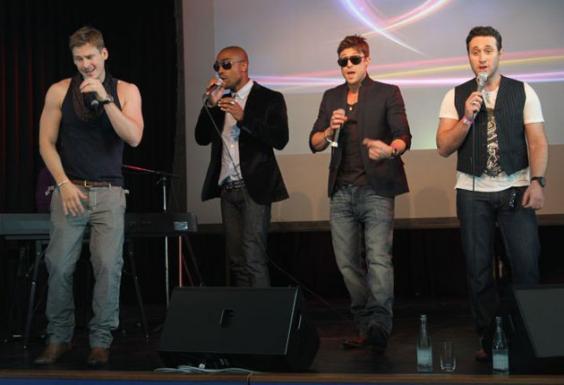 But it was not that surprising that their mawkish ballad failed to make the top 10. Nor that it's got even worse, now that they've abandoned the old-timers (Engelbert Humperdinck, Bonnie Tyler), and moved on to saddling unknown pop wannabes – such as Molly Smitten-Downes (2014) and this year's Electro Velvet – with our national albatross.
Essentially, expect another year in which our entry is so sturdy and plain that you could hammer it into the floor and use it as a fencepost. Don't worry, though, the other nations will provide more than enough entertainment. And, if we're lucky, a little bit of heart-warming social change too.
'The Eurovision Song Contest Grand Final' will be broadcast on BBC1 and BBC Radio 2 on Saturday