In 2007, British student Meredith Kercher was found murdered in her apartment in Perugia, Italy and what followed was a media frenzy surrounding Amanda Knox, one of the case's lead suspects.
Knox and her boyfriend Raffaele Sollecito - whom she'd known for only a week prior to the murder - were charged and later acquitted having been deemed the victims of a miscarriage of injustice by the Italian police force. 
This new Netflix documentary places the microscope upon the story and includes testaments from both Knox and Sollecito as well as lead prosecutor Guiliano Mignini and British journalist on the scene, Nick Pisa.
These are the most eye-opening quotes featured in Rod Blackhurst and Brian McGinn's documentary. 
Netflix originals to look forward to in 2016
Netflix originals to look forward to in 2016
1/14 House of Cards - Season Four - 4 March

Last time we were in Frank Underwood's White House things weren't looking to great for the President, his first Lady having just walked out on him. What will happen next in the critically acclaimed show is anyone's guess.

Netflix

2/14 Daredevil - Season Two - 18 March

Back in Hell's Kitchen things were seemingly getting better. Kingpin is in prison and the crime syndicates should have dispersed - for the meantime at least. Unfortunately for Matt Murdoch, there's a new anti-hero in town: The Punisher.

3/14 Flaked - 11 March

According to Netflix, Flaked is set in the insular world of Venice, California. It follows the "serio-comic story of a self-appointed 'guru' who falls for the object of his best friend's fascination. Soon the tangled web of half-truths and semi-b******* that underpins his all-important image and sobriety begins to unravel. Arnett plays Chip, a man doing his honest best to stay one step ahead of his own lies.

Netflix

4/14 Unbreakable Kimmy Schmidt - Season Two - 15 April

Following the story of 29-year-old Kimmy Schmidt on her journey through New York, season two is set to start right where the last left us. The Tina Fey created sitcom has already been renewed for a third season, so you know this one has to be good.

5/14 The Ranch - 1 April

A comedy starring Ashton Kutcher. Based on a failed semi-pro footballer who returns home to a Colorado ranch. It also has some of the producers from Two and a Half Men behind it, which just happens to be one of the most successful shows of all time.

6/14 Marseille - 5 May

Netflix's first French language original is a tale of 'power, corruption and redemption'. Sounding like it could very well be the next Narcos.

7/14 Grace and Frankie - Season Two - 6 May

The tale of a retired cosmetics mogul and a hippie art teacher living together was a hit across the world, especially in the US. Starring Jane Fonda and Lily Tomlin, the show has already been renewed for a third season.

8/14 Orange is the New Black - Season Four - 17 June

Another Netflix powerhouse, Orange is the New Black will see us returning to Litchfield Penitentiary. Prepare for more Piper, Alex and Red come June.

9/14 Stranger Things - 15 July

Eight-episode series starring Winona Ryder that follows a small community as they look for a young boy who has seemingly vanished. It all sounds quite scary.

10/14 The Get Down - August 12th

"Told through the lives and music of a ragtag crew of South Bronx teens, The Get Down is a mythic saga of the transformation of 1970s New York City." Directed by Baz Luhrmann, this is sure to be as stylish as anything he's done before.

11/14 The Crown - Spring

Starring Doctor Who actor Matt Smith, the period drama "reveals the political rivalries and romance behind Queen Elizabeth II's reign and the events that shaped the 2nd half of the 20th century."

12/14 Luke Cage - Fall 2016

First appearing alongside Jessica Jones in her Netflix series, Luke Cage will pic up the pieces, seeing Cage come to terms with his super-strength and impenetrable skin. It is unknown whether Kathryn.

13/14 Narcos - Season 2 - Fall 2016

It's back. The Netflix series hyped to match Breaking Bad was an astounding success around the world, apparently watched more than Game of Thrones. We'll find out what happens to Pablo Escabar now he doesn't have the protection of all his men.

Netflix Inc.

14/14 A Series of Unfortunate Events - Fall 2016

Netflix is set to revisit the much-loved children's novel, putting Neil Patrick Harris as Count Olaf in a show that looks so much creepier than the 2004 film. Not much else is known - i.e. casting - but Lemony Snicket is on board as executive producer, so get excited.
Knox
"There are those who believe my innocence and there are those who believe in my guilt. There's no inbetween - either I'm a psychopath in sheep's clothing or I am you."
Knox on her time in Italy before the murder
"I was living with these Italian women and a British girl my age who was super sophisticated [Kercher] and we had this beautiful house that overlooked this valley. I was owning it."
Mignini after arriving at the crime scene
"Outside, I saw two young people [Knox and Sollecito]. They were comforting each other with an affection inappropriate for the moment."
Pisa on breaking the autopsy results story
"To see your name on the front page with a great story that everyone's talking about - it's just a fantastic buzz. I'd like to say it's like having sex or something like that."
Sollecito recounting the time he arrived at the apartment before the discovery of Kercher's body  
"I saw all this mess. It was very weird and I was a little bit surprised that [Knox] took a shower inside her house without having the anxiety of it."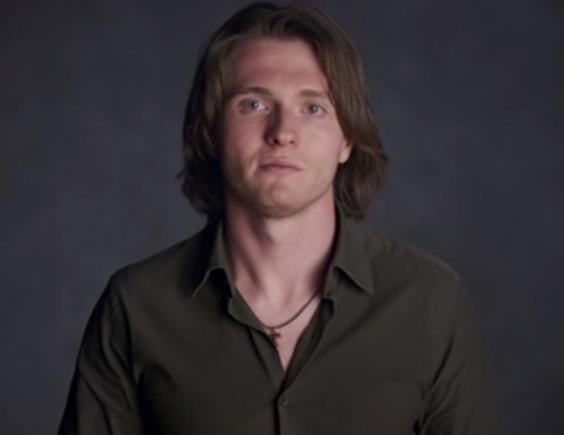 Mignini addressing Knox's changing alibi
"Amanda had a very unusual way of reasoning. She kept going between dream and reality."
Knox on the discovery of the murder weapon with her DNA on it.
"The knife I could not explain. There are no reasons for my DNA to be on the handle and Meredith's DNA to have been on the blade. It was impossible."
Sollecito on his relationship with Knox
"I was very shy. And I didn't date girls. So when I was with Amanda, I was so happy to enjoy life and to enjoy my new relationship. Why should I go and murder a girl?"
Mignini on Knox 
"Amanda was a girl that was very uninhibited. Hearing Meredith's friends convinced me if you could imagine a girl different from Amanda in every imaginable way, it would have been Meredith."
Knox after being found guilty and imprisoned to 26 years in prison
"Suddenly, I found myself tossed into this dark place. I thought about suicide. I thought about all the ways that I could do it. Me not coming home again until I'm in my 50s, until members of my family have died - I was poisoned."
Sollecito speaking about his feelings for Knox following their imprisonment
"I was thinking about Amanda and I wanted to send her flowers on her birthday to say. "I'm here." But she clearly told me that her feelings were completely changed. Even though I'd known her only for five days, those five days were everything,"
Independent forensic expert Dr. Stefano Conti on the unstable state of the crime scene
"You could see a lot of coming and going of people without protective suits. In other words, total chaos."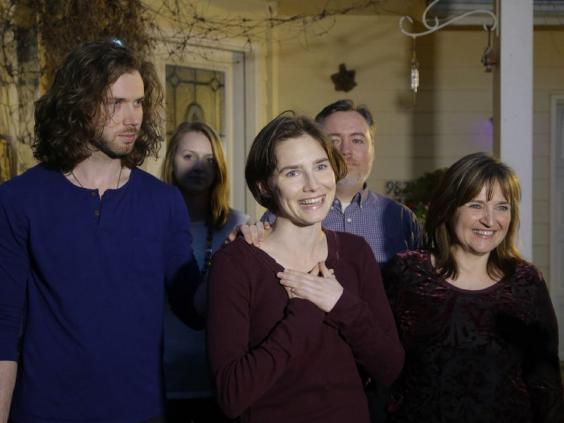 Knox on the botched DNA report
"You're trying to find the answer in my eyes when the answer is right over there. You're looking at me. Why? These are my eyes - they're not objective evidence
Knox on life in Seattle following her release
"I get into a line at the grocery store and the person behind me's like 'Woah, it's you. I know you.' And I really want to turn to them and go 'Who the f*ck are you? And you don't know me'."
Mignini on Knox and Sollecito's acquittal
"If they're guilty and earthly justice didn't get to them, I hope they own their guilt because I know that life ends with a final trial."
Amanda Knox is available to watch on Netflix now
Reuse content