"I 'm not a crazy Jane Austen fan," shrugs Kiwi comic actor Bret McKenzie, determined not to lose his credibility despite co-starring with Jane Seymour in the Jane Austen-themed regency romp that is Austenland.
"I was more of a Brontë fan. There weren't enough moors in the Austen books. I thought Wuthering Heights was miles better than Jane Austen, certainly a lot less repressed."
Ask him if he's even read any of Jane Austen's novels, he has a quick punch-line: "I just read a book by Jane Austen Powers: Jane Austen has a super-power bonnet that she uses to solves crime," quips McKenzie, best known as one half of TV comic duo Flight of the Conchords with long time stand-up partner Jemaine Clement.
If repartee is McKenzie's stock-in-trade, then his Best Original Song Oscar last year for "Man or Muppet" – featured in The Muppets movie – further cemented his serious reputation as a go-to songwriter.
When we meet over tea at the Windows Lounge in Beverly Hills, he's just completed music and lyrics for the hotly anticipated Muppets Most Wanted live-action sequel, which promises to be a far edgier proposition, starring Ricky Gervais and Tina Fey.
"Did you know Ricky Gervais was a singer in the Eighties? It's great because he's a really good singer and does a fantastic duet with a frog.
"This one is a lot less saccharine than the first," he assures. Presently featuring alongside Seymour, Keri Russell and Jennifer Coolidge in Austenland, McKenzie tells of his surprise upon arriving at the film's Bath location to discover it was a Mormon production.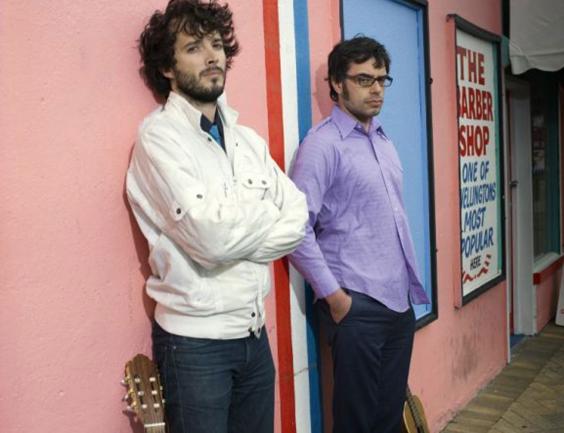 "People probably don't realise that," he says of what is an entirely female Mormon enterprise, produced by Stephenie "Twilight" Meyer, written by Shannon Hale, and directed by Jerusha Hess.
"To be honest I'm pretty impressed by the Mormons. They're just really cool although I think I met the coolest Mormons. It wasn't like working on a Scientology film where they're secretly trying to screen my calls. Next time I'll do a Scientology film! But I love how Stephenie Meyer kind of heads up the Hollywood Mormon mafia. I'm making that up..." he laughs. "But I didn't realise it was a Mormon film until I got there and found everyone was a Mormon. When you think about it, the Austen world and the Mormon world are perfectly aligned because there is a sexual repression and the Mormons wear long dresses which is quite Jane Austen-worldy."
Once on set, he admits to being a little scared of Jane Seymour: "I was intimidated to meet her because she's so famous, and is almost like royalty. She's real old school – from a whole other generation of Hollywood and she's got great stories and anecdotes. She was a trip, man."
Unfortunately, he had to forgo Seymour's invitation to tea at her castle: "I had my kids with me and my son was 10 weeks old so it was not a good time and I couldn't really go out very much but she's a social bully – forcing the cast to go out and visit her castle in Bath. I don't think I'll ever meet anyone else who owns their own castle."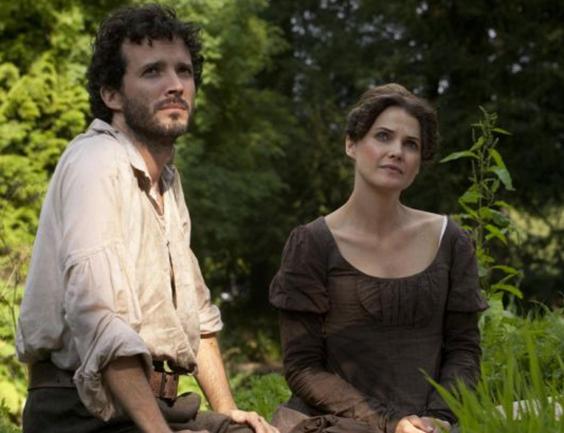 While he's no Austen fan, he does confesses to the odd romantic gesture. "When I got engaged, I buried the ring in the sand for my wife to find on a beach at the top of the South Island. I drew a heart shape around it so she couldn't miss it," he says of his college sweetheart Hannah Clarke, whom he finally wed four years ago, the couple now parents of two tots.
"So I think I am a little romantic, definitely more than pragmatic," offers McKenzie, 37, who is still based in his New Zealand hometown of Wellington.
"I think that's quite a Kiwi thing to do, to be together for a long time before getting married, whereas in America everyone gets married in about a year or two and then you have a few marriages.
"I find LA very business-obsessed and NZ is not, so that's really refreshing. In LA everyone is constantly talking about films and if you go to a cafe in LA people are sitting there writing screenplays, so its healthy to get out of LA."
He had a similar practical approach to his decision to walk away from Flight of the Conchords, at the peak of its success: "We weren't interested in doing it any more. They offered us quite a lot of money but it wasn't really about the money at that point. I think we're old enough to know that money isn't going to solve the problems.
"If we were younger we probably would have been bullied into it which I think a lot of people end up doing, and we didn't want the show to get worse. Often the first couple of seasons are great and then they go off the boil, in fact, most shows. We grew up with the British model where most TV shows are only two or three seasons of six. That's when the world starts to run out of ideas I think, but the corporate American machine has managed to create a system where you can keep it going for years," says McKenzie, who met comedy partner Clement almost 20 years ago when they attended Victoria University of Wellington and became flatmates. Honing their act, they later took to the road performing around Australia, New Zealand, US and UK. Their TV show may no longer exist, but the fans have not forgotten: "Usually people ask, 'where's Jemaine?' or they yell 'band meeting!'"
Introduced to the arts early on, McKenzie's father Peter was an actor/singer and his mother a ballet teacher. "I thought I was going to be a professional ballet dancer until I was about 12. I've got some dangerous moves – but I can't do them here! My mum was a big influence on me because my parents were separated so we lived with her although our dad was around," says McKenzie, who has two brothers. "We had lots of artists staying at our house and we were the kids ushering at small productions so we saw shows night after night. They had all these ballet productions with kids and it was really easy for the boys because there'd be like 300 girls trying to get the parts and only three guys, so the guys always got the jobs!"
Making his big screen debut 12 years ago in a uncredited role as an elf in The Lord of the Rings: The Fellowship of the Ring, introduced to the franchise by his father Peter McKenzie who had the larger role of Elendil, Bret recently returned to the Hobbit fold, playing Lindir in last year's The Hobbit: An Unexpected Journey.
"My dad trains racehorses. He's got a real gambling streak in him which you need if you're in the entertainment industry. You never know when its gonna happen."
'Austenland' opens on Friday