Let's get the storybook analogies out of the way now. British actress Lily James, already a star of Downton Abbey, must have her very own fairy godmother, sprinkling magic dust on her career. This month, she takes the lead in Kenneth Branagh's sumptuous new live-action version of Cinderella, before playing centre stage in a slew of other high-profile projects – from the anticipated zom-com Pride and Prejudice and Zombies to a more traditional BBC adaptation of War and Peace.
We're sitting in a glitzy Berlin hotel, with the 25-year-old James about to embark on a world press tour for Cinderella. Russia, Italy, America, Mexico and Canada await her, though she's well aware "that lasts for a little time-frame and then it's gone". Then it's back to her flat in  Peckham; a south-east London equivalent, maybe, of the clock striking midnight and her carriage turning back to a pumpkin. OK, enough with the fairy tales.
James, wearing black flats and a long-sleeved Lanvin dress, can't quite believe what's happened to her. Just five years ago, she was graduating from the Guildhall School of Music and Drama. There were roles on stage, including Desdemona in a production of Othello at  Sheffield's Crucible Theatre opposite Dominic West, and on film in the 2012 sporty feel-good flick Fast Girls, before she arrived in the final episode of series three of Downton, as the oh-so-naughty Lady Rose.
She's been in every season since – and is hoping to return for the sixth series this year, depending on schedules and creator Julian Fellowes' "imagination". But she maintains that her everyday existence didn't change after winning the role. "[With] Downton… people have this idea that your life is so different, and it's just not," she says. "I think people really think it does and I don't know whether they want to believe it does, or whether they want to assume that you've changed."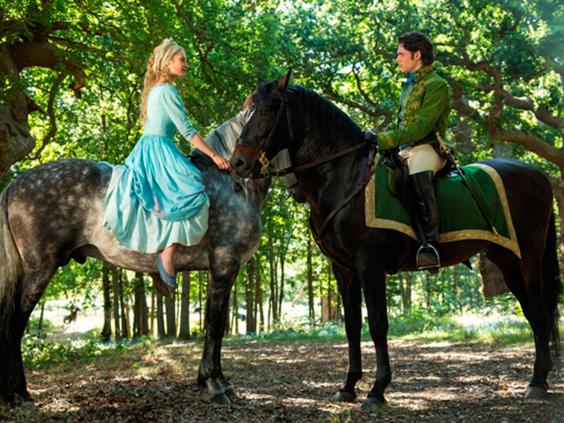 On one level, that's hard to believe. James is currently dating Matt Smith, the former Doctor Who star whom she worked with on the upcoming Pride and Prejudice and Zombies. But then James says she doesn't "get stopped or hassled" in the street.
"I'm really anonymous," she says. "I think I'm quite chameleon-y. I look quite different on camera to how I look in the flesh. Some people have such unique faces or such a strong look that you can't help but notice them. I don't think I'm really like that."
With brown eyes, thick eyebrows and her hair pulled back, she may not boast the bone structure of a Keira Knightley but the camera loves her. In Cinderella, dressed in Sandy Powell's luminous costumes, she looks quite remarkable, commanding the classic ballroom scene in a gown fit for a Disney princess (made up, in case you're interested, of more than a dozen layers of gossamer-fine silk in different shades of pale blue, turquoise, and lavender).
Of course, winning a role like this is about more than just being a mannequin. James originally read for one of the cruel stepsisters that reduce poor orphaned Cinderella to a mere skivvy, but then she was asked to try out for the lead. Branagh speaks about her intelligence, warmth, patience – and her entire lack of self-consciousness. "Somebody said something funny, she laughed and then she suddenly did a big snort!" he remembers. "She didn't seem remotely embarrassed about that – and why should she be?"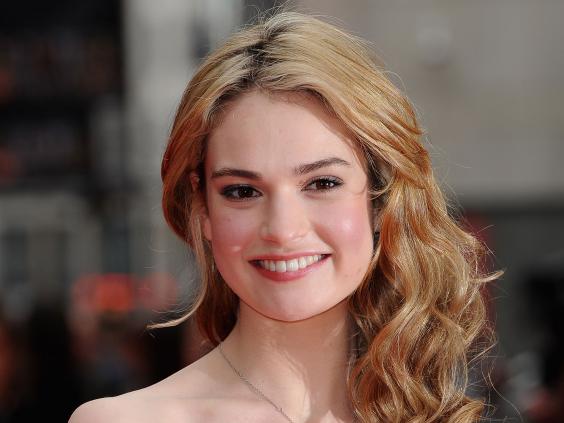 Honouring the innate goodness of the character, without ever seeming schmaltzy, what's clear is the James can hold her own among the big guns – whether it's Downton's witheringly acerbic Maggie Smith or Cinderella's Cate Blanchett, who plays her wicked stepmother Lady Tremaine, or Helena Bonham Carter, who is the dippy fairy godmother. "They say never meet your idols, don't they?" remarks James. "But Cate, Helena… they've excelled every expectation I could ever have."
She's certainly thought carefully about what fairy tales meant to her. "Fairy tales and princesses get a bad rap, because it's this idea of Prince Charming sweeping you off your feet," she says. "But in a way there's so much more to fairy tales. What I look back on as a child, it's all to do with dreaming of more, of not settling, of a love, of romance and travel, of the world and magic – and I like the idea of dreaming, something that takes you away."
Born in Esher, Surrey, she spent her childhood listening to such stories told to her by her father, actor and musician James Thomson. She also loved to sing (and, as you can hear in Cinderella, she has a mellifluous voice). "I drove my brothers mad being this little girl that was running around singing!" she says. "I just never stopped." By the time she was 18, it was almost inevitable that she'd go to drama school. "I don't have any regrets. It was just my journey."
Acting was clearly in the blood. Her grandmother, Helen Horton, appeared in numerous films and TV shows, even voicing the ship's computer Mother in Ridley Scott's Alien. "I definitely come from a family that has that spirit of play," says James. It wasn't all happy-ever-after, though. Her father died in 2008, around the time James started at Guildhall. "Drama school was a lifeline for me, it saved me," she says. "I found it very nurturing – I just clung on."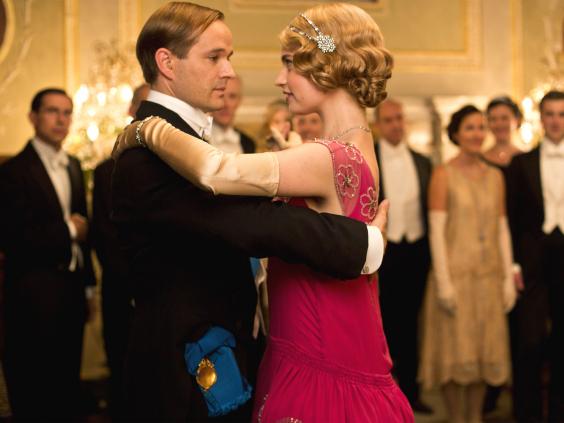 After graduating, Equity forced her to change her birth name, Lily Thomson, as there was already an actress with the same name. "I was really upset," she says. "But I changed it to 'James' which was my dad's name. It's really important to me now." Not that it's always easy to get your head round. "It's confusing – when you book a ticket to a play or when I check into a hotel, I never know which name to give and you seem like an imposter."
It's not hard to sense confusion in James,  of the 'why is this happening to me?' variety. "I'm at a point in my life where you start questioning your choices and you think 'Why did I do this? Do I love this?'" she says. It's difficult coming out of drama school, shooting to such early success and leaving her peers behind. "First of all, you want to tell everyone you've got a job, and now I don't want to tell anyone… but then you realise that everyone is on their own journey."
Inevitably, comparisons are being drawn between James and those other English roses – not least Kate Winslet, who was directed by Branagh in his 1996 version of Hamlet. "On the one hand, I don't know why we always have to compare ourselves to each other. On the other hand, I think Kate Winslet is amazing." (Titanic was the first film she ever saw at the cinema). I point out that that in a few years, another starlet will be "the new Lily James". "God, poor them!" she laughs.
With her roster of upcoming projects, those comparisons will be stopping sooner rather than later. She's midway through shooting a six-part Andrew Davies-scripted adaptation of Tolstoy's masterpiece War and Peace, playing Natasha opposite Paul Dano's Pierre. Then there's Pride and Prejudice and Zombies, based on the 2009 parody novel by Seth Grahame-Smith. James plays Jane Austen's heroine  Elizabeth Bennet, albeit in a bizarre-sounding tale that blends elements of the story with the walking dead. "It's not a pastiche," says James. "It's very hard to describe."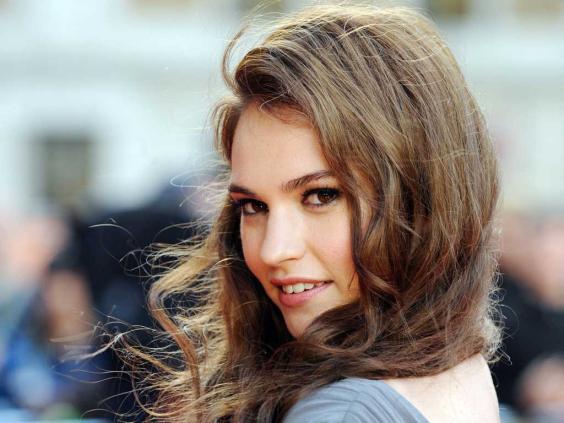 If all that wasn't enough, she has a small role opposite Bradley Cooper in an upcoming still-untitled culinary-themed movie. Then, in a year's time, she'll be back with Branagh, as he directs her and Richard Madden, who plays her Prince Charming in Cinderella, in a new stage version of Romeo and Juliet at London's Garrick Theatre. "I'm really excited about it," she admits. "It's such early days. I just need to read it again, and read it and read it. Put it under my pillow and dream about it."
She calls Branagh a mentor "in a massive way", and it's clear just how much she looks up to him. Even so, playing Juliet on the London stage after all these other characters is a remarkable weight to shoulder. "I want to do something [that's] not iconic next," she says. "I think part of my stress levels are due to the fact that there is a lot of pressure playing these roles. Maybe one of them I'll conquer – not that you ever could, because they're too vast."
Perhaps this rapid acceleration was not quite how she envisioned it. She cites her role in Martin Crimp's stage drama Play House back in 2012, which she performed at Richmond's Orange Tree Theatre. "I played this crazy girl that was completely bipolar and manic, and I actually felt most like myself playing that part! Now all of a sudden, I'm doing all these ingénues." It won't last, of course. Already, there are actresses younger than her snapping at her heels. "I'm like 'Bugger, I'm not going to be able to play the 18-year-old anymore!'" She pauses. "Actually that's a good thing."
'Cinderella' is released on 27 March
Reuse content