Eddie Redmayne speaks in commas. The response to a question will start, be amended by a clarification, never an aside, and then another. It's clear he wants to get every comment exactly right – a trait that he brings into his work as an actor.
But there is another, less fortunate, by-product of this mannerism, something that he says afflicted him when he first met cosmologist Stephen Hawking: "I had verbal diarrhoea and basically just spewed forth information about him, to him, for the first half an hour."
Oscars 2015 winners
Oscars 2015 winners
1/15 Best Actor

Eddie Redmayne picks up his award for Best Actor (Robyn Beck AFP)

2/15 Best Actress

Julianne Moore picks up her award for Best Actress for her role in Still Alice (Robyn Beck AFP)

Getty Images

3/15 Best Picture

The cast and crew of Birdman accept their Best Picture Oscar on stage

Getty Images

4/15 Best Supporting Actress

JK Simmons

Getty Images

5/15 Best Supporting Actress

Patricia Arquette

Getty Images

6/15 Best Director

'Birdman': Director Alejandro Gonzalez Inarritu accepts the Best Director Award for Kevin Winter/Getty Images)

7/15 Best Screenplay

Birdman: Director Alejandro G. Irritu, Nicolas Giacobone, Alexander Dinelaris, Jr. & Armando Bo (ROBYN BECK/AFP/Getty Images)

8/15 Best Documentary Feature

CitizenFour: Laura Poitras (2nd L) embraces The Guardian journalist Glenn Greenwald (C), as Mathilde Bonnefoy (R) and Dirk Wilutzky (L) (ROBYN BECK/AFP/Getty Images)

9/15 Best Adapted Screenplay

The Imitation Game: Graham Moore (ROBYN BECK/AFP/Getty Images)

10/15 Best Production Design

The Grand Budapest Hotel: Adam Stockhausen (Production Design) and Anna Pinnock (Set Decoration) (ROBYN BECK/AFP/Getty Images)

ROBYN BECK/AFP/Getty Images

11/15 Best Visual Effects

Interstellar: Paul Franklin (2ndL) , Andrew Lockley (R) , Ian Hunter (L) and Scott Fisher (ROBYN BECK/AFP/Getty Images)

12/15 Best Animated Feature

Big Hero 6: Don Hall (C), Chris Williams (R) and Roy Conli (ROBYN BECK/AFP/Getty Images)

13/15 Best Cinematography

Birdman: Emmanuel Lubezki AFP PHOTO / Robyn BECK (ROBYN BECK/AFP/Getty Images)

14/15 Best Sound Editing

American Sniper: Alan Robert Murray (R) and Bub Asman (ROBYN BECK/AFP/Getty Images)

15/15 Best Foreign Language Film

Ida (Poland): Pawel Pawlikowski (ROBYN BECK/AFP/Getty Images)
It was five days before shooting was to begin on The Theory of Everything, in which the 32-year-old actor plays Hawking during his university years at Cambridge in the early Sixties, when he fell in love with Jane Wilde, who became his first wife. It was the period when he became afflicted by amyotrophic lateral sclerosis, a form of motor neurone disease, which led to him being in a wheelchair.
In typically segmented fashion, Redmayne says of the first meeting: "When I met him, I'd done the first six months of research, in that process, having known very little about him, other than what I suppose is the voice icon, black hole something, that I became quite, the more I read about him, the more idol-like he became."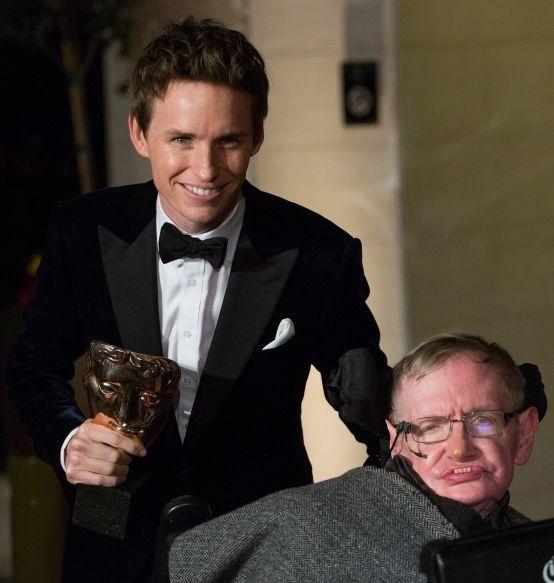 The research was extensive. The actor spent time with Hawking's family. He also visited patients suffering from amyotrophic lateral sclerosis, and asked their families questions about coping with the disability. He watched footage of Hawking and read A Brief History of Time, without grasping all the intricacies of Hawking's classic 1988 text. Meeting the physicist was one of the last things Redmayne did before the shoot and he was worried that the person he was about to meet was not the character that he had prepared: "There were so many things in that first meeting, specific things that were so useful, such as he asked me if I was playing him before the voice machine.
"He told me that his voice had been very slurry, but we hadn't taken that on board so much. We'd watched some of the documentary material where his voice was almost incomprehensible. So I could go back to the producers, and more importantly director James Marsh, and say we need to take this on board, but we still didn't go quite so far because they didn't want to use subtitles, but it did give me permission to really go and be pretty strong with that, because it was important for Stephen [Hawking] and screenwriter Anthony McCarten that we show the illness in full." The other thing that he noted, and something which is central to the love story that glues the movie together, is that Hawking is a very funny man. The actor points out: "Although he can move only a few muscles, he sort of emanates this vitality and humour, this wit and flirtatiousness."
The film is based on the book Travelling to Infinity – My Life with Stephen by Hawking's first wife, Jane. She is played by Felicity Jones, an actress Redmayne has long respected. "How I know Felicity is through the Donmar Warehouse. Michael Grandage, who used to run the theatre, he was our great supporter, he gave Felicity and me, both individually, great roles. It was so lovely to have someone who is a friend and whose work I admired, and who I never got to work with, to jump into this with because the stakes felt pretty high."
It was in theatre that Redmayne got his big breaks. In 2002 he made his debut in Twelfth Night. He won the Outstanding Newcomer award at the 50th Evening Standard Theatre Awards in 2004 for his performance in Edward Albee's The Goat, or Who is Sylvia?. Redmayne twice appeared in Grandage productions at the Donmar to much critical acclaim. The first time was in 2009 in Red, a play about Mark Rothko in which he played the artist's fictional assistant Ken. After its transfer to Broadway, Redmayne won a Tony Award for Best Performance by a Featured Actor in a Play.
He followed this by playing Richard II in 2011. It was a performance described as "brilliant" by The Independent's theatre critic Paul Taylor. He says that one aspect of playing the Shakespearean king helped him when essaying Hawking. "I'd done a lot of new plays and Richard II was the first one I'd done in a long time where lots of people had played it before. It's a part that people know, even though I didn't know it very well beforehand, and so in its own way it has that icon thing, and what I found with the Hawking film is that everyone has an opinion on Stephen Hawking."
It's almost par for the course that if an actor performs well essaying a character with a disability or someone famous, they'll be mentioned as an Oscar candidate. It's no different here, with Redmayne leading a British charge for Oscar glory. The other Brits are Benedict Cumberbatch, for his portrayal of British mathematician Alan Turing in The Imitation Game, and David Oyelowo, who plays Martin Luther King Jr in Selma. All three have already been nominated for Golden Globes.
Nonetheless, Redmayne avoided watching some of the great performances of actors playing people with disabilities: "You know what, I'd seen My Left Foot and I'd seen The Diving Bell and the Butterfly, which people talk about, and I'd watched them years ago, but I didn't watch them again. It's interesting because people talk about disability in film in such broad terms, but this is such a specific illness that what I did do was go and spend four or five months in a neurology clinic."
Yet there was also an acknowledgement that working on the film would have some career ramifications. "I fought hard to try and get it, so there must have been something in me that said this is a dream part. The second I got it, there was an instant euphoria, followed by, like, a punch in the stomach, a fear: it felt like a part that was such an amazing opportunity but could also cause so much offence."
It has been quite a year for the Londoner, who was in the same year at Eton as Prince William before going on to study history of art at Cambridge. He got married to his long-term partner Hannah Bagshawe on 15 December at a candlelit ceremony at Babington House in Somerset, which helps explains his absence from the cameras since making The Theory of Everything. He does have a part in the space adventure Jupiter Ascending, directed by Andy and Lana Wachowski, but that film has been beset by production problems, reshoots, a long editing period and changes in release dates. As a result it will not be released until February, even though it was filmed before Redmayne took on Hawking.
He also says that having been working constantly for more than a decade, on both stage and film, most notably in the screen adaptation of Les Misérables, it was time for a break: "You know what, I haven't done anything since. I'm normally quite good at jumping into other roles, but to be honest with you I'd just taken quite a hit, [but] I've started to prep now. [My next] film is called The Danish Girl, which Tom Hooper is directing, with Alicia Vikander."
It's another prime role, reuniting him with the director of The King's Speech and Les Misérables in an adaptation of Lucinda Coxon's novel inspired by the true story of the Danish painter Einar Wegener, who caused a storm when he became one of the first men to undergo a sex-change operation.
This article was originally published on 29 December 2014. It has since been edited and republished.
Reuse content