"People always look for something to complain about," Christopher Nolan says with just a hint of exasperation when reminded of recent grumbles that his sci-fi epic Interstellar has passages of dialogue that are inaudible.
Nolan doesn't concede that this was the case. He also makes it very clear that every last cough, splutter and murmur in the movie is absolutely intentional. It is all part of the elaborate sound design intended to heighten the tension and convey to audiences the experience of being stuck in a spaceship a very long way from home.  
What irks him most of all is the idea that he might have been sloppy about the sound mixing. The 44-year-old British director is a perfectionist. "Everybody is entitled to their opinion," he says. "I fully accept and have no problem with people not liking something. But they should never try to imply that I don't know what I am doing or I haven't done it carefully – because I have!"
In box-office terms, Nolan is one of the most successful directors in cinema history. His movies (Memento; Insomnia; the Batman trilogy; The Prestige; Inception) have made more than $4 billion at cinemas worldwide. That is why the British film industry feels a little sheepish: he is the talent that was allowed to get away.
Nolan is British-born and British-educated, although he has an American mother and US citizenship. His wife, the producer Emma Thomas, is British. He talks about himself as a Brit, and sounds and dresses like one, in a dapper, Alan Whicker-esque way. His debut feature, Following, was shot in London. However, he has been working in the US studio system for well over a decade now. Nolan (who is passing through London for special awards screenings of Interstellar) freely admits that he was given no support whatsoever from the British film industry at the start of his career.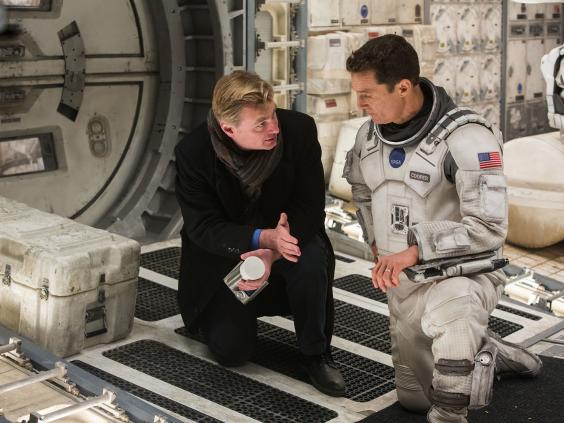 "Our national character is a little bit suspicious of new things coming along. I don't think that is a bad thing in general, but when it comes to film, it means that if you're starting out and don't have anything you can point to and say that these are your credentials, it is very difficult to break in."
Hollywood, by contrast, welcomed him. Nolan is now one of very few film-makers whom the studios will entrust with budgets of hundreds of millions of dollars, which is something of an irony considering British funders were reluctant to back him at all.
"One of the surprising things, when you go to work in Hollywood, is to realise how much the studios actually value novelty and originality," Nolan says. "I don't view Hollywood as an American phenomenon, I view it as international. One of the reasons I've enjoyed working on mainstream Hollywood blockbusters is that they are crafted and told in what I consider to be a very accessible and universal language, so that they can play all over the world. I undoubtedly bring, I suppose, a British sensibility to that, but if you look at Hollywood, whether you're talking about Billy Wilder or Alfred Hitchcock or whoever, it has always embraced all kinds of international voices."
The director acknowledges that Hollywood needs sequels and franchises "to provide a certain amount of stability in the industry", but insists that innovation is more important. His own work tends to be dark, offbeat, and to attack our intellects as well as our emotions.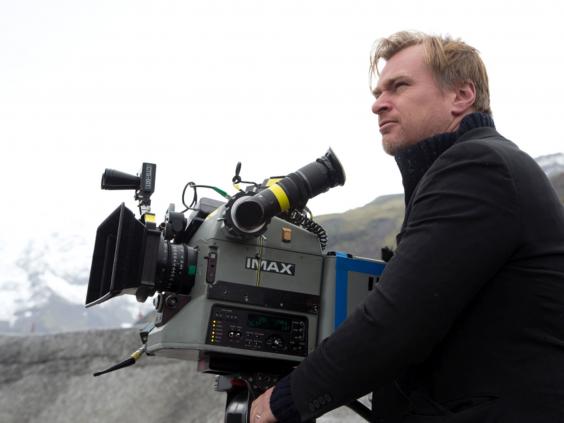 2014 hasn't been a great year for the global box office. Summer takings were way down. Some have asked whether cinema itself might now be in a slow but terminal decline. In a digital age in which films can be watched on smartphones and tablets, will the appetite for big-screen spectacle of the kind that Nolan specialises in remain?
Nolan gives very short shrift to the idea that cinema might be dying. "Watching a story of about two hours unfold with an audience is one of the great experiences. For many years, cinema has really been the dominant storytelling medium in pop culture, and I don't think that is going to change any time soon."
As far as he is concerned, cinema will thrive as long as it manages to surprise and excite its audiences. "It is essential to have original stories, and that we encourage the viewing habits of people who come to the theatre, buy a ticket and sit with an audience to watch something that they don't already know what it is. That is the lifeblood of the movies"
The director has an old-fashioned devotion to "analogue" film stock. He doesn't like to shoot on digital. Ask him why not and he strikes a very evangelical note. His fear is that present-day Hollywood is far too preoccupied with television. "Television does television better than movies. We have to be offering audiences a different experience."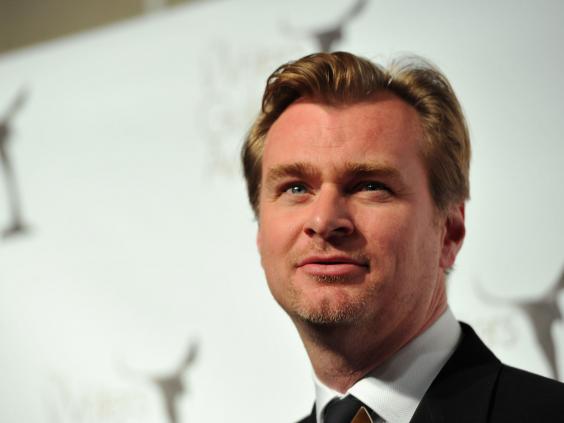 Nolan shoots his movies in the grandest way he can: 70mm Imax is his format of choice. "There is something special about film," he declares, as he riffs away in slightly bewildering fashion about pixels, bit depth, RGB and image quality. "If you put a gun to my head and said 'what is the resolution of 35mm anamorphic?' I would say that off an original negative, it is at least 6K. There are no digital cameras that even record at 4K. There are some that claim to … but they don't! In purely technical terms, film is still a clearly superior medium."
Interstellar film stills
Interstellar film stills
1/11 Interstellar

Matthew McConaughey and Anne Hathaway

Warner Bros

2/11 Interstellar

Matthew McConaughey in Interstellar film

Warner Bros

3/11 Interstellar

Matthew McConaughey and young actress Mackenzie Foy in Interstellar

Warner Bros

4/11 Interstellar

Christopher Nolan filming Interstellar

Warner Bros

5/11 Interstellar

A preview image ahead of Interstellar released on Friday

6/11 Interstellar

Anne Hathaway in Interstellar

Warner Bros

7/11 Interstellar

Jessica Chastain stars in Interstellar

Warner Bros

8/11 Interstellar

The spaceship

Warner Bros

9/11 Interstellar

A family scene from Interstellar film

Warner Bros

10/11 Interstellar

Matthew McConaughey and Anne Hathaway play in Interstellar

Warner Bros

11/11 Interstellar

A scene from the Interstellar
Nolan also points out that the audience's eye develops over time. Digital visual effects that seemed very impressive to us in the 1990s "don't hold up today … and early efforts at digital cinematography, which were held out to me as being as good as film, you look at them now and that's a laughable claim."
Nolan is an English literature graduate (he studied at University College, London) and yet he talks about movies as if he is an MIT lab technician. Kip Thorne, the professor of theoretical physics who acted as advisor during the writing and making of Interstellar, recently observed that Nolan "knew a remarkable amount of relevant science and had deep intuition about it … Chris brought remarkable science ideas of his own to the film, ideas that my physicist colleagues will assume were mine."
Ask the director what drives his passion for science and he points to its poetry. "If you eliminate the mathematics, if you eliminate algebra (which I have no understanding of), and you look at the layman's version of physics, those ideas are very exciting." His brother Jonathan, who co-wrote the screenplay for Interstellar, pointed out to him that Einstein's ideas about relativity – for example, the "twin paradox" thought experiment – "were very literary, very affecting". Kip Thorne also emphasises that scientists rely on intuition and feeling as well as calculation. "That's where art, if you like … really crosses over with science. That is the common ground we find."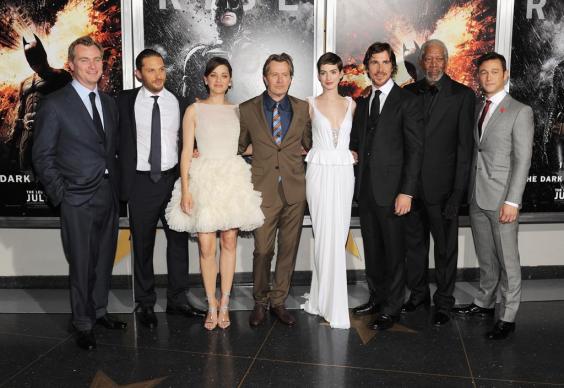 Nolan has worked with some very big movie stars, among them Robin Williams and Heath Ledger, whose premature deaths each caused global outpourings of grief. Why does he think these actors' deaths affect the public so deeply? Nolan suggests that Williams and Ledger "had the elusive quality of charisma; star quality. It's something very mysterious and very indefinable, but you know it when you see it and the audience know it when they see it. The best that I can sum it up is that a great star can carry the audience, be a proxy for the audience, be a conduit for the audience's engagement with the narrative."
Audiences, he continues, feel a very personal connection to these stars, which is why they're so affected by what happens to them off screen too. Nolan describes Robin Williams's performance in his 2002 thriller Insomnia as "very, very precise … very truthful to the darker side of human nature. Robin was an incredible talent, and perhaps undervalued as a dramatic actor because his incredible gift for comedy overshadowed it."
Nolan is coy about his future projects. It has been reported that he is taking an executive-producer role on the forthcoming superhero movie Batman vs Superman: Dawn of Justice, and there is speculation that he may direct an adaptation of Ernest Cline's sci-fi novel Ready Player One. But the director refuses to give details. "[The composer] Hans Zimmer puts it very interestingly. He talks about sneaking up on a thing. If you pull something out of the drawer or take it out of the oven too soon, it dies on you. You have to take your time and see if something connects with you over years, because, really, any films I work on – it's a couple of years of my life at least. My nightmare is to get halfway through something and lose my love for it and obsession with it."
'Interstellar' 12A is on general release
Reuse content