Jack O'Connell is only getting started. Back in 2009, he was one of a cast of unknowns entering the third series of Channel 4's teen-acting-talent production-line, Skins. Now, the 24-year-old Midlander is the leading man in Angelina Jolie's latest directorial project, and on first-name terms with Brad Pitt.
This year, O'Connell has proved himself as one of Britain's most exhilarating young actors in both the prison drama Starred Up and this month's Troubles thriller '71. Not bad for a "mouthy gobshite" from Derby.
"A character like Eric..." he says, of his breakthrough lead film role in Starred Up, "I'm never too far from that version of grief, mentally, in terms of being able to relate. So I don't really think that Starred Up was that big an achievement for me. Physically and perhaps dramatically, but in terms of challenging me as an actor and really defining myself and pushing my own boundaries, not really."
If British TV acts like a talent factory, churning out pretty young faces to fill our small screens and front pages, it also acts as a training ground for actors with something genuinely exciting to offer both the small and big screen. O'Connell is one of those actors.
He's been touted as a future star since Skins. Michael Caine shouted "star of the future" at him on the set of Harry Brown back in 2009. But it wasn't until his violently intense, heartbreaking portrayal of an aggressive but vulnerable young prisoner, Eric Love, in Starred Up that critics began heralding the arrival of a leading man with a potential for Brando-level intensity. The New Yorker's David Denby called his performance "extraordinary" and compared him to a "stallion".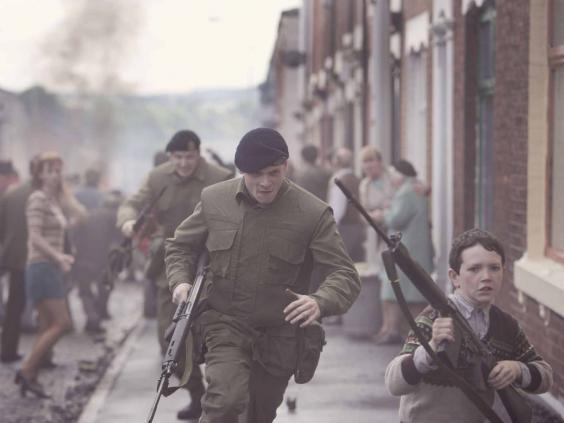 O'Connell has followed one extraordinary performance with another in '71, the debut film by director Yann Demange (another British TV graduate). With a script by Gregory Burke, who wrote the National Theatre of Scotland's hit play Black Watch, '71 tells the story of Private Gary Hook, played by O'Connell, a young British soldier who finishes training expecting his regiment to be stationed in peaceful Germany. Instead, they are deployed to Belfast, where the security situation is deteriorating rapidly. The film's title comes from the year it is set, when, strikingly, young men on all sides were committing record-levels of violence.
Following a bloody conflict between his regiment, the Royal Ulster Constabulary and local republicans in a Catholic neighbourhood, Private Hook finds himself abandoned behind enemy lines. The film, a tense thriller that reveals the dynamics of the conflict through a series of twists and characters from all sides of the fight, follows Hook as he tries to find his way back to his barracks.
O'Connell's performance is one of quiet, desperate understatement. He's a tough boy, but he's mainly terrified, lost and at the mercy of others. He's a spiritually and physically wounded lad, hunted by the republicans and abandoned by an army that's been chewing up and spitting out young working-class men like him for centuries. The young soldier isn't given many lines, which leaves O'Connell to anchor the film physically.
"It's a very expressive performance," says Demange of O'Connell, who was his first and only choice for the part. "It's an exhausting part to play – you can't hide behind the lines. I think he's brave and committed and incredible to watch. He's got an old-school quality, a raw, vivid masculinity that he's quite at ease with and a soulfulness and complexity that were right for the role."
When I meet O'Connell, he's thin and wiry, the heft of a British soldier gone. Surprisingly, as we lumber up to the roof of London's Corinthia Hotel, I feel, at barely six foot, like a giant, clumsy baby in the presence of a lithe, precision-directed acting elf. Wearing pointed suede boots and a smart, plain jumper, his physique is partly the result of the intense diet he undertook for the forthcoming Unbroken, directed by Angelina Jolie, in which he plays Louis Zamperini, a 1936 Olympic runner who once met an impressed Adolf Hitler, and later joined the US air force and survived being held by the Japanese as a prisoner of war.
In person, O'Connell is good company. The focused intensity he brings to his performances is diluted but still evident. Born and brought up in Derby, his identity is rooted in that city. From a working-class family, his father Johnny, who was Irish, "prided himself on being ordinary which, where I'm from, is quite an extreme achievement". O'Connell Sr had come to England from Kerry in the 1970s and lived in Shepherd's Bush before moving to the Midlands to work on the railways. While his work schedule was "unrelenting", he still liked the pub and was part of Derby's burgeoning Northern Soul scene. He had the gift of the gab, as did his brothers, who had also come over to England.
In 2008, at the age of 58, O'Connell's father died quickly of pancreatic cancer and his young son was left as the man of the house and the sole breadwinner. He was angry but also driven, not only by a desire to forge his own path in life but also by a need to provide for his mother and sister. When I ask him whether he'd spoken to his father about the Troubles he tells me he's sure "there was a conversation due" between them but that they'd never had it. Like so many Irish families, O'Connell's has historical experience of conflict with the British, but it wasn't until he started "picking brains" in the run-up to filming '71 that he found out exactly what that experience was.
He discovered that his great-grandfather had housed Irish Republican fighters on his farm. The British authorities got wind of this, came to the farm and interrogated him while they marched several of his stallions off a cliff. When he wouldn't say a word, they put a bullet in his head. "I don't have to take that personally," O'Connell says, reflecting on his own national identity, "I'm not trying to reignite any feuds that have since been overcome, but at the same time, I don't regard myself as a Brit."
This ambivalence to Queen and country ends up being embodied in the character of Private Hook who, alone and unsupported, becomes another cog in the army machine. The best line in '71 is given to Eamon, an Irish former Army medic played by Richard Dormer, who says that the logic of the armed forces can be summed up in the sentence: "Posh cunts telling thick cunts to kill poor cunts". When I ask O'Connell about this line, he says that, "Personally, I'd like to articulate it more".
His desire to do this comes from an anti-elitist, working-class solidarity built on the streets of Derby. Even after he'd been in This is England, O'Connell would have to sleep rough on park benches in London in order to go to auditions. "There are so many working-class people around the world, that the idea of us being set against each other is inhumane and absurd. I think that's the point of '71, to study the cost on a ground level," O'Connell says. He didn't always look at things this way. After a series of injuries put paid to his hopes of becoming a footballer (his grandfather Ken Gutteridge was a pro who played for, and managed, Burton Albion) O'Connell had every intention of joining the Army.
At that point, he was, he says, "susceptible to that working-class façade – patriotism, masculinity, that our wars are justified and that our position globally is a positive one," and that it wasn't until he'd educated himself that the desire to put on uniform left him. When I ask him if his political beliefs influence the roles he takes, he tells me that it's not always essential but that of course he's more engaged doing films like '71 than he is doing a film like six-pack-and-spears blockbuster 300: Rise of an Empire, in which he barely puts on a shirt as Athenian warrior Calisto.
O'Connell didn't feel like he was "compatible" with the kind of unrelenting working schedule that afflicted his father, but in other areas of his life, he followed in his footsteps. "A lot of how I am in social situations comes from my uncles and my dad being social," he says. "They had the craic." It seems that, at least for a while, the pupil became more than a match for his masters. Having regularly attended the noted acting school the Television Workshop in Nottingham as a teenager (Sidenote - Other alumni: Samantha Morton, Vicky McClure, Joe Dempsie, Toby Kebbell), O'Connell was cast as Pukey in This is England and went on to find fame as heartthrob James Cook in Skins.
As a teenager he was let loose in Bristol with his co-stars, and the tabloids delighted in referring to the young actor as a "party boy", a "bad boy", a "naughty boy" and a "bit of rough". For months, rumours that he was dating Tulisa Contostavlos flew around. He has a tattoo that says 'Jack the Lad' on his right arm, sitting above two theatrical masks. The temptation to cast him as the next great soap-star shagger was too great. >
Those Skins days acted as a kind of introduction to fame course for O'Connell and his fellow stars, allowing them to work out what they wanted while they were young and relatively free. They went out, did DJ sets, press junkets and generally got to feel slightly famous.
O'Connell was recently on the front cover of the New York Times fashion magazine, T, which is a rather different level of fame. "The irony is that I was on the front page of a style magazine, but none of the outfits were my own... In terms of what was happening with my hair, that was all them," he says, referring to the experience, which saw him cast in the role of a 21st-century James Dean, all slicked-back hair and sheepskin coats.
But back in Derby, O'Connell says, "a lot of people know me as one thing. They know me as a lout, a mouthy gobshite that tries to entertain and gets drunk and gets silly. I was trying to get my kicks out of that. I was trying to have the best night of my life every time I was out in Derby." This real-life persona sounds at odds with the intensity O'Connell has brought to his recent roles. He doesn't quite see it like that, though. "I try to keep things light-hearted because life at home is a struggle and the relief from that is a good sense of humour. As much as I like to be good-humoured at home, there is still a severe undertone and if I get to introduce that into my work, that seems like a worthy outlet to me."
Now that O'Connell is on the cusp of serious stardom, this application is more evident. He tells me he doesn't need to top his last big night out any more, that he doesn't need to be the Lord of Derby; the Midlands' modern-day answer to O'Toole and Burton. That's partly because it's just too exhausting. "It's a challenging job, man," he says of his profession. "Film productions are naughty. They can get naughty with their employees. They can bend the rules slightly and put the onus on you. You have to function on very little sleep. Having an alcohol habit, or worse, makes all these things much more difficult."
Starred Up, as anyone who's seen it can easily imagine, was a physically and emotionally draining shoot. Once it was finished, he had two weeks till he began on '71. "In the two weeks I had off, I went back to Derby and I was out drinking with my mates and being a regular Derby lad," he says. "But that isn't compatible with my work – being a regular Derby lad can be quite strenuous, too." With his career reaching a crucial point, O'Connell feels that partying at every chance he gets might not be the wisest move.
This sounds like a good decision, but it's also led to accusations from some people back home that he's changed – "which is true, but as far as I'm concerned, it's a change that's necessary and needs to happen if I'm going to become one of the best at what I do". Three months ago, O'Connell moved down to London. "Derby got weird actually," he says. "I've had friends crawl out of the woodwork, call me up and put me on record while I'm talking to them." In London, he feels more able to focus on his work and less tied to his past.
The machinations of fame are hard to predict. It seems obvious that O'Connell is about to become a major leading man in the cinema. He mentions "liaising with Brad a little" – that's Brad Pitt, FYI – and he talks about his admiration for Al Pacino, another leading man who didn't just sit back and ride his good looks to an easy fortune. But when I ask him who his role models are, the first name he mentions is David Threlfall, best known as Frank Gallagher in Shameless.
Jack O'Connell, Official Box Office Material, is looking to immerse himself in the work he does, which is why someone like Threlfall, who isn't a celebrity and who takes on a wide range of parts, is a role model. "He has a complete devotion, and understands people who have very little to do with him, and can portray them. That's what I strive towards."
'71 is released on Friday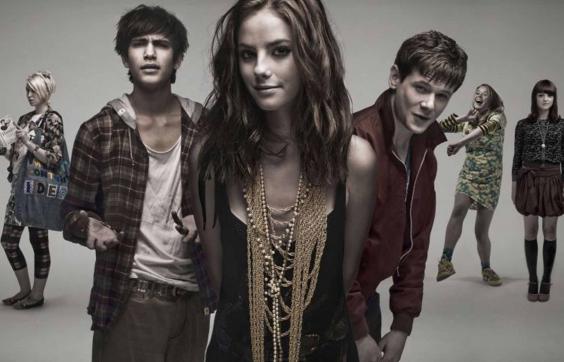 What happened to Jack O'Connell's generation of 'Skins ' actors?
Ollie Barbieri, 'JJ Jones'
After playing the autistic JJ, Barbieri was cast by Adam Deacon alongside Paul Kaye in the 2011 urban comedy 'Anuvahood'. He has also appeared in a Cornetto ice-cream ad with Kathryn Prescott.
Luke Pasqualino, 'Freddie McClair'
Pasqualino starred alongside 'Twilight' actor Ashley Greene and 'Harry Potter' star Tom Felton in the 2010 US film 'The Apparition', which grossed £5.9m worldwide, and he is now d'Artagnan in the BBC version of 'The Three Musketeers'.
Kaya Scodelario, 'Effy Stonem'
Cast as Effy at the age of 14 with no prior acting experience, Scodelario has since starred in British film 'Moon', a 2011 version of 'Wuthering Heights' and current YA blockbuster 'The Maze Runner', to critical acclaim. She dated Jack O'Connell for a year.
Lily Loveless, 'Naomi Campbell'
Her roles since leaving the show include 'The Fades' and 'Bedlam' for TV, and the thriller 'Sket'. She has also appeared in hit 'Wallander'.
Kathryn Prescott, 'Emily Fitch'
After bit parts in 'Casualty' and 'Being Human', Prescott landed 'Reign', an American series about Mary Queen of Scots. Now starring in MTV's 'Finding Carter', as a girl who discovers that the woman she thought was her mother, abducted her.
Megan Prescott, 'Katie Fitch'
Kathryn's identical twin sister. Since 'Skins', Prescott has had roles in 'Silent Witness' and 'Holby City' and has worked as a 'Skins' 'ambassador', attending castings and official parties.
Merveille Lukeba, 'Thomas Tomone'
Born in Zaire, Lukeba was raised in Woolwich, south-east London. Since 'Skins' he has had bit parts in 'Bloody Foreigners', 'Lewis' and '10 Minute Tales'.
Oscar Quine
Reuse content