"McConaissance" might have been the buzzword of the awards season, but Matthew McConaughey's move from laughable romcom stud to respected Oscar winner was not the most surprising comeback. That honour went to Jacqueline Bisset, who won the Golden Globe for Best Actress in a Supporting Role in a Series, for her turn as Lady Cremone in BBC series Dancing on the Edge.
Her emotional acceptance speech, mostly delivered while the background music was playing to hurry her along, saw the 69-year-old actress trying to pull herself together by screaming "Scottish background to the front!", holding back tears and advising the audience, "If you want to look good you have to forgive everybody, it's the best beauty treatment." The rambling performance ensured that for the first time in her long acting career – it was, she told the room, 47 years since she had been named "best newcomer" – Bisset had gone viral.
The renaissance is set to continue as Bisset has wrapped filming on Welcome to New York, a film purportedly about the disgraced former head of the International Monetary Fund, Dominique Strauss-Kahn. Gérard Depardieu plays the French head of a finance fund caught up in a sex scandal and Bisset stars as his wife. She was a replacement for Isabelle Adjani who dropped out of filming after the release of a tell-all book, Beauty and the Beast, by the journalist Marcela Iacub, revealed her relationship with Strauss-Kahn. Adjani argued that the publication made it difficult to bring a fair representation of DSK to screen.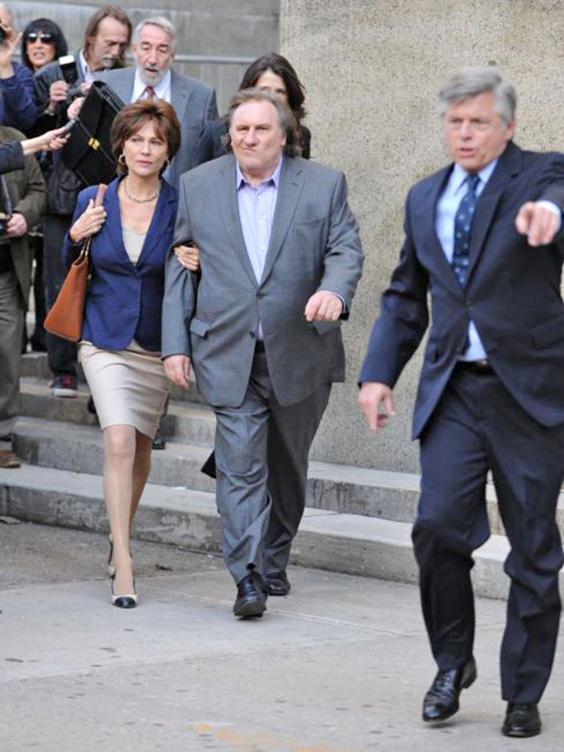 Welcome to New York is directed by Abel Ferrara and will be Bisset's highest profile film role since 1981's Rich and Famous. Still, she cast doubts on whether she is actually playing Strauss-Kahn's second wife, Anne Sinclair, or not. "I keep saying to Abel, 'People keep asking me about this film – am I playing her?'" she says. "He says, 'You know more than me, who you are playing.' It didn't help with answering my question, but that was typical of him, he never answered a question."
She was not asked to impersonate Sinclair. "We talked and I knew who Anne was, and I thought I could play her, but I didn't know if he wanted me to mimic her. I read a lot about her but it's not a biopic. There are things about the story that are based on the Strauss-Kahn story, but there are a lot of things I don't have in this role to define her. So we'll see. I'm playing Simone and Gérard is playing Mr Deveraux."
The mystery is likely to be solved at Cannes, where the film is expected to receive its world premiere in May. What appears to be true, and is confirmed by the trailer, is Bisset's assertion: "From Ferrara's point of view, he is interested in addiction, sexual addiction, probably more than the characters in the story."
The director, whose previous films include King of New York and Bad Lieutenant, is "a rather interesting character", she adds. "There's quite a poetic side to him, a softness, and then a volatile, explosive person. I got used to his way of being, which was very explosive. There was lots of shouting. One of the noisiest sets I've been on. When he was explosive I would know it's not me. So I enjoyed it, you can't take it personally."
Working with difficult directors is par for the course for the veteran actress who rose to fame in 1968 acting opposite two of Hollywood's all-time great leading men, Frank Sinatra in The Detective and Steve McQueen in Bullitt, playing his girlfriend Cathy. In the 1970s, she cemented her status as one of the great leading ladies appearing in François Truffaut's Day for Night (1973), Murder on the Orient Express (1974) and The Deep (1977).
"I've rarely had problems with actors, usually I've had problems with directors," she says, "You are there to serve the film and you are there to serve their image of women. Sometimes they just want you to resemble their wife, which is fine if that is their image of women. But sometimes you feel you know more about the character and the director blocks you. And then you become this sort of generic female."
Bisset learned the hard way about exploitation. When she made The Deep in 1977, playing one half of a couple on a scuba-diving holiday in Bermuda, the film received a mixed critical reception. The opening scene, however, featured Bisset swimming in a white T-shirt, and that see-through garment became a huge factor in the film turning a profit. Promotional posters featuring Bisset underwater were even given out with Playboy magazine, which led producer Peter Guber to proclaim, "That T-shirt made me a rich man."
"I was so angry about it," recalls Bisset. "Because it had very little to do with me and it was not at all what I was about. It wasn't what my choice in this business was about, so it came out of leftfield. It's in the past, and when it keeps coming up I have to push it away. It's a silliness, but it did make money for that film and a lot of the credit was given to me because of that T-shirt."
The actress is still beautiful, an example of how to age gracefully. She recently joined Jane Seymour on television to denounce Botox. "I never thought of myself as a beautiful woman, I was always insecure with my looks... I had moments of feeling attractive, but I didn't feel beautiful. The gratification comes when you have a beautiful human moment with somebody, this makes you feel attractive or beautiful. But the outside thing – the hair, the make-up – they can do a lot of this from the outside."
Bisset grew up in Reading. Her father was a GP and her mother a lawyer-turned-housewife. As a child, she was only happy when she was doing ballet. "I don't think that my self-esteem as a child was particularly high. On the contrary, I felt worried and anxious and I only felt very happy when I was dancing. When I was dancing I felt very, very happy. Very much like a wild horse."
She has never married. "I think I'm very independent, but I'm also dependent too," she says. "I've had some very interesting men in my life. They have been a handful. I don't choose easy men, I'm told." She has previously dated Michael Sarrazin (star of They Shoot Horses Don't They), the ballet dancer Alexander Godunov and actor Vincent Pérez. "I've been in seven-year relationships three times and one 14-year relationship. It's funny how it's always seven. I've thought about it and when they wanted to, I haven't wanted to, and vice versa. Sometimes you get too much information when you spend time with people. You start to see things – bad habits. You start to discover them and then you have to marry bad habits and I'm not sure I can cope with them. I don't ever have bad relationships. I haven't broken up angry. I've just moved out of situations that have been overwhelming. I've been with two alcoholics, which were very extreme situations."
Firm friends with the American actress Marcheline Bertrand, she is the godmother of her daughter, Angelina Jolie. They do not have much contact. "I haven't passed on anything. Angelina is incredibly self-contained, but she's had a hard life; she's had a difficult life; she is carrying a lot of baggage from her life and she is very strong. On set she is very strong. I have just been on set with her once, a small role that I had in Mr. & Mrs. Smith. I can't explain it. She is very powerful, though she doesn't show this aspect particularly now. She is also very gentle and peaceful."
Now, Bisset has reached the stage in her career of Lifetime Achievement Awards. She doesn't like looking back on her career but when she does: "I think, 'When did I do all this?' I do all these things and then forget about them. It's a little bit nerve-racking to see where all the time goes."
'Welcome to New York' is out later this year
Reuse content