Cinespace Film Studios, Toronto … It's lunchtime on the set of doppelgänger thriller Enemy, and star Jake Gyllenhaal slides his tray along the rails of the food counter with the rest of the cast and crew, his plate loading up with fish, salad and couscous.
He cuts an imposing figure as he strides to the table, his 6ft 1in frame clad in a crisp white shirt tucked into tan slacks, his blue eyes clouded above a heavy black beard. Seated, however, his smile is wide, his enthusiasm infectious. So eager is he to talk about his second team-up with the French-Canadian director Denis Villeneuve, after the harrowing child-abduction thriller Prisoners, that his fork hovers in the air like a metallic exclamation mark, food untouched.
"Enemy is about a man who is married, his wife is pregnant, and he's having an affair," Gyllenhaal begins, keen to detect the nub of this outré fable, based on José Saramago's 2002 source novel The Double. "He has to figure himself out before he can commit to life as an adult."
Such an explanation doesn't begin to tell the tale. With the action set in a Toronto of brutalist architecture, vast spaces and clogged freeways, Enemy is about a repressed history teacher Adam (Gyllenhaal) who spies his double, Anthony (Gyllenhaal again), in a movie. Determinedly tracking the actor down, he discovers that the two men are identical, right down to the same scar on their stomachs.
Oscar-tipped films for 2015
Oscar-tipped films for 2015
1/10 The Imitation Game

Keira Knightley, Matthew Beard, Matthew Goode, Benedict Cumberbatch and Allen Leech in The Imitation Game

Snap Stills/REX

2/10 The Theory of Everything

Felicity Jones and Eddie Redmayne in Stephen Hawking biopic The Theory of Everything

Working Title Films

3/10 Boyhood

Ella Coltrane in widely acclaimed coming of age drama Boyhood

4/10 Unbroken

Written by the Coen Brothers and directed by Angelina Jolie, Unbroken could be a major player that comes from a woman that already has an Oscar

5/10 Foxcatcher

Featuring Channing Tatum, Foxcatcher will be Steve Carell's first 'serious' role and is directed by Oscar-nominated director of Moneyball, Bennett Miller

6/10 Interstellar

Directed by Christopher Nolan, the film features Oscar winners Matthew McConaughey and Anne Hathaway

7/10 Gone Girl

Oscar winner Ben Affleck is back for the screen adaptation of Gillian Flynn's popular novel Gone Girl, directed by two-time best director nominee David Fincher ('The Social Network' and 'The Curious Case of Benjamin Button')

8/10 Whiplash

The film follows a young musician who struggles to make it as a top jazz drummer and is already a strong contender starring JK Simmons

9/10 Suite Francaise

Based on the work of acclaimed novelist Irène Némirovsky, the film, starring Oscar-nominee Michelle Williams, comes fifty years after her death

10/10 Suffragette

Meryl Streep plays Emmeline Pankhurst in Sarah Gavron's new historical drama Suffragette, what is expected to be the Big Brit film of the year

Getty Images
Then things get really weird. Vexed by Adam's repeated intrusions into his life, Anthony decides to run a series of reconnaissance missions of his own – the stalkee stalking the stalker, if you will. Soon, the identities of Anthony and Adam begin to morph and mingle, until finally it is hard to determine which of the men we are viewing, and just how much of the action is reality or fantasy.
"It's very difficult to describe, but one doesn't exist without the other," Gyllenhaal explains. "We made the decision that there wasn't going to be a great physical difference between them. I thought maybe one character can have a beard and the other doesn't, but Denis said, 'No, both characters will have beards. The difference between them will be a flick of a hand.'"
Painted in grey, ochre and sepia, with the tops of Toronto's towering structures lost in permanent smog, Enemy is a claustrophobic, labyrinthine vision beholden to David Lynch and Roman Polanski, Franz Kafka and JG Ballard. It is a film that Villeneuve and Gyllenhaal are finding as they go along, huddling between takes to discover what they have and where they might venture. After lunch, the director and star sit on the edge of Anthony's king-sized bed in his modernist apartment, scrutinising a monitor. Finally satisfied, Villeneuve calls action.
Gyllenhaal murmurs into a phone then hangs up and steps into a pristine living room dominated by a gigantic TV and a glass table with Perspex chairs. The Canadian actress Sarah Gadon, playing Anthony's six-month pregnant wife, Helen, stares at him accusingly. "Who was it? Are you seeing her again?" she asks, the start of an escalating argument. When Gyllenhaal and Villeneuve reconvene to watch the footage back, they whisper urgently before trying it another way, and another, and then another. Lines, intonation and positioning alter, but the heightened mood remains the same.
Gyllenhaal approaches. "This movie hopefully feels like you're dreaming," he explains. "It's an exploration of the unconscious. Such an intense mood. I have this feeling that, ironically, the darker the places you go, the more you can illuminate. I really do believe in the world being a genuinely complicated place, but a very beautiful one."
Descended from Swedish nobility, Jake Gyllenhaal is Hollywood royalty. The son of the director Stephen Gyllenhaal and screenwriter Naomi Foner, his older sister is actress Maggie, while his godparents include Jamie Lee Curtis and the late Paul Newman. He made his debut as Billy Crystal's son in City Slickers, aged 11, and turned heads playing an alienated teen who is warned of the end of the world by a 6ft rabbit in cult favourite Donnie Darko. That was in 2001, and, a couple of empty-spectacle blockbusters aside, the 34-year-old actor has spent the past 13 years attacking challenging character roles of considerable heft: a gay cowboy in Brokeback Mountain; a bored marine during the Gulf War in Jarhead; a journalist tracking a serial killer in Zodiac; a CIA analyst overseeing the illegal torture of a terror suspect in Rendition; and an LA cop targeted by a Mexican drug cartel in End of Watch.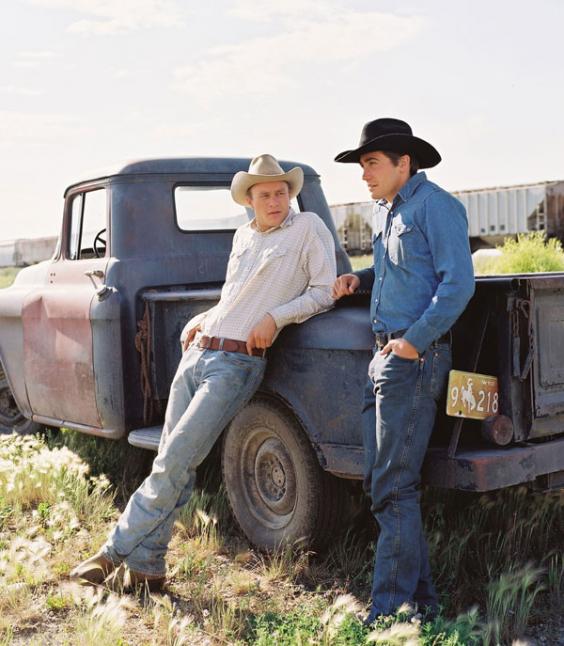 "Those are the things that interest me," he shrugs. "I love movies that have currency. Movies are political, whether they're escapist or tackle something head on. There's a responsibility in telling a story. There's a responsibility to know your own mind.
"One of the things that changes in your career is that, at the beginning, people are telling you what you fit into, and later, if you do some things that people like, you make the decisions yourself. You have to know yourself well enough to make those decisions."
Currently doing the most interesting work of his career, Gyllenhaal is tipped to receive his first best-actor Oscar nomination for Nightcrawler (he was also nominated for his supporting role in Brokeback Mountain in 2005). In that, he plays Louis Bloom, a gaunt loner who embarks on a career hawking LA crime footage after seeing a news crew descend on a late-night road accident. "There were a lot of scenes in the screenplay where Lou's ordering food and he can't afford it," he says, accounting for his decision to shed 30lbs for the role. "They're no longer in the movie, but they're in the character. Lou is an animal who comes out at night, scavenging to survive. He's a coyote."
Would Oscar recognition be particularly rewarding, given that Nightcrawler is the first film he has produced, after scoring an executive producer credit on End of Watch? "I'd be thrilled – it's important that movies like this get made and get seen, and that people are allowed to express their point of view in a complicated, different way," he says. "But I don't do the job [for awards]. I do it to learn about life. I think acting is an incredibly immature, selfish profession, but on the flipside of that, it helps you practice empathy. When you do your research, you see what real people are doing in the world." There's a craving in his voice that is worthy of Lou. "I'm hungry and excited to get to the core of characters."
'Enemy'  is on general release
Reuse content