William Blake wrote that great things are done when men and mountains meet. But then, he never saw a mountaineering film. Despite nail-biting drama and glorious views, there have been few watchable offerings from Hollywood. The German Bergfilme were popular in the 1920s but are politically dodgy because of their association with Leni Riefenstahl. Feature documentaries have proved most successful: Kevin Macdonald's harrowing recreation of Joe Simpson's book Touching the Void won a Bafta, and the BFI recently restored The Epic of Everest, an absorbing gem from 1924 about that mountain's pioneers.
It's not just that filming halfway up a mountain is hideously difficult. The real challenge is that the appeal and practicalities of climbing mountains are baffling to the public. Who are these crazy people? Don't they have families? How do they justify themselves to those they love? Or are they just selfish? In the face of such questions, climbers usually remain tight-lipped, reluctant to put their emotional lives on show for the public's entertainment. And it's hard to empathise with a protagonist you think is above it all, morally as well as literally.
The trio of climbers tackle Meru
The trio of climbers tackle Meru
1/7

Conrad Anker on the sheer face of Meru

Jimmy Chin

2/7

Renan Ozturk looking out of the portaledge

Jimmy Chin

3/7

Renan Ozturk, Jimmy Chin and Conrad Anker

Jimmy Chin

4/7

Jimmy Chin at first light on the 11th day of climbing, the day of the push for the summit

5/7

Ozturk checks out the stars above basecamp the night before the approach to the base of the route

Jimmy Chin

6/7

Jimmy Chin with his wife Chai Vasarhelyi

Benjamin McMahon

7/7

Conrad Anker (second right) and his adopted family
So it's a relief to meet Jimmy Chin, who has the demeanour and physique of a burly Jackie Chan. A successful American adventure photographer usually found hanging off a rope somewhere shooting stories for National Geographic, Chin is also a hardcore climber. Well known in the adventure community, Chin has now completed his first feature film, co-directed with his wife Chai Vasarhelyi – a film that aims to bridge that gap between cagey insiders and a flabbergasted public, and satisfy both.
Meru tells the story of a ferociously difficult first ascent up an eponymous mountain located close to the source of the Ganges in the Indian Himalaya. Joining Chin are Conrad Anker, the man who found George Mallory's bleached corpse on Everest in 1999, and another climbing cinematographer, Renan Ozturk (who also shot the Bafta-nominated Sherpa). But this is not Everest, where wealthy enthusiasts are led to the summit, retracing an achievement more than 60 years old. Meru is more like El Capitan, the famous "big wall" of vertical granite in Yosemite, California, only at 20,000ft, with half the oxygen of sea level and plastered in ice. It was what climbers like to call a last great problem, a challenge that had beaten all-comers.
"The chances of actually pulling off a climb like this," Chin says, "are so incredibly low. There are so many variables stacked against you. But you learn over years of expeditions that having faith, and putting one foot in front of the other, you do end up pulling off climbs that seem completely impossible. There's a certain beauty to that. It has an allure.'
The physical suffering and danger on display in Meru make The Revenant look like a teddy bear's picnic. Thankfully, the ruggedness is leavened by a painstaking enquiry into who Jimmy Chin and his fellow climbers really are. "I didn't want to make just an adventure film," Chin says. "I wanted to make a film that looked at climbing in a deeper way, that's about friendships, about what I've learnt from mentors, and the conflict between ambition and family, which is pretty universal. The big challenge was making a film that could reach a general audience but still stay true to the core community and my peer group." An audience award at last year's Sundance Film Festival and an appearance on this year's Oscars shortlist show that he and Vasarhelyi succeeded.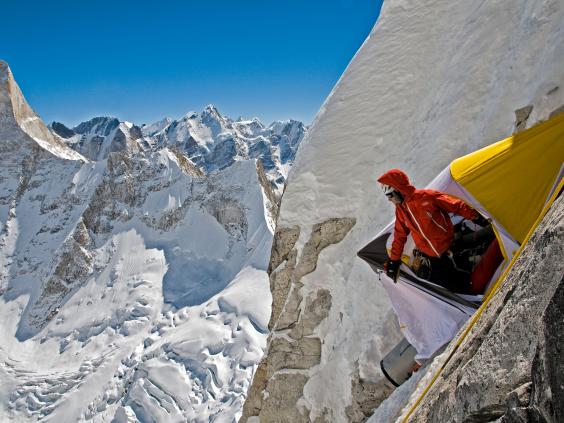 While he struggled to complete the most demanding professional project of his life, the film's emotional depth took on an added dimension for Chin, as he fell in love with Vasarhelyi, a Princeton graduate and politically aware documentary film-maker from the Upper East Side of New York who cut her teeth as director Mike Nichols' assistant on his 2004 film Closer.
"Mike would have loved Meru," she says. "He would have thought I was batshit crazy to marry Jimmy, but he would have loved the film." Vasarhelyi's previous work explored the 2012 Senegalese presidential elections, requiring her to work in both French and Wolof. So what did she make of the self-indulgent world of mountain-climbing? "Because I didn't know much about climbing, I had little reverence for all the players involved. But when I saw the footage" – Chin gave her a rough cut, hoping for feedback, before she became his co-director – "I realised this was something special. No one had seen anything quite like this before. You have climbers who can shoot at that level and climb at that level and there was the built-in drama of the story itself."
That drama isn't just confined to the ascent. The story opens with an earlier attempt on the same mountain, in 2008, that almost succeeds – but not quite. The three men spend an unbelievable 20 days on the face, living in what is called a "portaledge", an aluminium-framed nylon hanging tent in which they live and sleep when not climbing. The ledge becomes a character in itself, a haven from the precipitous world outside where the three men can psychologically regroup and listen to the avalanches go by. At the end of this immense but failed attempt, they are suffering simultaneously from frostbite and trench foot – and have the pictures to prove it.
Inevitably, they agree to go back, in 2011, three musketeers with a common goal. "The best alpinists are the ones with the worst memories," as Chin observes. But then Ozturk suffers an appalling accident on a skiing photoshoot while working for Chin. Caught in an avalanche, he is swept over a cliff and suffers fractures to his skull and neck. "You could see into his head," Chin says, who keeps filming as Ozturk is flown to hospital. The X-ray of his neck looks like Meccano. As Anker puts it in the film: "Dude, you're hooped."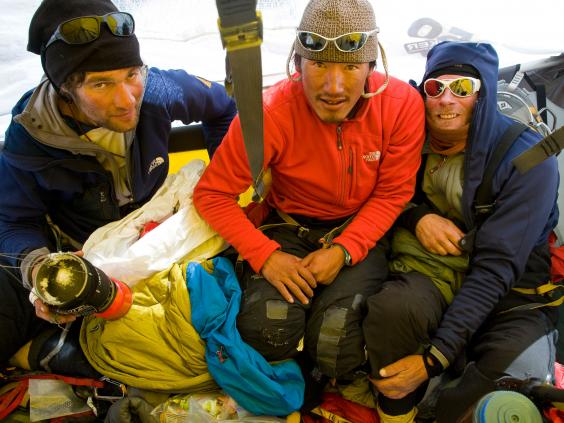 Yet in an immense effort of will, Ozturk not only overcomes his injuries, he starts training for Meru. Chin and Anker face a dilemma: do they tell Ozturk he can't come, or do they honour their shared commitment to the climb and each other? "It was understood between Conrad and I that we were giving up our chances of climbing the mountain by bringing him," Chin says. "We decided it was more important to bring him and have that experience together." Unbelievably, Ozturk suffers a mini-stroke on the mountain – a consequence of his earlier head injuries – but carries on with the attempt. Does Anker and Chin's loyalty to Ozturk lead to failure on Meru? Watch the film to find out.
For Vasarhelyi, the challenge was to try to unpeel these stoic, self-deprecating and often silent men to the extent that they could talk about all this to a public who might otherwise write them off as merely crazy. "Jimmy is so much more comfortable behind the camera than in front of it," she says. "Could he relax into this idea of sharing about himself? Conrad was the hardest nut to crack. He's spent most of his life in the public eye and he's been through a lot of tragedy. Can he talk about this stuff? Does Conrad cry?"
When Jimmy Chin talks about mentors, he's thinking primarily of Anker. Now 53, Anker himself learnt his craft from the superbly monikered Mugs Stump, a legendary climber and the first to dream of climbing Meru – though he perished falling into a crevasse on Denali in Alaska before he could get there. Anker's loss was compounded when his best friend Alex Lowe was killed in a Himalayan avalanche that almost did for them both. Lowe's widow Jenni and the badly injured Anker suffered together in grief, then fell in love. They married, and Anker adopted his friend's three sons. As Jenni Lowe-Anker says in the film of watching her new husband heading back to the mountains, "I might have been better off with a cowboy."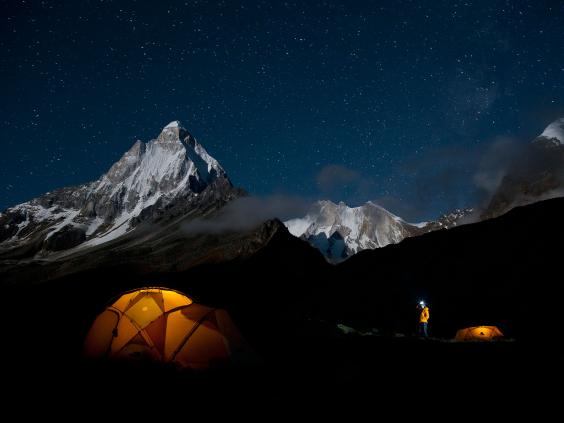 "It was very important that Jenny didn't come across as a weeping widow at home," Vasarhelyi says, "because she went into her relationship with Conrad with her eyes open, and she's a climber as well."
Vasarhelyi, on the other hand, had little understanding of the world she was marrying into, and now finds herself with the same emotional dilemmas she wove into the film. "All the reasons I fell in love with Jimmy have something to do with why he's so good at what he does, and I couldn't resist them personally."
Yet the two have more in common than first appears, not least that both are the children of immigrants: Vasarhelyi is the daughter of a Hungarian father and a Chinese mother, Chin's parents fled Mao's revolution first to Taiwan and then to Minnesota, where they worked as librarians in the state college.
Since the last effort on Meru , and becoming father to their two children, two-year-old Marina and James, who arrived in December, Vasarhelyi says Chin hasn't tried anything remotely on the same scale. She adds that her biggest fears are when he nips out for an afternoon's back-country skiing at home in Wyoming. "That's when your guard is down. And the film speaks to how there are a lot of risks he can't control." Isn't that true for life generally? She laughs. "Jimmy would make that argument very passionately."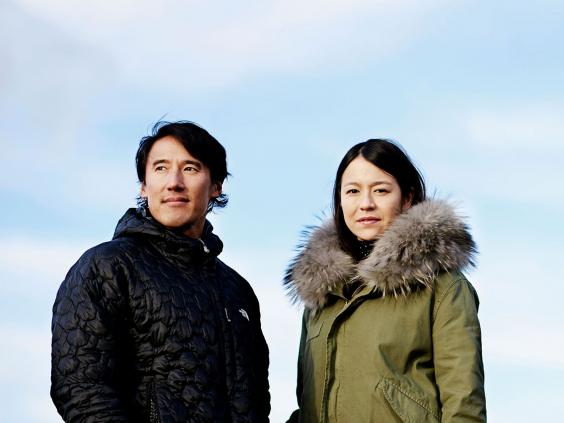 Chin says some people watch the trailer and conclude that what he and his friends do is immoral. "We don't try to justify our decisions," he explains. "We just show it all. That's life. The two great risks are risking too much but also risking too little. That's for each person to decide. For me, not risking anything is worse than death. By far. There are still climbs I want to do."
Does being a professional put pressure on him to keep risking his neck? "The deals have never affected a decision I've made in the mountains at a critical time. It was always clear to me that you were signed because you did what you live to do and if you continued doing that you'd be fine. If a sponsor didn't see that, and didn't want to work with me, then that's fine, too."
Chin and Vasarhelyi are still buzzing from the Directors Guild Awards, where they were shortlisted for best documentary. While making Meru, Chin had talked with the Oscar-winning cinematographer Emmanuel Lubezki, who was also nominated for The Revenant. "I thought I'd go over to their table to say hello," Chin says, "and then I saw [The Revenant director] Alejandro Iñarritu was pointing at me. I kept looking either side of me and then I realised he really was pointing at me. Iñarritu said, 'Oh my god, I saw Meru. We thought shooting The Revenant was cold!' He spent about 10 minutes asking me how we got the shots. That was the best win I could have had. I went home that night and thought, OK, I'm happy."
'Meru' (15) is available to view in cinemas now via ourscreen.com and via digital download, and is showing at the Sheffield Adventure Film Festival (shaff.co.uk) next weekend. It is out on DVD and Blu-ray from tomorrow