Thick clouds of smoke drift from the hotel room. Inside is writer-director Paul Thomas Anderson, the man behind Magnolia and The Master, wafting nicotine fumes out of the window. Walking into the suite feels like stepping into his new film Inherent Vice, his wild and woozy adaptation of the 2009 Thomas Pynchon pot-infused novel, set in the detritus of the post-Manson era in California.
His first comic odyssey since 2002's Punch-Drunk Love, Anderson, 45, admits a certain kinship with Doc, the gnarly hippie gumshoe of Pynchon's novel, played by Joaquin Phoenix. "I probably would've had long hair, and liked that music, and that dope," he grins. The night before, at a sneak screening of the film at London's Prince Charles cinema, he met British producer Nik Powell, who had his own flower-power days.
"He told me: 'We thought we were hippies over here but we were patterning ourselves off what we saw from California hippies. Any time anyone would come over it would be like, "Holy fuck, they're the coolest – we want to be like those California hippies, stealing their wardrobe and their act and their whole routine!"' So that was funny. If you were a hippie, and you lived in California, you were a true hippie. You were the real deal."
Anderson, whose own parents went to California in the late Sixties, may have been born in 1970 – the year Inherent Vice is set – but he has crafted a sweetly melancholic lament for a bygone era as if he'd lived right through it. "A lot of people that lived in Southern California migrated out of there then," he says. "I was talking to somebody the other day, who was a hippie and he split town. Between Charles Manson, and across the country, [college shootings at] Kent State had happened… really everything had reached a peak."
While it's not Anderson's first adaptation – his titanic Oscar-nominated There Will Be Blood was inspired by Upton Sinclair's novel Oil! – he's the first film-maker to properly take on Thomas Pynchon. Working with an A-list cast that includes Josh Brolin, Reese Witherspoon and Benicio Del Toro, Anderson refuses to acknowledge the rumours that the ultra-reclusive Pynchon, who has rarely been photographed, features in the film in an uncredited cameo. "Not that I know of!" he grins.
Best films to watch in 2015
Best films to watch in 2015
1/9 Suffragette - 11 September

Meryl Streep is bound to make a formidable Emmeline Pankhurst in Sarah Gavron's new film about the British women's suffragette movement of the early 20th century. Streep is again working from a screenplay by Abi Morgan who also wrote The Iron Lady.

Getty Images

2/9 Far From The Madding Crowd - 1 May

Thomas Vinterberg turns his hand to Thomas Hardy and British costume drama. Memories of the John Schlesinger version with Alan Bates and Julie Christie will be hard to exorcise. Carey Mulligan and the mercurial Flemish actor Matthias Schoenaerts star as Bathsheba Everdene and Gabriel Oak.

3/9 Jurassic World - 12 June

The third Jurassic Park sequel is finally here starring Chris Pratt. The storyline goes something like this - theme park gets dinosaur to attrack visitors and it all goes horribly wrong. Should prove a fun one among cinema-goers.

Colin Trevorrow

4/9 Terminator: Genisys - 3 July

Arnold Schwarzenegger kept his promise - he's back and he's trying to stop Judgement Day.

5/9 Spectre - 6 November

Bond is back for the 24th time. So is arch-villain Blofeld. Director Sam Mendes did a sterling job with Skyfall but the last movie ended on a very downbeat note with poor old Judi Dench signing out of the series. The challenge now is to reinvigorate a franchise that is already well into its 50s.

Rex Features

6/9 Cake - 20 February

It's Rachel from Friends as you've never seen her before as Jennifer Aniston plays Claire Bennett - a woman who initiates a relationship with a widower while battling hallucinations of his dead wife.

7/9 Suite Francaise - 13 March

It will be intriguing to see how Saul Dibb's long-awaited adaptation of Irène Némirovsky's novel deals with a problem that has often confounded British film-makers: how to portray French characters played by English-speaking actors in Nazi-occupied, wartime Paris without slipping into 'Allo 'Allo!-style caricature. Michelle Williams and Kristin Scott Thomas lead Dibb's promising cast.

8/9 In The Heart Of The Sea - 13 March

Chris Hemsworth plays tough seafarer Owen Chase in this dramatic Moby Dick movie.

Warner Bros

9/9 Cinderella - 27 March

Kenneth Branagh's live action remake of Disney's classic tale stars Downton Abbey's Lily James. Helena Bonham-Carter and Cate Blanchett also star as the Fairy Godmother and evil stepmother.

Disney
Anderson is equally coy on whether he met Pynchon to discuss the book, but concedes that the author's ability to fly under the radar has always fascinated him. Only one living film-maker, he says, has managed that. "If you Google "Pynchon", Terry Malick's name will come up sooner or later, in terms of people who have taken what I would think is the high road." Would he ever consider ducking out? He smiles. "I don't have the guts to do it."
Sensibly, Anderson has taken on one of Pynchon's more manageable novels, but one that also seems to summarise much of his work. "This was like taking The Crying of Lot 49 and Vineland and throwing it in the mix – it's one of those California books. It did naturally lend itself towards an episodic thing – the basic thing of a PI, or whatever he is, is to bring you through all these different characters, hopefully in an entertaining way, in that way only he can do, where everything is so convoluted and joyfully convoluted – and yet completely accurate."
With Anderson up for a Best Adapted Screenplay Oscar, the sixth Academy Award nod of his career, it's the least he deserves for unpicking a story that rivals The Big Sleep in muddled complexity. "I'm not a person that could tell you the plot," he admits, "but I have a friend who watched it, and said: 'I don't think I got it. Let me explain this to you.' And he proceeded to tell me the exact plot in one straight linear sentence. That was very impressive. My mind doesn't work like that!"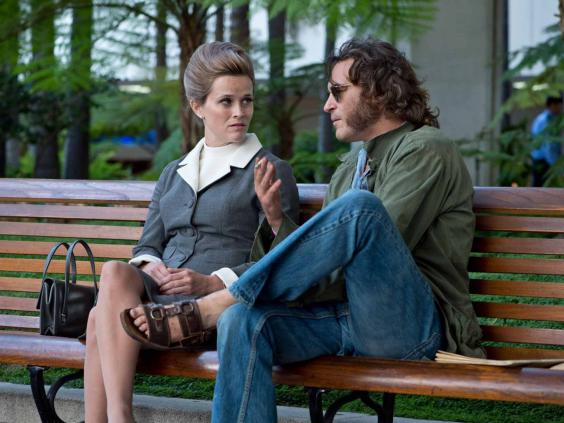 Inherent Vice also afforded Anderson the chance to work with his partner of 14 years, Bridesmaids star Maya Rudolph, who plays a small part as a receptionist working in the same building as Doc. "I'd written these weird little short plays that we did once, just as a local thing in LA," he says. But this was their first time with him directing her on camera – Rudolph was heavily pregnant at the time with their Minnie, their fourth child together.
"She was just rolling her eyes watching how excited I'd be every day when a new girl would show up in a bikini!" laughs Anderson. "There are so many girls in this movie, and they're all half-dressed! I think she found it all highly amusing." He calls the movie a "male-director fantasy", a relief after the masculine worlds of his last two movies, The Master and There Will Be Blood. "[There were] a lot of men in those movies, so to get to set and girls are half-dressed, and are wearing all those great outfits that they had… I was thrilled!"
If he sounds like a horny adolescent, he demonstrated decorum when he had to – not least with Katherine Waterston, who plays Shasta, Doc's ex-girlfriend, whose plea for help sucks him into a crazy, conspiracy-driven mystery. One very exposing scene, as a naked Shasta teases Doc into a sexual frenzy, would've terrified most actresses. "I wasn't afraid to do it," Waterston says. "I never felt concerned about it because I thought it was so honest, and surprising, strange and true."
While Anderson worked with a repertory company of actors across his earlier films – the likes of Julianne Moore, William H Macy and the late Philip Seymour Hoffman – Inherent Vice was different. Phoenix aside, with whom he'd just made The Master, the principal cast were new to the PTA style of working. "I suppose I assumed that he would have some kind of outrageous ego!" remarks Waterston. "But he just doesn't have. He doesn't put on any airs." While the film has yet to set the box office alight in the US, as well as splitting the critics there, Anderson doesn't seem too concerned. He's just happy to be working with the freedom he has been afforded. "The nature of making films is so slippery. But that's what keeps that addict mentality going: you film something that's good and you think you can do it again, and you can't; you're like a junkie. You're clawing towards trying to get your next fix!"
Maybe this is why he's been working more these past years. After Punch-Drunk Love, he took five years to deliver his Citizen Kane-like oil-prospector tale There Will Be Blood (although the result was more than worth that wait, garnering Oscar wins for both star Daniel Day-Lewis and Anderson's long-time cinematographer Robert Elswit). He then took another five years to make The Master, though he claims "that gap was time well spent", as he was adapting Inherent Vice simultaneously.
After seven films, with a reputation that puts him amongst the most celebrated auteurs in the world, you'd think his confidence would be brimming whenever he picked up a camera. "It does not work like that," he says. So what is it – confidence or terror? "Somewhere between the two. Terrified, no. Scared – mildly scared. There's always an element of fakery. You have a phony confidence and you know you're after something. You wouldn't be there if you didn't get into the fight and maybe win it."
As our conversation draws to a close, we get into Bridesmaids. He went to visit his wife while she was working on the movie. Perhaps a mildly crude marital comedy is the very antithesis to what he does, but he was still a fan. Would he ever consider shooting a mainstream comedy like that? "I thought this was that!"
'Inherent Vice' is realeased on 30 January
Reuse content