Billy Lumby is somewhat on edge. This is the writer and director's first face-to-face interview and the self-confessed "control freak" isn't used to putting his story in someone else's hands. His worst fear? "A headline saying something like: 'Non-Jewish film-maker makes anti‑Semitic film.'"
He needn't be so worried; his moving 15-minute creation, SAMUEL-613, is complex and sensitive – and has just been nominated for a Bafta in the short-film category.
It all started when Lumby moved into the borders of Stamford Hill – the north London enclave inhabited by about 30,000 Hasidic Jews, the largest concentration in Europe. In this pocket of Hackney, ultra-Orthodox adherents to their faith, whose every daily act is dictated by 613 biblical commandments, live cheek by jowl with urban hipsters.
Culture news in pictures
Culture news in pictures
1/30 30 September 2016

An employee hangs works of art with "Grand Teatro" by Marino Marini (R) and bronze sculpture "Sfera N.3" by Arnaldo Pomodoro seen ahead of a Contemporary Art auction on 7 October, at Sotheby's in London

REUTERS

2/30 29 September 2016

Street art by Portuguese artist Odeith is seen in Dresden, during an exhibition "Magic City - art of the streets"

AFP/Getty Images

3/30 28 September 2016

Dancers attend a photocall for the new "THE ONE Grand Show" at Friedrichstadt-Palast in Berlin, Germany

REUTERS

4/30 28 September 2016

With an array of thrift store china, humorous souvenirs and handmade tile adorning its walls and floors, the Mosaic Tile House in Venice stands as a monument to two decades of artistic collaboration between Cheri Pann and husband Gonzalo Duran

REUTERS

5/30 27 September 2016

A gallery assistant poses amongst work by Anthea Hamilton from her nominated show "Lichen! Libido!(London!) Chastity!" at a preview of the Turner Prize in London

REUTERS

6/30 27 September 2016

A technician wearing virtual reality glasses checks his installation in three British public telephone booths, set up outside the Mauritshuis museum in The Hague, Netherlands. The installation allows visitors a 3-D look into the museum which has twenty-two paintings belonging to the British Royal Collection, on loan for an exhibit from 29 September 2016 till 8 January 2017

AP

7/30 26 September 2016

An Indian artist dressed as Hindu god Shiva performs on a chariot as he participates in a religious procession 'Ravan ki Barat' held to mark the forthcoming Dussehra festival in Allahabad

AFP/Getty Images

8/30 26 September 2016

Jean-Michel Basquiat's 'Air Power', 1984, is displayed at the Bowie/Collector media preview at Sotheby's in New York

AFP/Getty

9/30 25 September 2016

A woman looks at an untitled painting by Albert Oehlen during the opening of an exhibition of works by German artists Georg Baselitz and Albert Oehlen in Reutlingen, Germany. The exhibition runs at the Kunstverein (art society) Reutlingen until 15 January 2017

EPA

10/30 24 September 2016

Fan BingBing (C) attends the closing ceremony of the 64th San Sebastian Film Festival at Kursaal in San Sebastian, Spain

Getty Images

11/30 23 September 2016

A view of the artwork 'You Are Metamorphosing' (1964) as part of the exhibition 'Retrospektive' of Japanese artist Tetsumi Kudo at Fridericianum in Kassel, Germany. The exhibition runs from 25 September 2016 to 1 January 2017

EPA

12/30 22 September 2016

Jo Applin from the Courtauld Institute of Art looks at Green Tilework in Live Flesh by Adriana Vareja, which features in a new exhibition, Flesh, at York Art Gallery. The new exhibition features works by Degas, Chardin, Francis Bacon and Sarah Lucas, showing how flesh has been portrayed by artists over the last 600 years

PA

13/30 21 September 2016

Performers Sean Atkins and Sally Miller standing in for the characters played by Asa Butterfield and Ella Purnell during a photocall for Tim Burton's "Miss Peregrines Home For Peculiar Children" at Potters Field Park in London

Getty Images

14/30 20 September 2016

A detail from the blanket 'Alpine Cattle Drive' from 1926 by artist Ernst Ludwig Kirchner is displayed at the 'Hamburger Bahnhof - Museum for Contemporary Arts' in Berlin. The exhibition named 'Ernst Ludwig Kirchner - Hieroglyphen' showing the complete collection of Berlin's Nationalgallerie works of the German artist Ernst Ludwig Kirchner and will run from 23 September 2016 until 26 February 2017

AP

15/30 20 September 2016

A man looks at portrait photos by US photographer Bruce Gilden in the exhibition 'Masters of Photography' at the photokina in Cologne, Germany. The trade fair on photography, photokina, schowcases some 1,000 exhibitors from 40 countries and runs from 20 to 25 September. The event also features various photo exhibitions

EPA

16/30 20 September 2016

A woman looks at 'Blue Poles', 1952 by Jackson Pollock during a photocall at the Royal Academy of Arts, London

PA

17/30 19 September 2016

Art installation The Refusal of Time, a collaboration with Philip Miller, Catherine Meyburgh and Peter Galison, which features as part of the William Kentridge exhibition Thick Time, showing from 21 September to 15 January at the Whitechapel Gallery in London

PA

18/30 18 September 2016

Artists creating one off designs at the Mm6 Maison Margiela presentation during London Fashion Week Spring/Summer collections 2017 in London

Getty Images

19/30 18 September 2016

Bethenny Frankel attends the special screening of Disney's "Beauty and the Beast" to celebrate the 25th Anniversary Edition release on Blu-Ray and DVD in New York City

Getty Images for Walt Disney Stu

20/30 17 September 2016

Visitors attend the 2016 Oktoberfest beer festival at Theresienwiese in Munich, Germany

Getty Images

21/30 16 September 2016

Visitors looks at British artist Damien Hirst work of art 'The Incomplete Truth', during the 13th Yalta Annual Meeting entitled 'The World, Europe and Ukraine: storms of changes', organised by the Yalta European Strategy (YES) in partnership with the Victor Pinchuk Foundation at the Mystetsky Arsenal Art Center in Kiev

AP

22/30 16 September 2016

Tracey Emin's "My Bed" is exhibited at the Tate Liverpool as part of the exhibition Tracey Emin And William Blake In Focus, which highlights surprising links between the two artists

Getty Images

23/30 15 September 2016

Musician Dave Grohl (L) joins musician Tom Morello of Prophets of Rage onstage at the Forum in Inglewood, California

Getty Images

24/30 14 September 2016

Model feebee poses as part of art installation "Narcissism : Dazzle room" made by artist Shigeki Matsuyama at rooms33 fashion and design exhibition in Tokyo. Matsuyama's installation features a strong contrast of black and white, which he learned from dazzle camouflage used mainly in World War I

AP

25/30 13 September 2016

Visitors look at artworks by Chinese painter Cui Ruzhuo during the exhibition 'Glossiness of Uncarved Jade' held at the exhibition hall 'Manezh' in St. Petersburg, Russia. More than 200 paintings by the Chinese artist are presented until 25 September

EPA

26/30 12 September 2016

A visitor looks at Raphael's painting 'Extase de Sainte Cecile', 1515, from the Uffizi Gallery in Florence during the opening of a Raphael exhibition at the Pushkin State Museum of Fine Arts in Moscow, Russia. The first Russian exhibition of the works of the Italian Renaissance artist Raffaello Sanzio da Urbino includes eight paintings and three drawings which come from Italy. Th exhibit opens to the public from 13 September to 11 December

EPA

27/30 11 September 2016

Steve Cropper and Eddie Floyd perform during Otis Redding 75th Birthday Celebration - Rehearsals at the Macon City Auditorium in Macon, Georgia

Getty Images for Otis Redding 75

28/30 10 September 2016

Sakari Oramo conducting the BBC Symphony Orchestra, the BBC Symphony Chorus and the BBC Singers at the Last Night of the Proms 2016 at the Royal Albert Hall in London

PA

29/30 9 September 2016

A visitor walks past a piece entitled "Fruitcake" by Joana Vasconcelo, during the Beyond Limits selling exhibition at Chatsworth House near Bakewell

REUTERS

30/30 8 September 2016

A sculpture of a crescent standing on the 2,140 meters high mountain 'Freiheit' (German for 'freedom'), in the Alpstein region of the Appenzell alps, eastern Switzerland. The sculpture is lighted during the nights by means of solar panels. The 38-year-old Swiss artist and atheist Christian Meier set the crescent on the peak to start a debate on the meaning of religious symbols - as summit crosses - on mountains. 'Because so many peaks have crosses on them, it struck me as a great idea to put up an equally absurd contrast'. 'Naturally I wanted to provoke in a fun way. But it goes beyond that. The actions of an artist should be food for thought, both visually and in content'

EPA
Lumby was electrified by the culture clash, by the sight of the men in their payos (sidecurls), fur hats and knee-high white socks and by the sound of them chatting to each other energetically in Yiddish as they made their way to synagogue. He decided instantly that he had to make a film. There was only one problem: he isn't Hasidic – or even Jewish. "I knew I was going into the unknown," he says as he sits in a trendy café in nearby Dalston. "But it was too exciting for me to resist."
The result is the first fictional film to be shot in Stamford Hill. Lumby tells the story of 23-year-old Shmilu (or samuel-613 as he is known on the illicit dating profile he updates on his laptop while hidden under the covers), who is seen pushing against the suffocating confines of Hasidic life. When he goes to buy a copy of the Auto Trader from the newsagent, the rabbi has reported it to his father before he even arrives home (Shmilu also returns with a porn mag tucked into his trouser leg). After an explosive row at the shabbat table, he shaves his hair and beard and moves into a council flat, where he gorges on bacon, arranges a date from hell and experiments with alcohol and drugs.
The scenes were inspired by real-life stories from young people who have left Stamford Hill and are now "off the derech" (OTD), derech being Hebrew for path. They face an uphill struggle to learn about a mainstream culture completely alien to them, and to maintain contact with parents and often children, while being ostracised by much of the community.
A society usually hermetically sealed from the outside has been increasingly in the headlines of late: last year for a school's ban on mothers driving; last week for an illegal school that doesn't teach English, which has been closed down after 40 years.
Lumby made herculean efforts to immerse himself in this "vibrant and culturally rich place". As well as cultivating contacts on Facebook – both OTD youngsters and those still inside – he watched every film and read every book he could lay his hands on. He even began learning a bit of Yiddish. On several occasions, he also – much to his mortification as he retells the stories – went "undercover".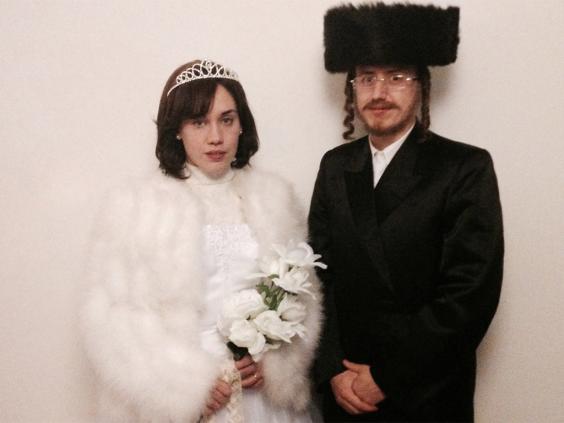 He attended a Friday night meal, at which he said he was Jewish, something he now bitterly regrets (in part because he has since realised that the residents' respective willingness and unwillingness to help had not a jot to do with his religion).
On one occasion, he explored London wearing a kippah (skull cap). When he returned to his east London neighbourhood, he forgot about his head covering and wondered why he was getting a funny look from the man in the cafe when he gave his order for a bacon sandwich.
He was also tipped off about a huge rally at a stadium where Hasidic communities from all over Europe were to discuss what to do about the threat posed by the internet. Deciding that he might be able to pass, with his hipster/Hasidic curly hair and beard, if he wore a kippah, white shirt and black trousers, he walked up to a house where he was told he could purchase a ticket ("they obviously don't sell them online").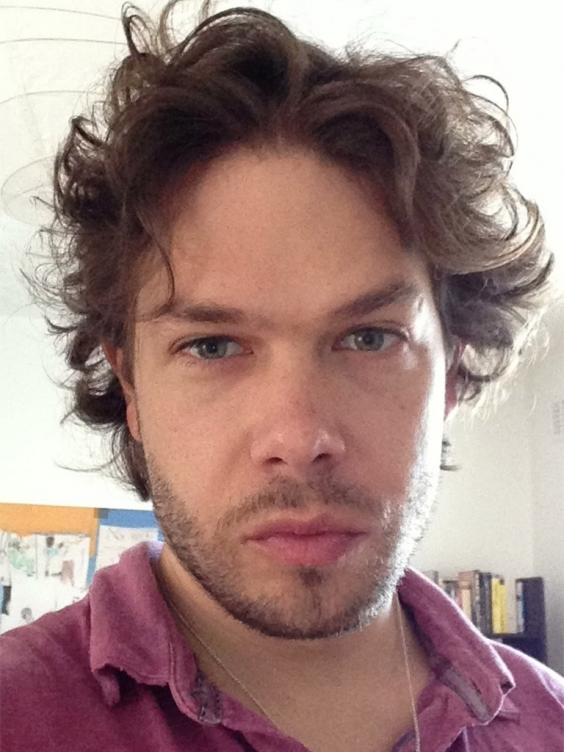 "There were five guys sitting there and they were like: 'Yeah sure, no problem. Er, who's your rabbi, by the way?' It was a question I was totally unprepared for – so I said, 'Oh, I'm between rabbis at the moment.' They sussed me out and, red-faced, I had to just walk out of there."
The first advert he tried to place in a Hasidic newspaper, searching for a family happy to have their home used for filming, was rejected at the last minute. When he eventually found a location, it still wasn't plain sailing. Four burly police officers kicked the back door down to tackle what they thought were intruders (the neighbours had seen non-Hasids entering the home and assumed a burglary was under way).
On the street, they were also apprehended, this time by protective residents unaware that the young man being followed by a camera was, in fact, the lead actor, Theo Barklem-Biggs, a gentile in costume. Lumby was delighted – seeing it as proof that his investment in authentic‑looking beards and payos had paid off. "Good hair and make up is really not cheap."
The director is also proud as punch that he had real people speaking Yiddish in the film, a language and culture that was thriving across Europe pre-Holocaust. He had initially wanted the cast to be entirely composed of non-professional actors from Stamford Hill. In the end, he had to settle for just three, including Samuel Leibowitz, who plays the father, among a mainly Jewish cast. Leibowitz is no stranger to the camera, having appeared in a BBC documentary back in 2008 showing his re-entry into the community after serving multiple sentences for international drug-smuggling.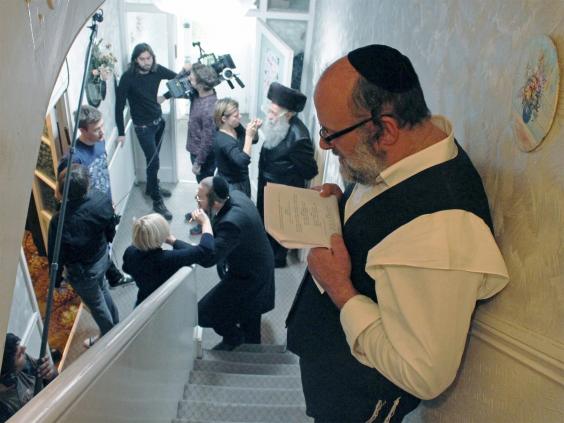 Lumby, who is now working on his first feature film, about schizophrenia in Hackney, while paying off the interest on the huge bank loan he took out to fund SAMUEL-613, says his mission is to make "stylish, arty films about social issues". Viewers may assume he has no connection with the lead character in this work, but they would be mistaken. "Because I realised that if I was going to make a film that was in any way true, I would have to write it in a partly autobiographical way – channelling my own experiences in terms of using online dating, of when I was younger questioning my identity, mental health issues, experiencing depression, maybe sometimes feeling like an outsider."
However, no matter how personal the plot or how much research Lumby conducted, he readily accepts that his film could never be 100 per cent authentic. "The Haredi community is private, so they don't want films to be made about them that are shown around the world."
This leaves it to those who have left the community, those on the fringes or those who are merely interested outsiders. "So in that sense they're almost never going to be happy with how they're represented because they're not representing themselves," he says.
'SAMUEL-613' is free to watch at ukjewishfilm.org/samuel-613
Reuse content