Straight Outta Compton was one of the albums that changed hip hop. Until its release in 1988, the syncopated Afro-centric sounds were largely the preserve of New York rappers, propagating social change and lambasting injustice. Then along came NWA, an abbreviation of Niggaz wit' Attitude, a group of black youths from Compton in Los Angeles, whose debut album, replete with angry violence and misogynistic lyrics, gave rise to gangsta rap and the birth of the so-called West Coast hip hop.
The group gained notoriety worldwide when their hit song "Fuck tha Police" was banned by radio stations across America, and they were ordered not to play the track at concerts for fear of inciting violence. The FBI wrote to the group, condemning the song for misrepresenting the police force and encouraging violence. The song criticised the heavy-handed treatment of youths by the police force and racial profiling and included a violent call to action. They saw themselves as rap realists, reporting what was happening on the streets.
The most influential song on the album, "Gangsta Gangsta", contains lyrics that could have come out of a blaxploitation movie, "Life ain't nothing but bitches and money. Cause I'm the type o' nigga that built ta last, because if ya fuck wit me, I'll put a foot in ya ass."
Beyond the lyrics, the song showcased the abilities of two men who would come to dominate the genre: the rapping ability of Ice Cube, born O'Shea Jackson, and the producing mastery of Dr Dre (Andre Romelle Young). Dre would go on to produce albums by Eminem, Snoop Dogg and Kendrick Lamar, but already his preference for synthesised slow heavy beats was in evidence on an album often ranked on the greatest of all-time lists.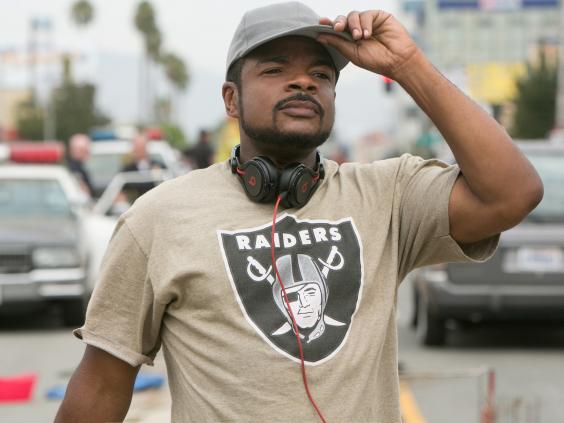 The lyrics have a confrontational approach that harks back to the Black Panthers, yet are devoid of the historical context found in the music of Public Enemy. Indeed, there is a humour and irony that is reminiscent of the big rap band of the era, Run DMC.  They saw what they were doing as street reportage, a rap realism, with the swearing lending a freshness.
The genius of the album comes from the fact that these gruesome lyrics were rapped jazz, P-funk and romantic soul samples, from artists as diverse as Martha Reeves and Marvin Gaye. The sampling is the beauty to the lyrics beast.
The music on the album is mostly upbeat, most in evidence on "Express Yourself", a rap about self-expression over Charles Wright and the 103rd Street Rhythm Band.
Some of the later tracks give a hint of the parody that would come to define NWA's later albums. Ice Cube's finest moment comes on "I Ain't the 1" where he is given the solo spotlight to confront materialistic women.
 F Gary Gray's film Straight Outta Compton tells the story of the rise and fall of the band. It starts with the dream of drug dealer Eric Lynn Wright to establish himself as record label owner Eazy-E. He formed Ruthless Records with businessman Jerry Heller. His partnership with Dre came about after he bailed Dre out of jail for failing to pay speeding fines, and in return Dre produced for him. NWA was soon born. Over the course of the next decade, there was success, tragedy, infighting, a brute in the guise of Suge Knight, the notorious figure who created Death Row Records with Dre, after he quit NWA. The film ends with the death of Eazy-E, who contracted Aids when the band slept their way across America.
Straight Outta Compton - who's playing who
Straight Outta Compton - who's playing who
1/5 Straight Outta Compton - who's playing who

Dr Dre played by Corey Hawkins

Universal

2/5 Straight Outta Compton - who's playing who

Eazy-E played by Jason Mitchell

Universal

3/5 Straight Outta Compton - who's playing who

Ice Cube played by O'Shea Jackson Jr

Universal

4/5 Straight Outta Compton - who's playing who

DJ Yella played by Neil Brown Jr

Universal

5/5 Straight Outta Compton - who's playing who

MC Ren played by Aldis Hodge

Universal
 It's hard to imagine a director more suited to the job than F Gary Gray. He began his career making music videos. On his first directing job, working on WC and the Maad Circle's "Dress Code" video, he met Ice Cube. Soon after Gray directed the video for Ice Cube's smash hit "It Was a Good Day". In 1995, at the age of 24, Gray, who grew up in South Central LA, directed the hit Friday, written by and starring Ice Cube about a day in the life of drug-dealing slackers.
 "Being so close to the story made it harder and easier," says Gray, who went on to make Set it Off and Be Cool. "It was easier because I knew a lot of the details. I grew up in the environment and I witnessed some of the things that NWA rapped about, so it made it easier to connect to the heart of the music. It made it harder because I want to get it right."
Where he excels is showing the police brutality and institutional racism. The Rodney King beating and riots are central to the picture. Police brutality on blacks has recently resurfaced with the Ferguson, Missouri shooting. "We didn't try to tap into what is going on today, these things have been going on for a long time, we just told the truth about what it was like in the Eighties and Nineties, it just happened to coincide with the headlines today," Gray says.
But Gray feels that change is going to come. "I'm optimistic that a lot of things will change, how can they not? There is a lot of pressure on our leaders to change the culture."
The film sides with Ice Cube as he condemns Heller for trying to rip him off. He left the band after their infamous world tour, during which they were arrested in Detroit after they played "Fuck tha Police", despite being banned from doing so. Yet Gray is adamant that their friendship didn't affect how he told the story. "No not at all. He brought me the script to the film, which was fairly developed when I joined the movie," says the director, who was due to make a Captain America sequel for Marvel. "I worked hard to pull in as much of the Dre story and the other characters as I could but with two-and-a-half hours you can only do so much with a story that spans 10 years, with five guys."
Gray chose a group of largely unknown actors. Indeed, the only face you're likely to recognise is Sideways star Paul Giamatti, who plays Heller. Corey Hawkins gives a star-making turn as Dr Dre, but the standout casting was the decision to get O'Shea Jackson Jr to play his dad, Ice Cube.
"I was a little afraid when he was introduced as an option, because you can't just put a novice in that role," says Gray. "Ice Cube is a very specific, charismatic artist and the average actor with experience would have had a hard time. When he was introduced I was a little taken aback and a little cautious but it took him two years to get the role, taking acting classes and callbacks and things like that. He really worked hard for the role. I want to dispel any rumours about nepotism because I would never put the film in jeopardy and, selfishly, I would not put my career in jeopardy by hiring his son as a favour to a friend."
Mention NWA and controversy doesn't seem far away. Knight, who isn't happy with his depiction in the film, is currently facing a murder charge.
He allegedly ran over and killed a man and injured another in the car park of a restaurant, where discussions were said to be taking place about throwing him off the set. The dead man's widow has filed a lawsuit, claiming that Dre and Cube are also liable for the death of her husband.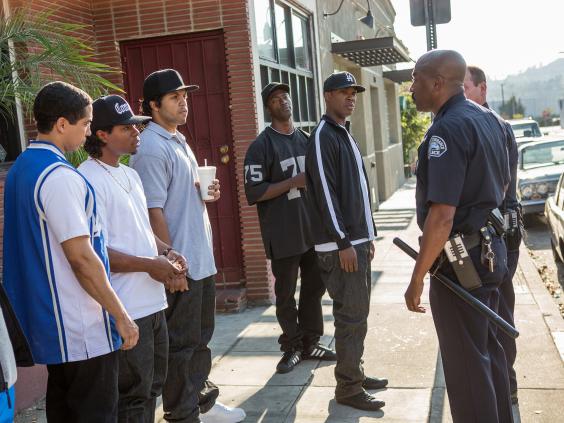 Gray says of Knight: "I don't have a relationship with him." And of his depictions of Knight and Heller as the villains of the piece: "I just took first-hand accounts from people who dealt with all the characters. Jerry or Suge or whoever, I read books and watched videos, I feel good about the information that I received and what is put in the movie."
The involvement of NWA in the film was significant, "Dre was there every day on set," says Gray. "Cube was hands-on in the development process and in post-production, so they were very close to the process of making the movie."
Dre has the most to lose out of the band members. Not only did he become the biggest superstar, he also founded the Beats Electronics, a headphone and music business, which was recently sold to Apple for $3 billion (£1.91bn).
After the US release of the film, two women, journalist Dee Barnes and Dre's ex-girlfriend Michel'le Toussaint, claimed Dre beat them. The musician told Rolling Stone magazine, "I made some fucking horrible mistakes in my life. I was young, fucking stupid. I would say all the allegations aren't true – some of them are. But I paid for those mistakes and there is no way in hell that I will ever make another mistake like that again."
Dee Barnes has also said she's glad her  beating wasn't depicted in the film. Gray  avoids talking directly about the allegations, but says: "When I developed the script I  could see there could have been five different movies. There were a lot of good times and  bad times, and it really depends on the point of view you take. I chose based on the information that I gathered in the process of  development."
What he does show is Dre being beaten by his mother. "It's a scene where she is feeling disrespected and I wanted it in the movie because it's real. It's what motivated him to do what he's doing today. It's probably one of the best things that could have happened to him, to wake him up and set him in the right direction."
'Straight Outta Compton' is released on 28 August
Reuse content