Tickling is no laughing matter. That's the conclusion the journalist David Farrier arrived at when he tried to investigate the seemingly absurd world of "competitive endurance tickling". What he discovered was a shady tickling video empire – yes, you read that right – involving cyber-bullying and big money litigiousness. And now Tickled, the bizarre and ultimately shocking film that he and co-director Dylan Reeve have made about the subject, has become one of the stand-out documentaries at this year's Sundance festival. Not least because there are plenty of laughs along the way.
The story begins in Auckland, New Zealand, when Farrier, who has made a career out of reporting on the stranger side of life, discovers a social media post advertising what must surely be the oddest sport in the world (see above). Thinking he has hit upon a story, he emails the promoter, Jane O'Brien Media, for an interview. And that's when things start to get really weird. Instead of a polite no, or even no reply at all, Farrier – who is an out gay man – receives dozens of intimidating, virulently homophobic emails threatening him with extreme legal consequences should he pursue his investigation.
Highest-grossing films of all time - ranked
Highest-grossing films of all time - ranked
1/10 10. Avengers: Age of Ultron

After the brilliant first Avengers, Age of Ultron had a lot to live up to. Reuniting the team wouldn't be enough, they needed a worthy adversary. Unfortunately, with Joss Whedon trying to ram so many superheroes on screen at once, the result was not as polished nor as fun as its predecessor.

Marvel

2/10 9. Furious 7

One of the best films in the Fast and Furious franchise, Furious 7 features Paul Walker's final performance on film. The all-thrills sequel was a surprisingly massive hit, with Vin Diesel since announcing another three films.

3/10 8. Harry Potter and the Deathly Hallow - Part 2

The final part in the epic Harry Potter saga was an emotional time for many: It would be the last time Daniel Radcliffe would have the iconic lightning bolt scar painted to his forehead. For that one reason, it was always going to be a success. Unfortunately, splitting JK Rowling's final novel in two probably wasn't the greatest idea, leading to one of the weakest entries in an all round great series.

4/10 7. Iron Man 3

Coming straight off the back of Avengers, Iron Man 3 gave Robert Downey Jnr's character PTSD, shoved in a protege, and made iconic villain The Mandarin a phoney. Some fans were not pleased while others thoroughly enjoyed the film. For Marvel fans, however, the third instalment in the Iron Man series is either one of the most hated MCU films or one of the greatest.

Marvel

5/10 6. Jurassic World

Coming out 22 years after Jurassic Park, World was a fast paced action film that bombastically ran everyone through the new park. Chris Pratt's performance was enjoyed by many, but the spectacle of dinosaurs on screen wasn't quite as thrilling fourth time around.

6/10 5. Frozen

"Let it go, let it go!", "Do you wanna build a snowman?" and "Love is an open doooooooooooor". There, those should be in your head for a little while now. Disney managed to make a Christmas classic that won the hearts of children and adults alike with Frozen, making The Mouse millions in the process.

7/10 4. Avatar

The highest grossing film on the list, and for good reason. For many, Avatar was their first 3D cinematic experience, leaving people in awe of the spectacle they just witnessed. Hundreds went back multiple times (including myself), but many have forgotten about the once wonderful film. Whether it would make as much money today, now that every other film is in 3D, would be very, very interesting.

8/10 3. Avengers

Joss Whedon's fist attempt at bringing together Captain America, Iron Man, Thor and The Hulk was masterfully executed. An action-packed romp featuring good guys v bad - what was not to love?

9/10 2. Star Wars: The Force Awakens

Joss Whedon's fist attempt at bringing together Captain America, Iron Man, Thor and The Hulk was masterfully executed. An action-packed romp featuring good guys v bad - what was not to love?

10/10 1. Titanic

It was a close toss-up between Star Wars and Titanic for best 'highest-grossing film' movie, but the disaster film edged it. Cameron's classic set a new precedent in 1997 for just how much money films could make, and it wasn't until his return to cinema with Avatar that the record was broken again. It was also a critical success and, importantly, launched Leonardo DiCaprio and Kate Winslet into the spotlight.
In the film, we learn this while watching one of Jane O'Brien's videos: a young man in a tracksuit, strapped to a bed, giggling uncontrollably while four other good-looking guys tickle him under the arms, stomach and on each foot. "It was a strange response," Farrier says in the voice over. "Given that it looked so … gay." But interest now fully piqued, he and Reeve fly to California to track down Jane O'Brien – and gradually find themselves descending down a rabbit hole of hidden identities, harassment and criminal activity.
Despite the huge sums of money invested in producing hundreds of Jane O'Brien tickling videos, it turns out there is no club, sport or even fetish website associated with them. Is there even a Jane O'Brien? All indications point towards one wealthy individual, cloaked in litigation and cyber anonymity, whom no one has ever actually met or spoken with. On top of that, the pair begin to uncover a pattern of blackmail and harassment stretching back for decades – with young men from poor backgrounds, duped by vast sums of money into making weird but seemingly harmless videos, suddenly finding their films online and their good names at risk should they complain or try to have the videos taken down. The focus of the film then becomes a mission to unmask this kinky cyber-bully – and as each layer is peeled back, more twists, revelations and shocking abuse are unearthed.
Nonetheless, there is also plenty of tickling footage along the way – and at times, it's impossible not to laugh. Giggling is, after all, infectious and seems too ridiculous to be "degradation porn". But Richard Ivey, the cheerful and up-front owner of a legitimate tickling fetish site, who we meet half-way through the film, has a different take: "This is whips and chains bondage, dialled way down," he says, while feathering the feet of a hysterically laughing hunk, locked in a leather stockade. "It's tickle torture."
But for the mysterious "Jane O'Brien", of course, tickling is not so much the torture as the control "she" exerts over "her" victims. This is a story about the power and abuse of wealth, and how easy it is to hide behind the anonymity of the internet. And it's made all the more poignant by its juxtaposition with something so child-like and benign.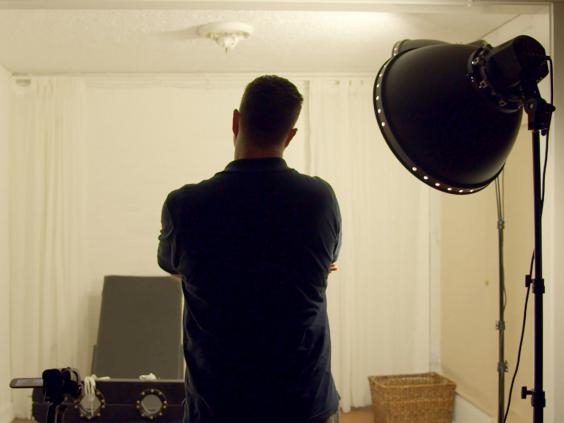 Farrier is the star of the show. He has a Louis Theroux-like charm and innocence, which carries the light-hearted aspects of the film well – and he keeps it light, despite the darker aspects of this tale. But perhaps he has good reason to be wary: as the film premiered at Sundance, an associate of "Jane O'Brien" – someone featured in the film threatening the pair – was seen furiously taking notes in the back of the cinema.
For now, though, Farrier seems to be laughing loudest. HBO has just picked up the US TV rights and a theatrical release is planned worldwide. Asked for his response, he says, tongue firmly stuck in cheek: "I'm tickled pink."
Reuse content