"I don't think I'm that rebellious," states Zoë Kravitz, and she's probably right. What would there be to rebel against?
The daughter of rock star Lenny Kravitz and actress Lisa Bonet, Kravitz has echoed her parents' respective careers – everything from starring in X-Men: First Class and Divergent to pitching up in the steamy video for Jay-Z's song "I Know", to modelling for Vera Wang. Probably the most radical thing this 26-year-old could do is get an office job.
In the next two months, Kravitz appears in three new movies – Divergent sequel Insurgent, drone-strike drama Good Kill and the long-anticipated Mad Max: Fury Road, the fourth film in George Miller's post-apocalyptic saga that originally starred Mel Gibson. In fact, so long-anticipated has it been, the last time I met Kravitz – for the 2011 X-Men film – she'd already been attached to the film for over 18 months. "I was the second person they cast in that film," she marvels now. "It's crazy!"
With rumours circulating that it will open this year's Cannes Film Festival, it'll be a remarkable conclusion to a journey that took Kravitz and co-stars Charlize Theron and Tom Hardy, who replaces Gibson as the iconic road-warrior Max, to Namibia, where the film was finally shot. The delays were so extensive – everything from inclement weather to studio dithering – that Kravitz "almost cried" when she finally saw the trailer go online. "I would've probably cried even harder if it didn't look good, after going through all that."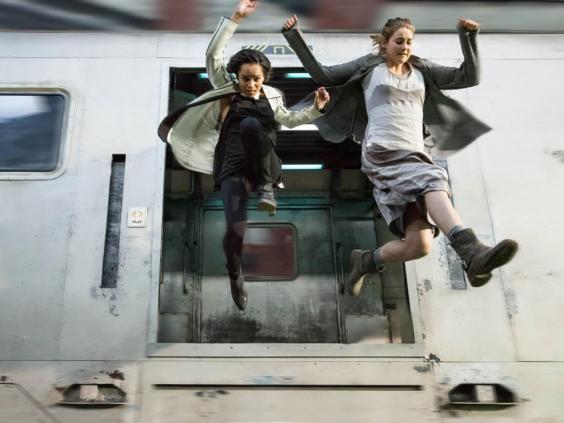 When we meet, Kravitz sporting a tattoo-revealing black dress. She has just finished shooting her other new blockbuster, Insurgent, two days previously. Its predecessor, based on the first of three hit young-adult (YA) novels by Veronica Roth set in a futuristic, fascistic, faction-split Chicago, took $288m worldwide, and boosted the careers of several of its young actors – leading lady Shailene Woodley, of course, but also British co-star Theo James, Ansel Elgort, Miles Teller (who went on to star in Oscar hit Whiplash) and Kravitz herself.
Inevitably, this changed things second time out. "It was different because the first one, we were all together the whole time in Chicago," says Kravitz, who plays the "feisty, funny" Christina, best friend to Woodley's rebellious Tris Prior. "And, this time, it was a little more dispersed. Everyone had different jobs going on at the same time, because people had become successful. So people came and went as they could so it was a little different."
Kravitz hadn't read the books "until I got the job" but is now a fan. "Obviously I'm such a part of that world they've become dear to my heart." Same goes for Mad Max. Back when she auditioned for the role of Toast, one of several characters who join Max on an epic desert chase, she hadn't seen the original trilogy (and wasn't even born when third episode, 1985's Beyond Thunderdome, was released).
"People would often say, 'that's very Mad Max', and I didn't know what they were talking about. But I think they're so incredible. Even the stunts, in the first one especially, are still impressive today."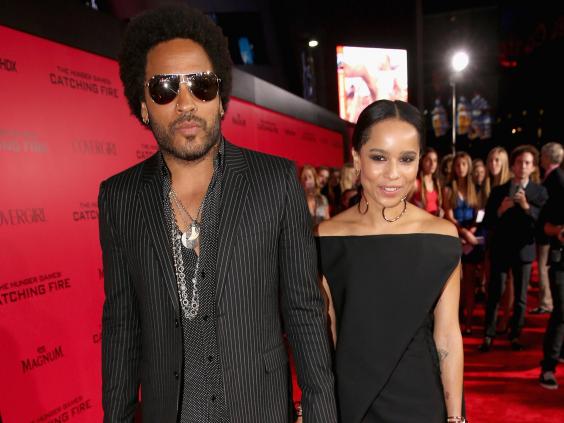 Likewise, she knew little about the world of Marvel's mutant superheroes. "I wasn't an X-Men geek before [I got the role] – and I mean that in an endearing way," she says. Cast as Angel Salvadore, a stripper who can fly and boasts deadly saliva, she was so convinced she wasn't right for the part, she didn't take the audition hugely seriously.
"I rolled up hung-over, wearing a hat and a T-shirt," she remembers. "When you don't think you have a shot, you don't put pressure on yourself and then you do a good job."
As laid back as this suggests, Kravitz seems calm and carefree, but it wasn't always this way. She was born in Venice Beach, California, and her parents divorced when she was five. She lived with her mother until she was 11, and then with her father, where she attended a "pretty cliquey" school in Florida, feeling something of an outcast.
"I was awkward – I was like a total loser. I didn't really have any friends there." Later, she attended a Rudolph Steiner school in Manhattan – "those are more community-oriented" – which was more to her liking. By this point, she was "a total drama geek", performing wherever she could. Her father's parents were film-maker Sy Kravitz and actress Roxie Roker and she regularly put on shows for them.
"I used to make my grandparents pay a dollar to watch me sing Grease songs and "Somewhere Over the Rainbow" in their living room. I was always an entertainer and I would always do all that stuff, but it slowly evolved into a career, which is great, but it wasn't a plan."
When she was growing up, she wasn't particularly aware of her family's showbiz achievements. Her grandmother had been on the hit CBS sitcom The Jeffersons, while her mother shot to fame as Lisa Huxtable in The Cosby Show. "I didn't know about that as a kid," shrugs Kravitz (though given her mother was fired for "creative differences" when Kravitz was three, it's no surprise it wasn't a major topic of conversation in the Kravitz-Bonet household).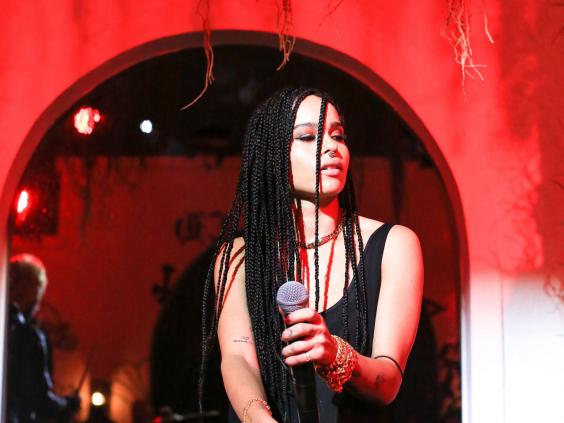 After Kravitz's parents split, her mother remarried actor Jason Momoa (and had two further children), while her father added acting, in both Precious and another YA hit, The Hunger Games, to his music career. Kravitz herself was 16 when she won her first role, in rom-com No Reservations with Catherine Zeta-Jones.
Being the daughter of showbiz folks was "a double-edged sword", she says. "I definitely got opportunities that other people wouldn't have gotten. I got an agent very quickly. But people want to shoot you down. They want to say, 'you're only getting this and that because of who your parents are'."
Still, her mother and father set a good example: "I think both of my parents are unique in the way they don't live their lives as celebrities. They're both artists, first and foremost. My mom lives a very private life. So does my father. You don't really see them in the tabloids or anything like that. I think that's definitely a decision you can make. And some people want that – that's fine. But I'm not looking to be famous. I don't really need to be on the cover of all these magazines. I want to make art and [fame] comes with it if you're successful. But being a celebrity is a choice."
Whatever she says, Kravitz doesn't have an aversion to famous people. She dated her X-Men co-star Michael Fassbender just as he was at the eye of his own celebrity hurricane, while she's good friends with It-Girl model Cara Delevingne and also the inimitable Jay-Z. "I've known him for a while – and he's one of the coolest, sweetest men I've ever met," she nods. "He's so funny. We hang out sometimes and he's really nice."
Best films to watch in 2015
Best films to watch in 2015
1/9 Suffragette - 11 September

Meryl Streep is bound to make a formidable Emmeline Pankhurst in Sarah Gavron's new film about the British women's suffragette movement of the early 20th century. Streep is again working from a screenplay by Abi Morgan who also wrote The Iron Lady.

Getty Images

2/9 Far From The Madding Crowd - 1 May

Thomas Vinterberg turns his hand to Thomas Hardy and British costume drama. Memories of the John Schlesinger version with Alan Bates and Julie Christie will be hard to exorcise. Carey Mulligan and the mercurial Flemish actor Matthias Schoenaerts star as Bathsheba Everdene and Gabriel Oak.

3/9 Jurassic World - 12 June

The third Jurassic Park sequel is finally here starring Chris Pratt. The storyline goes something like this - theme park gets dinosaur to attrack visitors and it all goes horribly wrong. Should prove a fun one among cinema-goers.

Colin Trevorrow

4/9 Terminator: Genisys - 3 July

Arnold Schwarzenegger kept his promise - he's back and he's trying to stop Judgement Day.

5/9 Spectre - 6 November

Bond is back for the 24th time. So is arch-villain Blofeld. Director Sam Mendes did a sterling job with Skyfall but the last movie ended on a very downbeat note with poor old Judi Dench signing out of the series. The challenge now is to reinvigorate a franchise that is already well into its 50s.

Rex Features

6/9 Cake - 20 February

It's Rachel from Friends as you've never seen her before as Jennifer Aniston plays Claire Bennett - a woman who initiates a relationship with a widower while battling hallucinations of his dead wife.

7/9 Suite Francaise - 13 March

It will be intriguing to see how Saul Dibb's long-awaited adaptation of Irène Némirovsky's novel deals with a problem that has often confounded British film-makers: how to portray French characters played by English-speaking actors in Nazi-occupied, wartime Paris without slipping into 'Allo 'Allo!-style caricature. Michelle Williams and Kristin Scott Thomas lead Dibb's promising cast.

8/9 In The Heart Of The Sea - 13 March

Chris Hemsworth plays tough seafarer Owen Chase in this dramatic Moby Dick movie.

Warner Bros

9/9 Cinderella - 27 March

Kenneth Branagh's live action remake of Disney's classic tale stars Downton Abbey's Lily James. Helena Bonham-Carter and Cate Blanchett also star as the Fairy Godmother and evil stepmother.

Disney
Given Kravitz is also the singer for her own three-piece band Lolawolf, I put it to her that the hip-hop impresario could probably give her music career a boost. "He probably could. But I enjoy doing things myself," she says. When Lolawolf started out, they'd book their own shows – playing local dive bars and house parties. Last year, they released their first album, Calm Down – a blend of hip-hop and R&B grooves – and opened gigs for both Lily Allen and Miley Cyrus.
So what does she want more – music or movies? "They both make me so happy. I'm not trying to choose one or the other. It's about physically finding the time to do both. It keeps me sane in a lot of ways." When Kravitz was making Good Kill in Albuquerque, New Mexico, her two bandmates, James Levy and Jimmy Giannopoulos, came out to join her. "At night time I would record music, and I would go to work during the day… it's nice to have something else creative to do. It's actually really healthy for me."
Of all her new movies, Good Kill is arguably the most interesting. It is written and directed by Gattaca's Andrew Niccol. Kravitz plays a rookie soldier in the US military who gets brought onto the drone-strike programme, dropping bombs remotely in enemy terrain from a Las Vegas control centre. "I think the film does a really great job of not choosing a side, not shoving an agenda down your throat," she says. "Having to sit in this woman's shoes, and see what it's like, I saw both sides. I saw the pros and cons of everything and had compassion for everybody."
Unlike some actors, Kravitz says she's "private" about her politics. While she will speak up when necessary – she felt "disturbed" by the incident in Missouri last year, when Michael Brown, an unarmed black 18-year-old, was shot dead by a white police officer – she is averse to celebrities preaching. "That's why I don't have Twitter; I don't think I have anything to say most of the time that's any more important than anyone else."
'Insurgent' is out on 20 March, 'Good Kill' on 10 April and 'Mad Max: Fury Road' on 15 May
Reuse content