One of cinema's truly iconic actors of the past fifty years, Jack Nicholson celebrates his 80th birthday today (22 April). One of the few actors to exemplify the counterculture yet seamlessly embrace the mainstream, Nicholson is the Gable, the Bogart, the Cagney of his times.
Totally unflinching in his choice of material, Nicholson's body of work has earned him a dozen Academy Award nominations (a record for a male actor) – winning three Oscars, huge critical acclaim and a special place in the hearts of movie fans around the world.
The off screen "bad-boy" image went a long way to seal his popularity of course and he has been able to tap into that for some of his best roles. Nicholson had been acting in films since the late 1950s before his big break in the classic road movie Easy Rider in 1969. He never looked back, establishing his acting chops in a series of memorable roles in some of the best films of the 1970s culminating in his Oscar winning performance in 1975's One Flew Over the Cuckoo's Nest.
Over the subsequent years he may have at times lapsed into self-parody but Nicholson's status as one of greatest, most charismatic actors in cinema history remains true. So, in tribute to a true film legend, here is a run-down of 12 of Jack's finest performances, taking in some of the best films of his storied career.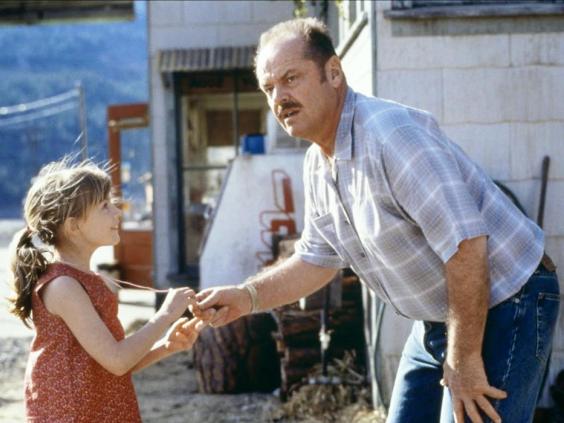 12 The Pledge 2001
A small film that slipped under the radar despite Sean Penn at the helm, boasting a compelling performance from Nicholson as retired cop Jerry Black, who obsessively tries to honour a promise to bereaved parents to find their child's murderer. Consumed and haunted by his quest, Jerry unravels before our very eyes as Nicholson, in a master class of understated acting, carries a dark and unsettling film, a character study far removed from the traditional formulaic whodunit.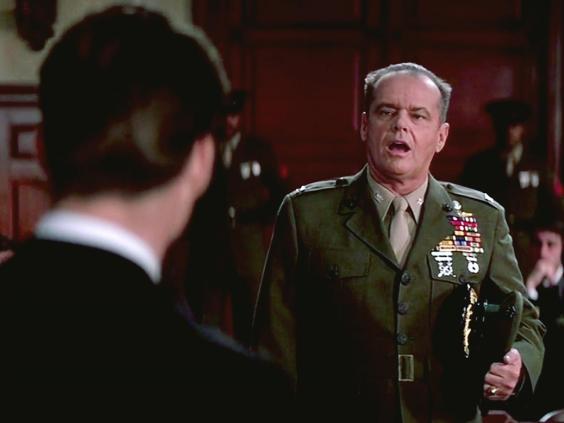 11 A Few Good Men 1992
In contrast to The Pledge, this is Jack the scenery chewer in full blockbusting putting-bums-on-seats mode. As the monstrous Colonel Jessup, Nicholson more than compensates for the clichéd by-the-numbers plot. If you can handle the truth, it's a phone-in Nicholson performance if ever there was one, but he still eats up young pretenders and nominal stars Tom Cruise and Demi Moore with consummate ease... and, of course, adds yet another memorable quote to the Nicholson lexicon.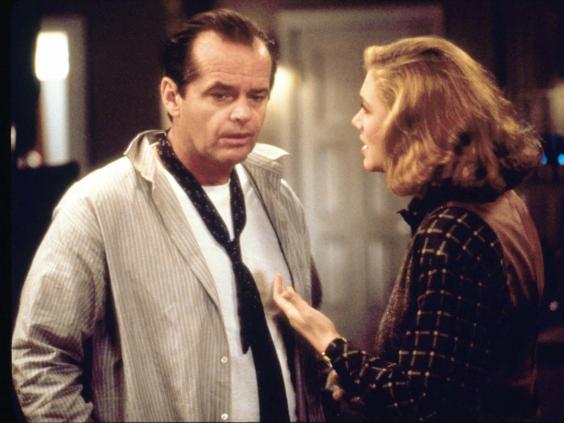 10 Prizzi's Honor 1985
John Huston's penultimate film from Richard Condon's novel is a delightfully offbeat black comedy with Nicholson as a slow-witted mafia hitman who falls for his female counterpart Kathleen Turner. Complications ensue when the two are then contracted to kill one another. Nicholson's sly, tongue-in-cheek performance is a joy to watch and he looks to be having the most fun anyone could possibly have on a film set.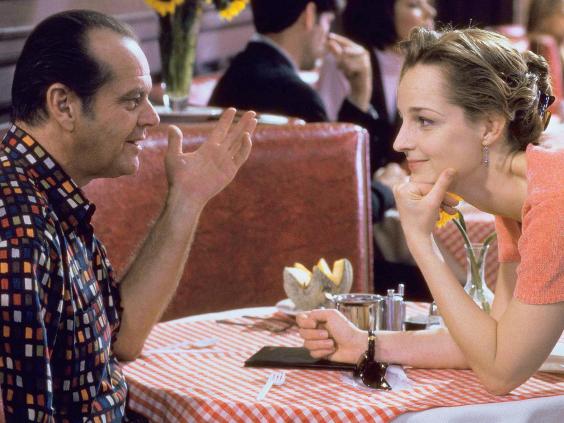 9 As Good as It Gets 1997
It's not a great film but there's some great work here from Nicholson at his demonic best as he hurls decidedly non-PC insults at everyone he encounters. The actor plays a misanthropic writer with OCD who only begins to thaw when he is forced to look after his gay neighbour's dog and then finds himself inexorably drawn to put-upon but big-hearted waitress Helen Hunt. The chemistry between the two leads (both of whom won Oscars) and their performances are the main reasons for sticking with the film which is at least half an hour too long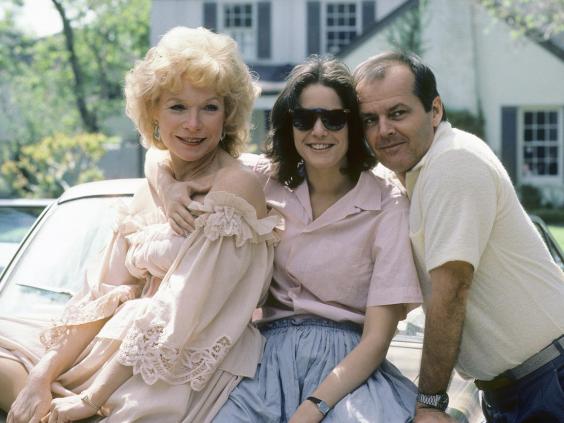 8 Terms of Endearment 1983
This poignant tear-jerker about a mother and daughter's loving but complicated relationship is Shirley MacLaine and Debra Winger's film – however, Nicholson is in typical scene-stealing form. He makes the most of his limited screen time to turn in a charismatic performance as a womanising former astronaut who proves to be a rock for MacLaine's character, and was rewarded with a best supporting actor Oscar.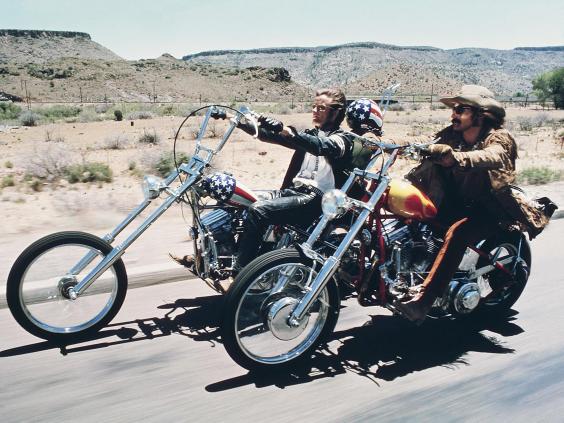 7 Easy Rider 1969
After years of low-budget biker flicks and exploitation schlock, Nicholson finally hit pay dirt with his Oscar-nominated, star-making performance as the dissolute Southern scion lawyer in this legendary counter-culture road movie. It's doubtful that any actor has made such a huge impact with so little screen time but Nicholson manages it with two indelible images – his stoned state-of-the-nation ruminations around the campfire, and riding pillion in a crumpled suit and football helmet.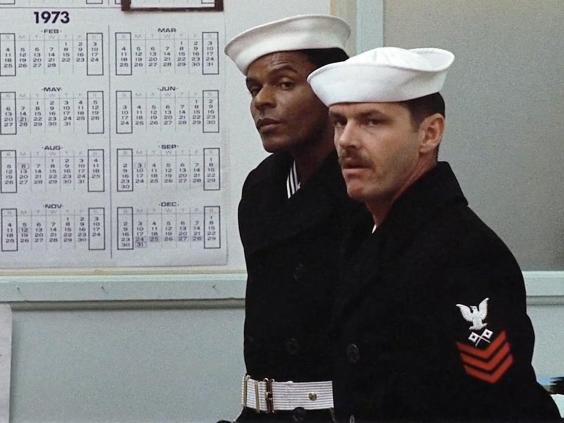 6 The Last Detail 1973
Nicholson is "Badass" Buddusky, a tough-as-teak Navy lifer with a heart, escorting hapless sailor Randy Quaid across country to prison. Buddusky is determined to give the naive kid a good time on the way and the story follows their misadventures in hilarious style. Nicholson is funny, profane and belligerent, delivering Robert Towne's brilliant foul-mouthed script with barely disguised glee, and in retrospect Buddusky can be seen as the character where Nicholson really hits his stride and establishes himself as the go-to actor for edgy roles that require no compromise.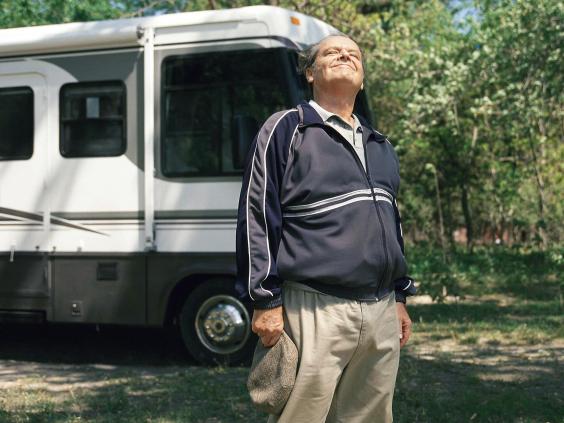 5 About Schmidt 2002
In the twilight of his career Nicholson dared to look old, tired and fat in this superb tragicomedy as a newly retired insurance worker who, after the death of his wife, begins to question for the first time the meaning of his life and the choices he has made. Nicholson's melancholic portrayal of his character's journey of self-discovery may be the most true and human performance of his career, and the climax to the film is truly heartbreaking yet inspirational thanks to him.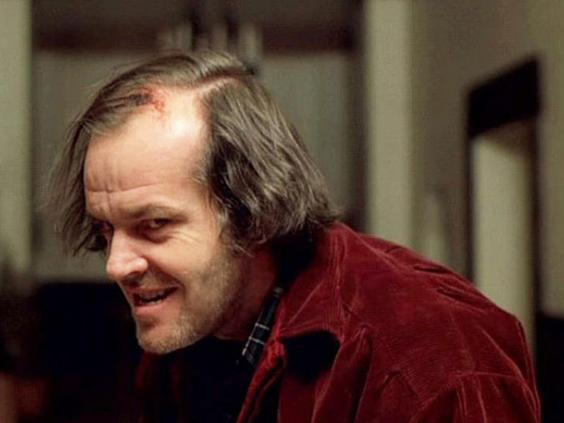 4 The Shining 1980
A famous film and an equally famous (or infamous, depending on your view) performance from Nicholson, yet on its release both he and the movie itself left a number of critics and the novel's author, Stephen King, distinctly unimpressed. However, Nicholson's deranged, failed writer Jack Torrance is now considered as one of his most iconic roles with Nicholson, so soon after One Flew over the Cuckoo's Nest, daringly treading a fine line between Grand Guignol and over-the-top caricature. Nicholson's decent into a murderous psychopath is a mesmerising, watch-from-behind-the-sofa experience, and his (improvised) terrifying yet hilarious appropriation of Johnny Carson's American-as-apple-pie catchphrase "Heeere's Johnny!" has entered movie folklore.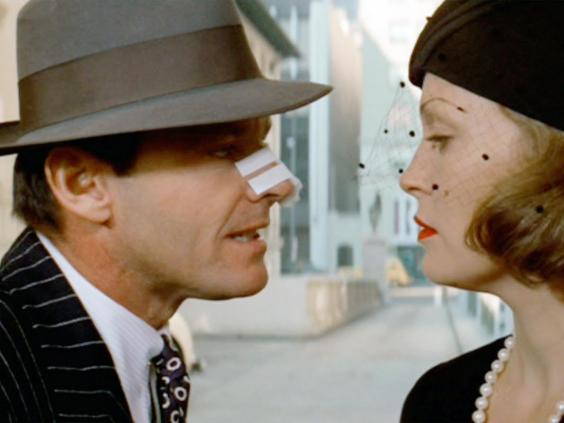 3 Chinatown 1974
A truly great film received the performance it deserved from Nicholson. It's his greatest film in fact, and he's in every scene of Roman Polanski's neo-noir masterpiece as tenacious gumshoe Jake Gittes, caught up in a morass of corruption, murder and depravity in 1930s Los Angeles. Robert Towne's Oscar-winning dialogue was a gift to an actor like Nicholson and he seized the chance with unmistakable relish to give an Oscar-nominated performance as the polished, self-possessed detective seemingly in control but in reality always one step behind his quarry and haunted by his past.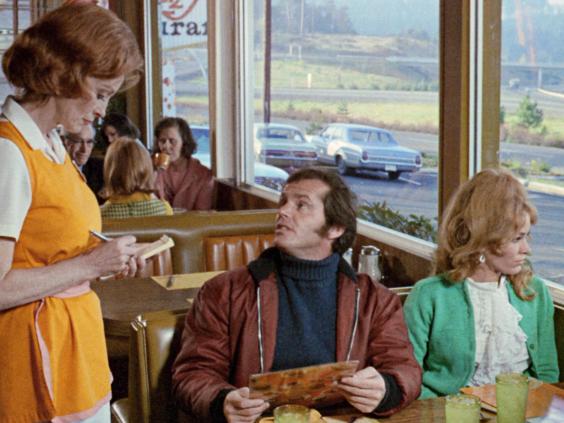 2 Five Easy Pieces 1970
You may never feel the same way about a chicken salad sandwich again after viewing the legendary diner scene in this celebrated road movie, one of the key American films of the 1970s. Screenwriter Carole Eastman was a friend of Nicholson and based it on a real incident involving the actor. Easy Rider had put Nicholson on the map and as the Seventies dawned he was now winning the type of role that would become his calling card, beginning with Five Easy Pieces' musically gifted, disaffected outsider adrift in Nixon's conflicted America. His trademark volcanic rage, never far from the surface, found its apogee in scenes such as when he tries to place a simple order for toast in the aforementioned diner scene and when he violently takes out his frustrations on the interior of his car. It's an electrifying performance from Nicholson which garnered his first best actor Oscar nod; Five Easy Pieces heralded the beginning of an incredible run of successes for Nicholson in the first half of the decade, which climaxed with the glories of One Flew Over the Cuckoo's Nest.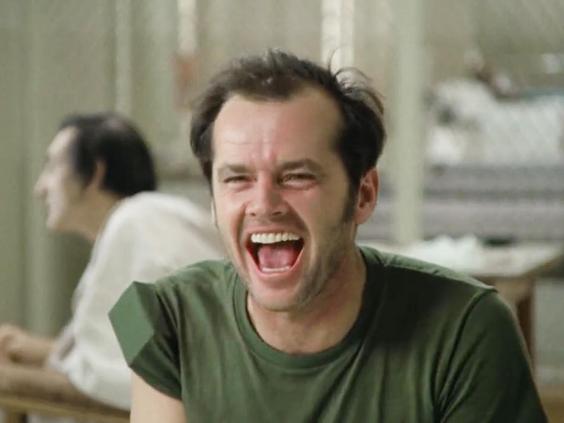 1 One Flew Over the Cuckoo's Nest 1975
Nicholson cemented his status as the number one male actor of the 1970s for his unforgettable performance as Ken Kesey's ultimate anti-hero Randle P McMurphy, who bucks the system to swap jail time for what he believes will be a cushy stay in a psychiatric hospital. The anti-authority McMurphy galvanises his moribund fellow inmates and challenges the authority of the oppressive head nurse with uplifting and tragic consequences. Nicholson inhabited the role like a force of nature and walked away with the first of his three Oscars for a fearless performance that raised the bar for everyone. More than 40 years later, the volcanic power and impact of Nicholson's greatest performance, amid the film's message of the triumph of the human spirit, hasn't receded one iota.      
Reuse content