Comedian Bill Murray has called on the UK to "take the lead" on restoring ancient treasures to their country of origin, echoing George Clooney's comments from the weekend that the Elgin Marbles should be returned to Greece.
Murray, who sat alongside Clooney at a press conference for their new film The Monuments Men, said Britain "can take the lead on this sort of thing, letting art go back to where it came from."
The film, which also stars Matt Damon and Cate Blanchett, is based on the true story of an allied squad of art experts tracking treasures looted by the Nazis in World War II. Clooney directed the movie as well as starring in it.
Referring to the 2,500-year-old Parthenon Marbles, also known as the Elgin Marbles after Lord Elgin who brought them back from Greece 200 years ago, Murray said. "It's had a very nice stay here, but London's got crowded and there is plenty of room in Greece."
The comments followed Clooney saying over the weekend that Greece "has a good case to make" for the Marbles' return adding "It would be a very fair and nice thing to happen." The statement came during his travels around Europe promoting the film.
Clooney said yesterday that after the backlash from his statement "I did a little research to make sure I wasn't completely out of my mind".
"The Vatican returned parts of it, the Getty returned parts of it. It is a question in that case of just breaking up one piece of art, and whether one piece of art should be best put together," Clooney said.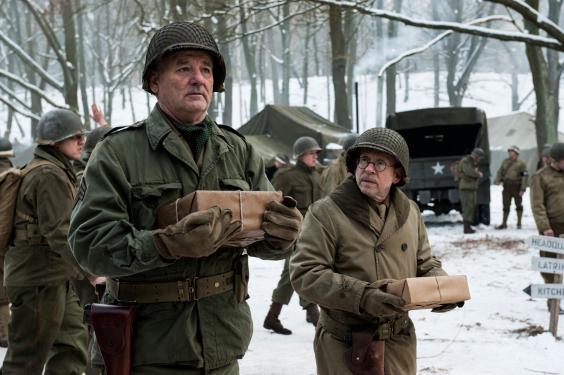 The Marbles have caused tension between Britain and Greece, which has called for their return. The British Museum said the objects were "part of the world's shared heritage and transcend political boundaries".
"It's an argument to say that with certain pieces that would probably be the right thing to do," Clooney said yesterday adding the Nefertiti in the Museum of Fine Arts in Boston should also be returned. However the actor said he had faced criticism that as an American he had not grasped the issue.
Co-star Damon said that "can't always be the British default setting. That's not actually an argument to say: 'Well you're American'."
The Hollywood star finished saying he would not have time to visit the British Museum to see the marbles in person. The cast is to leave after tonight's premiere for Paris, and Clooney joked he would  "somehow insult the Parisians about their art. Something about a Mona Lisa and Italy."
---
Watch the trailer for The Monuments Men