Cara Delevingne is being considered for the role of a villain in upcoming supervillain movie, Suicide Squad.
The British supermodel, 22, has reportedly been lined-up to play the Joker's accomplice and lover Harley Quinn in the Warner Bros film.
The character first appeared in the Batman stories and also features in recent tales about the Suicide Squad (also known as Task Force X), who take on dangerous black op missions for the government.
Delevingne posted a picture of herself dressed as Harley on Instagram earlier this month and Latino Review reported that "Warner is seriously looking at [her] for the villainous female role in the film".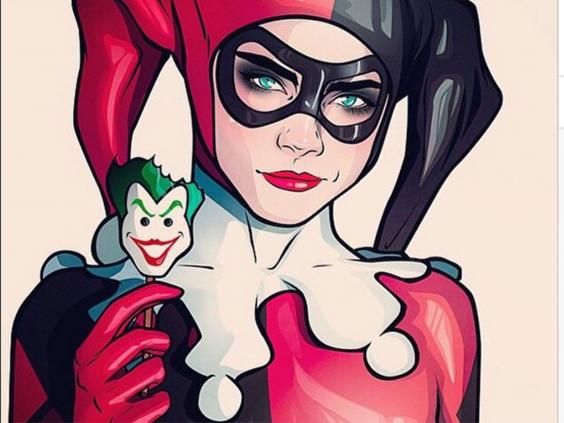 Early drafts of the Suicide Squad script are not believed to have included Harley, but things seem to have changed, and Fury filmmaker David Ayer is on board to write and direct.
"I love the passion [comic book fans] have for these characters and these worlds," he said recently. "The mythology that these characters represent – the idea of them as fallen gods on Earth – is intriguing to me. I can't wait to start exploring those corridors."
Tom Hardy, Margot Robbie, Ryan Gosling and Will Smith are among actors rumoured for roles, with Jesse Eisenberg set to reprise his Batman v Superman part as megalomaniac Lex Luthor. 
The film is scheduled for an August 2016 release, although the date is subject to change.
Marvel's best superheroes
Marvel's best superheroes
1/19 Black Widow

The Black Widow (Natasha Romanoff) played by Scarlett Johansson

AP

2/19 Spider Man

British actor Andrew Garfield as Spider-Man

PA

3/19 Captain America

Chris Evans in 'Captain America: The First Avenger'

Rex

4/19 Iron Man

Robert Downey Jr in Iron Man 3, who won favourite action movie star at the People's Choice Awards 2014

Iron Man 3

5/19 Wolverine

Hugh Jackman bears his claws and loses the plot in X-Men movie 'The Wolverine'

Twentieth Century Fox Film

6/19 Hulk

Edward Norton as Hulk in The Incredible Hulk

YouTube

7/19 Thor

Chris Hemsworth as Thor. Recently Marvel revealed its plans to make the hammer-wielding Norse superhero Thor a woman

Rex Features

8/19 Hank

Nicholas Hoult as Kan in 'X-Men: Days of Future Past'

AP

9/19 Raven Darkhölme

Jennifer Lawrence as Raven Darkhölme in X-Men: Days of Future Past

10/19 Hawkeye

Jeremy Renner as Hawkeye in 'Avengers Assemble'

Marvel

11/19 Winter Soldier

Sebastian Stan as the villainous Winter Soldier in the 'Captain America sequel

Marvel

12/19 The Avengers

The Avenger's superheroes

Marvel

13/19 Cyclops

The optic blast hero has long been played by James Marsden

YouTube

14/19 Professor X

Patrick Stewart landed the role as Professor Charles Xavier in Bryan Singer's comic-book blockbuster X-Men

Rex Features

15/19 Rocket Raccoon

Bradley Cooper voices Rocket Raccoon in Guardians of the Galaxy

Marvel

16/19 Groot

Also known as the Monarch of Planet X, Groot is played by Fast and Furious star Vin Diesel in Guardians of the Galaxy

Marvel

17/19 Drax

Known as 'the destroyer', Drax is played by actor Dave Batista in Guardians of the Galaxy

YouTube

18/19 Gamora

A soldier and assassin played by Zoe Saldana in Guardians of the Galaxy

YouTube

19/19 Guardians of the Galaxy

Bill Mantlo's comic creation on screen in Guardians of the Galaxy

Marvel
Elsewhere, Delevingne could be starring in the upcoming Pirates of the Caribbean: Dead Men Tell No Tales and will take up a minor part in Joe Wright's fantasy Pan.
She will next be seen in psychological thriller The Face of an Angel, based on the Amanda Knox murder case, alongside Kate Beckinsale and Daniel Bruhl.
Delevingne has also landed her first lead role in a forthcoming film adaptation of John Green's bestselling novel, Paper Towns.
Reuse content