Boyz n the Hood director John Singleton, the first African-American to be nominated for a directing award, has weighed in on the controversy surrounding this year's Oscars nominations, saying that he doesn't have a problem with the lack of diversity in them.
"There's only so many slots, though," Singleton told Variety, when asked why the Academy didn't nominate any black leading actors or actresses. "There are a couple of movies that may have (warranted attention) but … It's all subjective. It's almost like the lottery."
"It's like every year people complain," he continued. "People even complain even when we have a lot of nominations."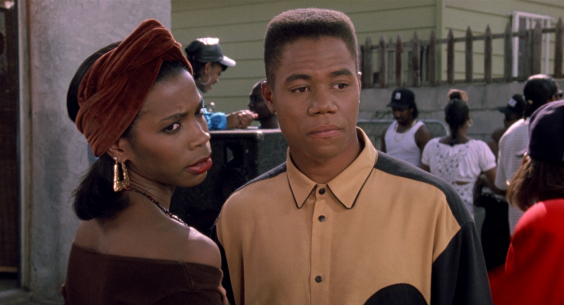 "It is what it is. I've been in the game for 25 years. You never know — it's the luck of the draw for you. To me, I'm not surprised. I'm not disappointed either, as much as other people are disappointed. There's a whole elevation of work that happens."
Elaborating on this "elevation", he said: "Every year there's at least a few films that don't get nominated and you have all these films that do get nominated and then the films that aren't nominated are elevated over time. 'Do the Right Thing' never got nominated for best picture, but that year, nobody's talking about 'Driving Miss Daisy' anymore. Everybody's still talking about 'Do the Right Thing.' It happens every year.
"As my friend Sidney Poitier told me when 'Boyz n the Hood' came out, just because a film doesn't get recognized when it first comes out, does not mean it's not a great film. 'Singing in the Rain' was not lauded when it first came out, but 'Singing in the Rain' became a classic," he said. "To me, as a veteran, it doesn't bother me as much. I know there are other works that will be recognized by a more diverse Academy and I know there will be other years when work that is really deserving doesn't get recognized."
The films you'd expect to have won Best Picture that haven't
The films you'd expect to have won Best Picture that haven't
1/15 Citizen Kane (1941)

Long revered as one of the greatest films ever made, Orson Welles' debut - a film à clef focused on tycoon Charles Foster Kane - was just another nominee back in the day, losing out to How Green Was My Valley.

2/15 Vertigo (1958)

Not only did Alfred Hitchcock never win an Oscar (save for his memorial award in 1968), neither did any of his films - one of which is Vertigo, a classic that won Sight & Sound's once-a-decade greatest films of all time poll in 2012.

3/15 The Graduate (1967)

One of the films that kickstarted the New Hollywood Cinema, The Graduate may have won director Mike Nichols an Oscar, but ultimately lost out to Norman Jewison's In the Heat of the night.

4/15 2001: A Space Odyssey (1968)

The crème de la crème of Hollywood filmmakers would have you believe that Stanley Kubrick's sci-fi classic remains one of the most influential pieces of cinema there is. The Academy didn't agree, however, nominating Kubrick for Best Director and awarding the visual effects in favour of even considering 2001 for Best Picture.

5/15 Taxi Driver (1976)

Despite not winning the main award, the Academy showed they had good intentions by nominating Taxi Driver in four categories - that both All the President's Men and Network also lost out to eventual winner Rocky shows that, ultimately, it never really stood a chance.

6/15 Apocalypse Now (1979)

Francis Ford Coppola's ambitious Vietnam War epic received a grand total of eight nominations, but only went home with two prizes (for cinematography and sound) losing out to drama Kramer vs. Kramer.

7/15 Raging Bull (1980)

Of all the Oscar blows dealt to Martin Scorsese over the decades, none landed harder than Raging Bull's losing out to Robert Redford's weepie Ordinary People, an oversight many consider one of the Academy's most infamous.

8/15 Blade Runner

Another sci-fi classic overlooked by Oscar was the hugely influential Blade Runner which didn't even get nominated in the Best Picture category. That Ridley Scott's latest sci-fi The Martian received seven nominations could signal how the Academy are finally taking responsibility for their past errors.

9/15 Goodfellas (1990)

Having awarded both The Godfather parts I and II Best Picture in 1972 and 1974 respectively, you'd think Scorsese's gangster classic stood half a chance; but no - Kevin Costner's directorial debut Dances With Wolves was the most appealing choice for voters.

2012 Getty Images

10/15 Pulp Fiction (1994)

New talent on the block Quentin Tarantino's second feature won him the coveted Palme d'Or at Cannes - a success he failed to match back on home turf; while he won an Original Screenplay Oscar, Pulp Fiction got beat by Forrest Gump.

11/15 The Shawshank Redemption (1994)

...and it wasn't the only one. Frank Darabont's adaptation of Stephen King's prison-set novella The Shawshank Redemption also fell victim to Robert Zemeckis' Oscar-friendly Forrest Gump. We don't see that film sitting atop the IMDB top 250 though, do we?

12/15 Fargo (1996)

You may think it was remiss of the Academy to shun Fargo but it did come pretty close to winning, its chances bolstered somewhat by seven nominations and two wins (Actress for Frances McDormand and Original Screenplay for the Coen Brothers). It lost out to The English Patient.

13/15 Saving Private Ryan (1998)

Having won Best Director five years previous for Schindler's List, everybody expected Steven Spielberg's next war epic to scoop all the top awards. Cue Shakespeare In Love upsetting the establishment.

14/15 The Social Network (2010)

David Fincher's generational Facebook drama got shunned in favour of British patriotism in an Oscar two-horse race for the ages that ultimately saw The King's Speech crowned winner.

15/15 Boyhood (2014)

For last year's Oscar race, you were either team Birdman or team Boyhood (not forgetting outside bet Whiplash, of course). Each represented a different facet of movie-making that posited them as favourites; that Richard Linklater's labour of love - shot intermittently over 12 years - failed to win may still come as a surprise.
Academy president Cheryl Boone Isaacs said she was "heartbroken and frustrated" by the nominations backlash, declaring: "We need to do more, and better and more quickly."
Singleton, who has also directed an episode of Empire, did admit that he thought:  "Straight Outta Compton' could have been nominated for best picture," but he doesn't see the nominations as cause for concern.
"The demographics of America and this business are changing," he said. "The Academy's going to evolve. So I'm not really worried about it."
Reuse content