In a dingy room in a Ugandan slum, the list of the dead makes sombre reading. August was particularly bad, with seven foreigners perishing in a particularly gruesome way.
Isaac Nabwana, a self-taught film-maker, has killed off more than 20 white actors at his makeshift studio in Wakaliga in Kampala over the past six months. Western fans of the director's Tarantino-style productions have come seeking a slice of the action – and ended up taking part.
"All of them die," Mr Nabwana says. "It's Wakaliga versus the rest of the world."
Tucked away in a courtyard at the end of a dirt track, "Wakaliwood" is tricky to find. The entrance to the tiny studio is behind a clothes line, and the helicopter, a feature of so many Ramon Production films, lies idle under a tarpaulin.
It is here that Mr Nabwana, 43, has assembled a motley collection of actors, craftsmen and technicians to make films for anywhere between $2 and $200 a production. "I don't even call it low-budget," he laughs. "We have no budget." 
In the decade since Mr Nabwana started, he has taught himself everything. His early experience came through music videos, where he developed an interest in his true passion: movies.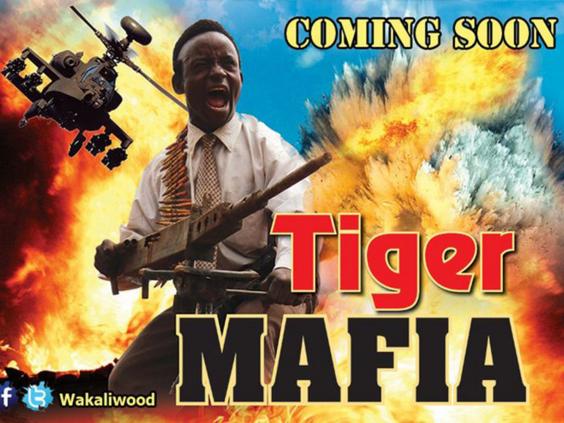 "I wanted to do action, but everyone said you need a lot of money for that," he says. He ignored the advice and plucked out talented students from his brother's kung fu classes to shape them into movie gangsters, high kicks and all. 
A welder was brought on board to fashion scrap metal into everything from an attack helicopter to the moveable tripod that holds the camera. A machine gun, complete with rotating barrels, is made from an old motorcycle engine. 
The big break came with Who Killed Captain Alex?, a gory action film that attracted a surprise following in the US and elsewhere. Like many of Mr Nabwana's films, it features shooting, gallons of fake blood (condoms filled with food colouring taped to actors' chests) and dubious special effects.
For all its imperfections, it started to get noticed. The film was uploaded to YouTube in 2010 and, eight months later, Mr Nabwana got a call from a friend in the Ugandan film industry. "He told me: 'It's selling like hot cakes.' It had half a million views."
Among those who saw it was Alan Hofmanis, a New Yorker who immediately booked a flight to Kampala. "Around 40 seconds into it, I decided: I'm coming to Uganda," he said in an interview with the BBC last year. "I realised what I'm looking at makes no sense – but it's complete genius."
He wasn't alone. Around 200 foreign fans descended on the slum last year, and some of them found themselves cast in forthcoming films, including one in which all the white guys are eaten alive by cannibals. 
Ronald Kazibwe, 28, who played the lead cannibal, recalls it fondly: "I enjoyed it because I got to eat people."  
Overseas fans have also helped to raise funds, introducing Mr Nabwana to crowd-funding platforms such as Kickstarter to raise the money for his next film. None of the actors or crew is paid. Instead, they sell DVDs door to door, which cost 3,000 Ugandan shillings (62p) each, and pocket around half the proceeds in commission. Cheap pirated copies undercut the market within weeks.
Like any aspiring film-maker, Mr Nabwana has his dreams: perhaps a real studio with proper equipment. Whether his films would retain their character if they went mainstream is difficult to judge. For now, he says, it is enough to make films. "Movies are for me like a friendship," he says. "I don't do it for the money, I do it to communicate."