Alice Brady won her first Academy Award in 1937 for her role in 20th Century Fox's Old Chicago, but was unable to make it to the ceremony due to a broken ankle.
A man appeared on stage to accept its on her behalf, however. Given that this isn't an unusual occurrence at award shows, it wasn't until presumably a little later that organisers realised no-one actually knew who he was.
The man was never seen again, nor the award.
The Academy had to quickly issue a replacement statuette for Brady (below), who sadly died of cancer shortly after at the age of 46.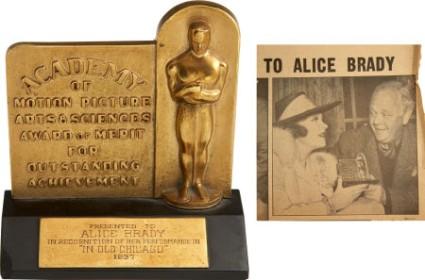 Unbelievably for the biggest award ceremony in the world, this isn't the only case of a prize going missing.
In 2000, 55 statuettes disappeared from a Los Angeles loading dock, with all but two being eventually received. Two years later, Whoopi Goldberg's Supporting Actress Oscar was sent out for cleaning but later found in a trash bin.
The Supporting Actress category seems to be cursed in fact, with Hattie McDaniel's 1939 award having been missing for over 40 years.
Hopefully all of the awards will be accounted for at this year's Oscars, which takes place at the Dolby Theater in Los Angeles on Sunday.
Reuse content