Those 'Tom Hiddleston for James Bond' rumours have been gathering so much speed that the British actor can go nowhere without facing questions about his 007 chances.
The 35-year-old's role as Jonathan Pine in the BBC's adaptation of John Le Carre's book The Night Manager has further fuelled speculation, with many viewing his performance as a Bond audition.
Hiddleston joined Jimmy Kimmel on his US chat show on Tuesday to discuss the 10/1 odds that have him down to replace Daniel Craig.
"'Who's gonna be James Bond?' is one of the nation's favourite pub conversations, up there with 'Who's gonna win X Factor?' and 'Is Britain gonna leave the EU?'" he said. 
"I play a British spy in The Night Manager so people I think have made the link. I mean, as somebody who grew up with Sean Connery and Roger Moore, when you mention it there's a part of me that goes, 'Really? Are you kidding?"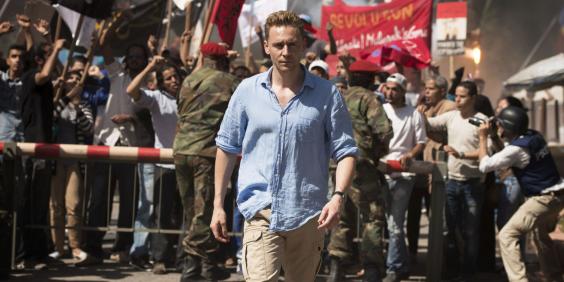 Hiddleston has previously acknowledged the similarities between Pine and Bond, admitting that it would be an "extraordinary opportunity" if it "ever came knocking".
"I'm a huge fan of the series," he told The Sunday Times. "We all went to see Spectre when we were shooting Skull Island in Hawaii. I simply love the theme tune, the tropes and the mythology. I love the whole thing. But I'm very aware of the physicality of the job. I would not take it lightly."
James Bond: The spy who loved to look cool
James Bond: The spy who loved to look cool
1/14

Daniel Craig as 007 in 'Casino Royale'

AP

2/14

Donald Pleasance as Blofeld in 'You Only Live Twice'

3/14

Halle Berry as Jinx in 'Die Another Day'

4/14

Sean Connery as James Bond

Rex Features

5/14

Honor Blackman as Pussy Galore in 'Goldfinger'

6/14

Atlantis Base in 'The Spy Who Loved Me'

7/14

Christopher Lee as Scaramanga in 'The Man With the Golden Gun'

8/14

Lois Chiles as Holly Goodhead and Roger Moore as Bond in 'Moonraker'

9/14

Sophie Marceau as Elektra King in 'The World Is Not Enough'

10/14

Pierce Brosnan as James Bond in 'The World is Not Enough'

11/14

A costume design for 'The World is Not Enough'

Danjaq, LLC and United Artists Corporation

12/14

Rosamund Pike as Miranda Frost in 'Die Another Day'

13/14

Daniel Craig and Olga Kurylenko as Camille Montes in 'Quantum of Solace'

14/14

Talisa Soto as Lupe Lamora in 'Licence to Kill'
Craig could still reprise the role for a fifth time but said after Spectre's release that he would rather "slash his wrists" than play Bond again.
Other contenders are believed to be Damian Lewis, James Norton, Henry Cavill and Aidan Turner.
Reuse content