It is a truth universally acknowledged that Rose could have saved Jack's life in Titanic, but instead allowed him to freeze to death while she selfishly hogged that door. Mmm, lovely door.
The tragic moment when the lovers are parted broke hearts across the world, before many started questioning whether the cruel ending could have been avoided.
Kate Winslet played Rose in the Oscar-winning disaster epic about a class-crossing romance on the ill-fated passenger ship and finally, almost 20 years later, she has admitted that her character misjudged the situation.
The actress appeared on Jimmy Kimmel Live on Monday night to talk about recently reuniting with Titanic co-star Leonardo DiCaprio at awards ceremonies. Kimmel didn't miss the opportunity to ask for her views on doorgate, pointing out that Rose had let her boyfriend die. 
"I agree," she said. "I think he could have actually fit on that bit of door."
Fans have spent decades trying to prove to director James Cameron that both Rose and Jack could have survived the shipwreck, with one couple even reenacting the scene to demonstrate the various positions the characters could have assumed. They could have played a game of cards on the door, there was that much space.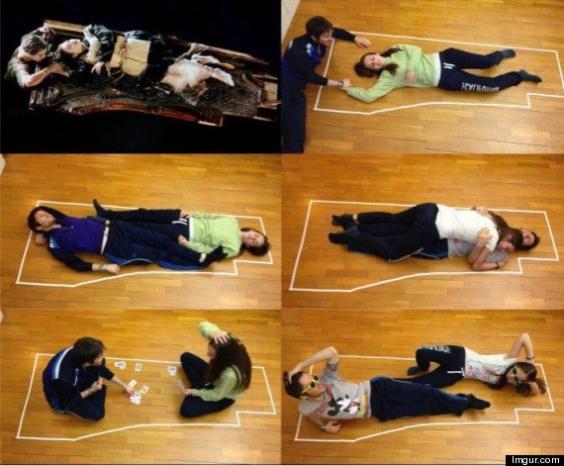 Iconic sex scenes
Iconic sex scenes
1/11 Basic Instinct

Sharon Stone and Michael Douglas in Basic Instinct, famous for its graphic sex scenes and infamous 'leg-crossing' scene

Rex

2/11 Titanic

Leonardo DiCaprio's hand in his Titanic sex scene with Kate Winslet is iconic in itself

3/11 Dirty Dancing

Jennifer Grey and Patrick Swayze dance to Solomon Burke's 'Cry To Me' in the Dirty Dancing sex scene

4/11 Bridget Jones' Diary

The 'absolutely enormous panties' moment between Bridget and Daniel Cleaver in Bridget Jones Diary

Rex

5/11 When Harry Met Sally

Meg Ryan faking an orgasm in the middle of a packed diner as Sally in 1989's When Harry Met Sally

6/11 American Beauty

Lester is enchanted by his daughter's best friend (Mena Suvari) in American Beauty

7/11 Ghost

Patrick Swayze and Demi Moore's sex scene takes place at a pottery wheel

REX

8/11 Atonement

James McAvoy and Keira Knightley steam up the library in 2007's period romance Atonement

9/11 The Sessions

Helen Hunt having sex with a severely disabled man who's never had sex before in The Sessions

10/11 Hot Shots!

Charlie Sheen cracks an egg onto the stomach of love interest Valeria Golina in the 1991 spoof Hot Shots! Golina is so 'hot' the egg fries straight away and Sheen's character decides to add some bacon

11/11 Fifty Shades of Grey

Not so much one iconic sex scene as a whole movie full of them, Dakota Johnson and Jamie Dornan play Anastasia Steele and BDSM-loving billionaire in the big screen adaptation of EL James' erotic novels - prepare to get hot under the collar (while sporadically breaking into fits of giggles)
Cameron has responded to the theories before, explaining in 2012 that it wasn't a "question of room, but a question of buoyancy". "When Jack puts Rose on the raft, he tries to get on the raft - he's not an idiot, he doesn't want to die - and the raft sinks; it kind of flips," he said. 
"It's clear that there's really only enough buoyancy available for one person, so he makes the decision to let her be that person."
Even if there's truth in that logic, Rose has confessed, guilty as charged and thankfully saved us all from Titanic 2. Oh wait.