This year's Oscars flew past, with Leo finally getting *that* award and Spotlight winning best picture. However, not everyone was present at the ceremony. Many members of the film community decided to boycott because of the lack of diversity among nominees, a fact host Chris Rock made light of throughout the ceremony.
For the second year in a row, not a single non-white actor has been nominated for an award, even though 2015 saw stand-out performances from the likes of Idris Elba (Beasts of No Nation), Benicio Del Toro (Sicario) and Michael B Jordan (Creed).
In solidarity, many people will not be attending the ceremony or tuning in. Here are just a few of those people.
Jada Pinkett Smith
#OscarsSoWhite: What Hollywood has to say
#OscarsSoWhite: What Hollywood has to say
1/19 Jada Pinkett-Smith

"Today is Martin Luther King's birthday, and I can't help but ask the question: Is it time that people of color recognize how much power and influence we have amassed that we no longer need to ask to be invited anywhere? I ask the question: Have we come to a new time and place where we recognize that we can no longer beg for the love, acknowledge, or respect of any group?" - Posted on her Facebook page.

Getty

2/19 Will Smith

"The beauty of Hollywood combined with American ideals is the ultimate dream for humanity: the basis of the American concept of anything is possible, with hard work and dedication, no matter your race or religion, creed, none of that matters in America. I think that diversity is the American superpower. That's why we are great. So many different people from so many different places adding their ideas and their inspiration and their influences to this beautiful American gumbo and for me, at its best, Hollywood represents and then creates the imagery for that beauty. But for my part, I think I have to fight for and protect the ideals that make our country and make our Hollywood community great. So when I look at the series of nominations of the Academy, it's not reflecting that beauty." - Quote from ABC News appearance.

Getty

3/19 Reese Witherspoon

"I really appreciated this article in TIME on the lack of racial and gender diversity in this year's Oscar nominations. So disappointed that some of 2015's best films, filmmakers and performances were not recognized... Nothing can diminish the quality of their work, but these filmmakers deserve recognition. As an Academy member, I would love to see a more diverse voting membership." - Posted on her Facebook page.

Getty

4/19 Spike Lee

"This whole Academy thing is a misdirection play. We're chasing a guy down the field, he doesn't even have the ball. The other guy's high-stepping in the end zone. It goes further than the Academy Awards. It has to go back to the gatekeepers. We're not in the room. The executives, when they have these greenlight meetings quarterly, they look at the scripts and see who's in it and decide what we're making and what we're not making." - Quote from ABC appearance.

Getty

5/19 George Clooney

"If you think back 10 years ago, the Academy was doing a better job. Think about how many more African Americans were nominated. I would also make the argument, I don't think it's a problem of who you're picking as much as it is: How many options are available to minorities in film, particularly in quality films? There should be 20 or 30 or 40 films of the quality that people would consider for the Oscars. By the way, we're talking about African Americans. For Hispanics, it's even worse. We need to get better at this. We used to be better at it." - Interview with Variety.

Getty

6/19 Snoop Dogg

"Somebody was actually like am I gonna watch the motherf***ing Oscars. F*** no. What the f*** am I going to watch that bulls*** for? They ain't got no n***** nominated. All these great movies and all this great s*** ya'll keep stealing from us. F*** you! F*** you!" - Posted on his Instagram page.

Getty

7/19 Don Cheadle

"Yo, Chris. Come check me out at #TheOscars this year. They got me parking cars on G level." - Posted on his Twitter page, directed at host Chris Rock.

Getty

8/19 Mark Ruffalo

"I woke up in the morning thinking, 'what is the right way to do this?' Because if you look at Martin Luther King's legacy, what he was saying was that the good people who don't act are much worse than the wrongdoers who are purposefully not acting and don't know the right way." - Quote from interview with BBC News.

Getty

9/19 Lupita Nyong'o

"I am disappointed by the lack of inclusion in this year's Academy Awards nominations. It has me thinking about unconscious prejudice and what merits prestige in our culture. The awards should not dictate the terms of art in our modern society, but rather be a diverse reflection of the best of what our art has to offer today. I stand with my peers who are calling for change in expanding the stories that are told and recognition of the people who tell them." - Posted on her Instagram page.

Getty

10/19 Tyrese Gibson

"This is not us saying we're against the Oscars because we're gonna combat racism. We're just saying, 'Yo, this is not cool.' You can't be doing this in 2016 and act as if no one is gonna notice." - Quote from interview with People.

Getty

11/19 David Oyelowo

"The reason why the Oscars are so important is because it is the zenith, it is the epitome, it is the height of celebration of artistic endeavor within the filmmaking community. We grow up aspiring, dreaming, longing to be accepted into that august establishment because it is the height of excellence. I would like to walk away and say it doesn't matter, but it does, because that acknowledgement changes the trajectory of your life, your career, and the culture of the world we live in. This institution doesn't reflect its president and it doesn't reflect this room. I am an Academy member and it doesn't reflect me, and it doesn't reflect this nation." - Speech at gala honoring Academy president Cheryl Boone Isaacs.

Getty

12/19 Brie Larson

"Thank you @hollywoodreporter for covering this very unique moment in my life! It was wonderful spending time with all of you. Personally, I'm interested in reading their article on #OscarsSoWhite. This is a conversation that deserves attention." - Posted on her Instagram page.

Getty

13/19

"How many black films are being produced every year? How are they being distributed? The films that are being made, are the big-time producers thinking outside of the box in terms of how to cast the role? Can you cast a black woman in that role? Can you cast a black man in that role? You can change the Academy, but if there are no black films being produced, what is there to vote for?" - Quote from interview with Entertainment Weekly.

Getty

14/19 Charlotte Rampling

"It is racist to whites. One can never really know, but perhaps the black actors did not deserve to make the final list. Why classify people? These days everyone is more or less accepted... People will always say: 'Him, he's less handsome'; 'Him, he's too black'; 'He is too white'... someone will always be saying 'You are too' [this or that]... But do we have to take from this that there should be lots of minorities everywhere?" - Quote from interview on Europe 1.

Getty

15/19 Michael Caine

"There's loads of black actors. In the end you can't vote for an actor because he's black. You can't say 'I'm going to vote for him, he's not very good, but he's black, I'll vote for him'. You have to give a good performance and I'm sure people have. I saw Idris Elba (in Beasts Of No Nation).I thought he was wonderful. Be patient. Of course it will come. It took years to get an Oscar, years." - Quote from interview with Radio 4 Today programme.

Getty

16/19 Steve McQueen

"This is exactly like MTV was in the 1980s. Could you imagine now if MTV only showed music videos by a majority of white people, then after 11 o'clock it showed a majority of black people? Could you imagine that happening now? It's the same situation happening in the movies. Hopefully, when people look back at this in 20 years, it'll be like seeing that David Bowie clip in 1983 [of artist critiquing channel for not featuring black artists]. I don't even want to wait 20 years. Forgive me; I'm hoping in 12 months or so we can look back and say this was a watershed moment, and thank God we put that right." Quote from interview with The Guardian.

Getty

17/19 Julie Delpy

"Two years ago, I said something about the Academy being very white male, which is the reality, and I was slashed to pieces by the media. It's funny - women can't talk. I sometimes wish I were African American because people don't bash them afterwards. It's the hardest to be a woman. Feminism is something people hate above all. Nothing worse than being a woman in this business. I really believe that." Delpy has since clarified these remarks, saying, "I'm very sorry for how I expressed myself. It was never meant to diminish the injustice done to African American artists or to any other people that struggle for equal opportunities and rights; on the contrary. All I was trying to do is to address the issues of inequality of opportunity in the industry for women as well (as I am a woman)."

Getty

18/19 Clint Eastwood

"I don't know anything about it. All I know is there's thousands of people in the Academy, and the majority of them haven't won Oscars. A lot of people are crying, I guess." - Quoted by TMZ.

Getty

19/19 Ellen Page

"It's awful, and I think what just happened in regards to the nominations two years in a row is a reflection of the industry itself, and the lack of diversity in all positions. It's so upsetting that we're still having this conversation. I don't know what to say other than it's so disheartening, and I feel like we all have to be doing what we can to make a change, because we're supposed to be telling stories that reflect human experience, and we can't just be showing one group of people." Quote from interview with The Wrap.

Getty
One of the first people to announce they would not be attending that awards show was actress Jada Pinkett Smith who said in a video posted to Facebook: "Today is Martin Luther King's birthday, and I can't help but ask the question: Is it time that people of colour recognise how much power, influence, that we have amassed, that we no longer need to ask to be invited anywhere?
"Begging for acknowledgement, or even asking, diminishes dignity and diminishes power. And we are a dignified people, and we are powerful. So let's let the Academy do them, with all grace and love. And let's do us, differently."
In his opening monologue, Rock poked fun at the actress, saying: "Jada boycotting the Oscars is like me boycotting Rihanna's panties. I wasn't invited!"
Will Smith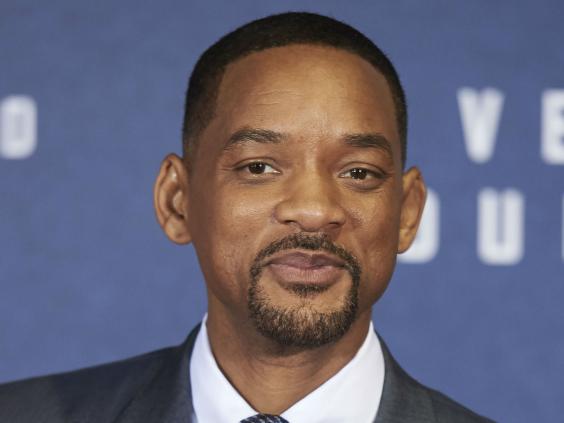 Following his wife's announcement, Concussion actor Will Smith said he would also not be attending the ceremony. "It would be awkward to show up with Charlize [Theron]," he said in an interview. "We've discussed it.... We're part of this community. But at this current time, we're uncomfortable to stand there and say this is OK."
Spike Lee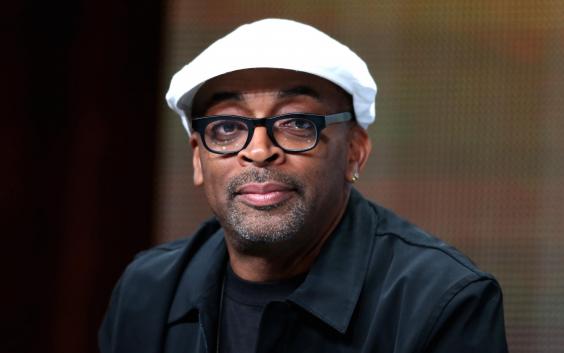 On the same day Ms Smith announced she would be boycotting the ceremony, director Spike Lee also announced he would be boycotting, posting to Instagram: "How is it possible for the 2nd consecutive year all 20 contenders under the actor category are white? 40 white actors in 2 years and no flava at all." (sic)
Quoting Martin Luther King, he wrote: "There comes a time when one must take a position that is neither safe, nor politic, nor popular but he must take it because conscience tells him he's right."
Anohni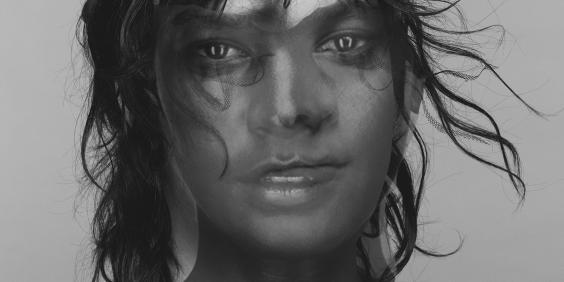 The British singer Anohni announced she will also not be attending the ceremony although she is nominated for best song award. The reason? Unlike Sam Smith and Lady Gaga, she wasn't invited to perform at the the ceremony. 
Notably, Anohni is the first ever transgender performer to be nominated for an award. She wrote online: "Everyone told me that I still ought to attend, that a walk down the red carpet would still be 'good for my career'. Last night I tried to force myself to get on the plane to fly to LA for all the nominee events, but the feelings of embarrassment and anger knocked me back ... There I was, feeling a sting of shame that reminded me of America's earliest affirmations of my inadequacy as a trans person. I turned around ... and went back home."
Ryan Coogler and Ava DuVerney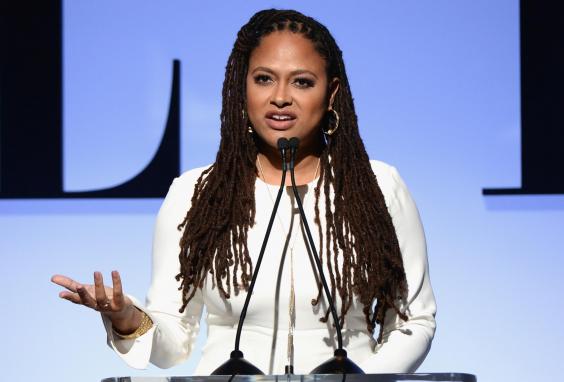 The pair of esteemed directors haven't announced they are boycotting the ceremony completely, but will instead be spending Oscar night with other celebrities in Flint, Michigan, at a benefit event for residents of the town who have been affected by its recent lead-polluted water scandal.
Roger Ross Williams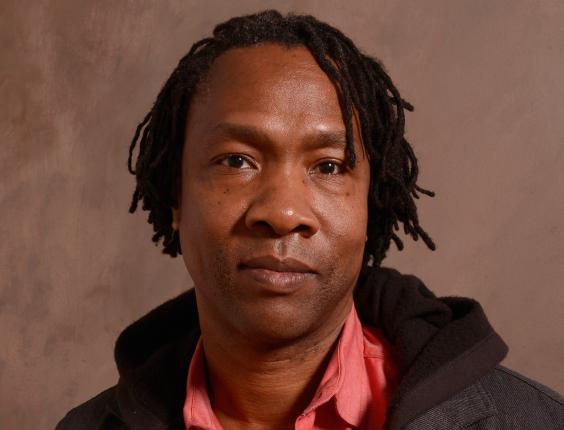 In contrary to the other views, the first ever black Oscar-winning director, Roger Ross Williams, told people not to boycott the Oscars. "Staying away from something that needs to change is no way to change it," he wrote online. "Instead, let's help them lead the way in promoting diversity in Hollywood."
Catch up with all the latest Oscar coverage here.
Reuse content