It may be almost as iconic as the Pyramid Stage itself, but the Somerset Cider Bus almost failed to make it to this year's Glastonbury when it broke down on route.
Julian Temperley (father of designer Alice) has been selling his cider at the festival since it first began with just 1,000 people in 1970 and his bright blue bus always takes up residence serving thirsty fans next to the main stage.
Naturally, when the Somerset Central Gazette reported that the bus had ground to a halt somewhere between Somerton and Kingweston, Glastonbury-goers were extremely concerned.
@GlastoWatch patiently awaiting news on the Somerset cider bus before mass hysteria sets in. #prayforciderbus

— Lucy Cole (@LouLou_Cole1) June 23, 2015
"A SLOW shudder of horror crept around the newsroom when it was announced the Somerset Cider Bus had broken down on the way to Glastonbury"

— itsluke (@itsluke) June 23, 2015
A spokeswoman for The Somerset Cider Brandy Company told the local paper that the problem was being dealt with but "whatever happens we'll be there, even if we have to put it on a loader and haul it onto the site".
Fortunately the scare is over and the bus has been fixed, meaning the gallons of cider are now on site at Worthy Farm ready for the 135,000 revellers. Phew!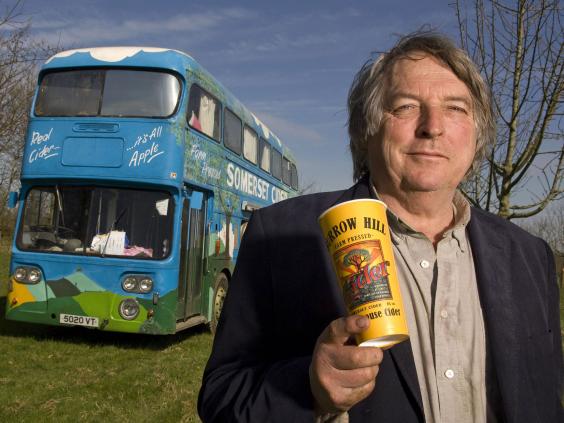 The bus started life as the Taunton Cricket Club bus before being acquired by Temperley to sell his Burrow Hill orchards beverages in 1990. He loves it so much he sleeps in the top deck during Glastonbury and claims it is his favourite bed to kip in.
Temperley revealed a few years ago that he gets up at 8am to start selling cider and believes Glastonbury is "the happiest place to be it has ever been".
Reuse content