On a hot, drab night on Tuesday 6 September, London's iconic Fabric nightclub was permanently closed. The trigger for Fabric's suspension and subsequent closure was allegedly the deaths of two individuals as a result of drug taking on the premises on 25 June and 6 August.
However, newly released council documents show that Fabric's closure was a long pre-planned event, orchestrated by a cash-strapped council, using the police as pawns. 
Islington Council's official statement regarding the closure lists 11 bullet points (below) justifying the decision. Two of these directly relate to the deaths of the two individuals. A further eight relate to an undercover police operation that took place in the venue in July 2016.
The undercover police operation found no hard evidence of drug taking inside the venue, relying instead on vague observations. These observations found their way into the council decision, including that individuals were "manifesting symptoms showing that they were (on drugs). This included sweating, glazed red eyes and staring into space," and also that "people in the smoking area enquiring about the purchase of drugs...I believe within earshot of the security officer".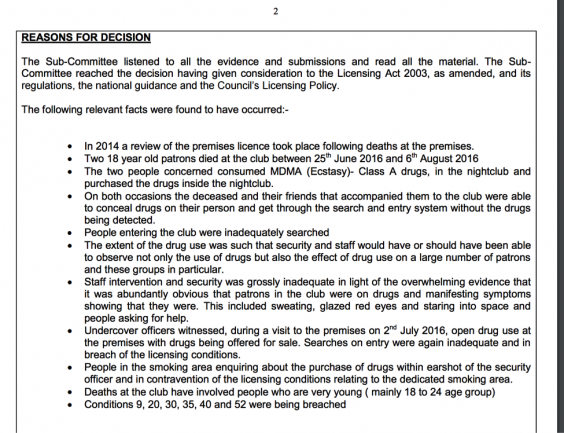 In fact, the original undercover police report itself also reported that "the general atmosphere of the club was friendly and non-threatening" and that "there was a diverse demographic in regards to race, [with people speaking] French, Italian and Chinese". These findings did not make it into the Islington statement. 
Undercover police in nightclubs is nothing new, but targeting the venue itself, as opposed to dealers, is. The undercover police report that was used as evidence for Islington Council's decision was made all the more unusual by the fact it was named 'Operation Lenor', presumably after the supermarket fabric softener.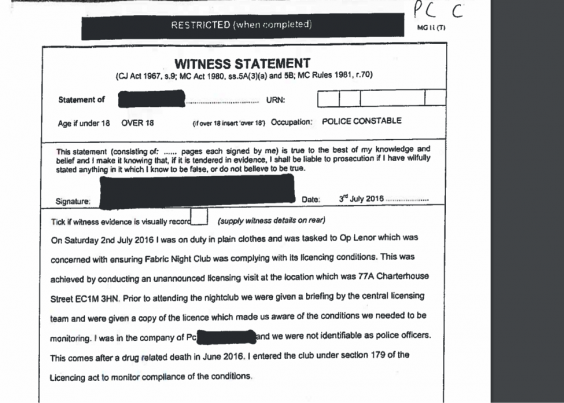 So why did the police feel the need to create such a perfunctory report? 
The first bullet point of the Islington council decision contains not the recent drugs deaths, but instead mentions the 2014 review of Fabric's licence. This is significant.
The 2014 review took place following four drug deaths over three and a half years from individuals visiting the premises (of which only one was from drugs supplied inside the venue). The review ruled that sniffer dogs were to be placed outside the venue on rotating shifts for at least 50% of the night: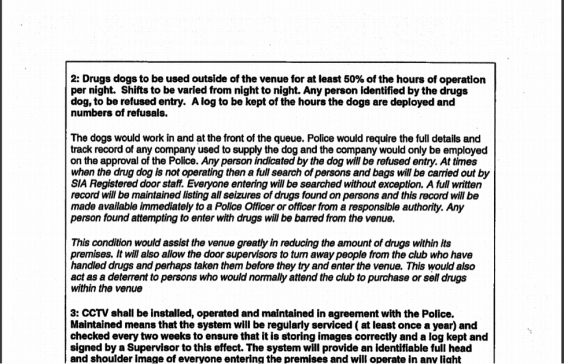 That, in itself, is an odd move. Even airports and military bases don't have dogs at the scanners for half of every working day. Moreover, the council and police dictated these dogs were to be from a private security firm, paid for by Fabric, but approved by the police. This was despite Paddy Whur, the club's solicitor during the 2014 review, pointing out: "The vast majority of private sector dog providers are not trained to the level that police dogs are. So it's been difficult finding one to meet the criteria police want." 
World's 10 most deadly street drugs
World's 10 most deadly street drugs
1/10 10. Purple Drank

One of the more unusual drugs around at the moment, purple drank was popularised in 90s hip hop culture, with the likes of Jay Z and Big Moe all mentioning it in their songs. It is a concoction of soda water, sweets and cold medicine, and is drunk due to cold medicines high codeine content, which gives the user a woozy feeling. However it can also cause respiratory issues and heart failure

2/10 9. Scopolamine

Scopolamine is a derivative from the nightshade plant found in the Northern Indian region of South America (Ecuador, Colombia and Venezuela). It is generally found in a refined powder form, but can also be found as a tea. The drug is more often used by criminals due its high toxicity level (one gram is believed to be able to kill up to 20 people) making it a strong poison. However, it is also believed that the drug is blown into the faces of unexpecting victims, later causing them to lose all sense of self-control and becoming incapable of forming memories during the time they are under the influence of the drug. This tactic has reportedly been used by gangs in Colombia where there have been reports of people using scopolamine as way to convince victims to rob their own homes

3/10 8. Heroin

Founded in 1874 by C. R. Alder Wright, heroin is one of the world's oldest drugs. Originally it was prescribed as a strong painkiller used to treat chronic pain and physical trauma. However in 1971 it was made illegal under the Misuse of Drugs Act. Since then it has become one of the most destructive substances in the world, tearing apart communities and destroying families. The side effects of heroin include inflammation of the gums, cold sweats, a weak immune system, muscular weakness and insomnia. It can also damage blood vessels which can later cause gangrene if left untreated

4/10 7. Crack cocaine

Crack cocaine first came about in the 1980's when cocaine became a widespread commodity within the drug trafficking world. Originally cocaine would have attracted a high price tag due to its rarity and difficulty to produce, but once it became more widespread the price dropped significantly. This resulted in drug dealers forming their cocaine into rock like shapes by using baking soda as a way of distilling the powder down into rock form. People were doing this because it allowed for them to sell cocaine at a lower quantity and to a higher number of people. The side effects of crack cocaine include liver, kidney and lung damage, as well as permanent damage to blood vessels, which can often lead to heart attacks, strokes, and ultimately death

5/10 6. Crystal meth

Not just famous because of a certain Walter H White, but also because it is one of the most destructive drugs in the world. First developed in 1887, it became widely used during the Second World War when both sides would give it to their troops to keep them awake. It is also believed that the Japanese gave it to their Kamikaze pilots before their suicide missions. After the war crystal meth was prescribed as a diet aid and remained legal until the 1970s. Since then it has fallen into the hands of Mexican gangs and has become a worldwide phenomenon, spreading throughout Europe and Asia. The effects of crystal meth are devastating. In the short-term users will become sleep depraved and anxious, and in the long-term it will cause their flesh to sink, as well as brain damage and damage of the blood vessels

6/10 5. AH-7921

AH-7921 is a synthetic opioid that was previously available to legally purchase online from vendors until it became a Class A in January 2015. The drug is believed to have 80% of the potency of morphine, and became known as the 'legal heroin'. While there has only been one death related to AH-7921 in the UK, it is believed to be highly dangerous and capable of causing respiratory arrest and gangrene

7/10 4. Flakka

Flakka is a stimulant with a similar chemical make-up to the amphetamine-like drug found in bath salts. While the drug was originally marketed as a legal high alternative to ecstasy, the effects are significantly different. The user will feel an elevated heart rate, enhanced emotions, and, if enough is digested, strong hallucinations. The drug can cause permanent psychological damage due to it affecting the mood regulating neurons that keep the mind's serotonin and dopamine in check, as well as possibly causing heart failure

8/10 3. Bath salts

Bath salts are a synthetic crystalline drug that is prevalent in the US. While they may sound harmless, they certainly aren't the sort of salts you drop into a warm bath when having a relaxing night in, they are most similar to mephedrone, and have recently been featured throughout social media due to the 'zombification' of its. The name comes from the fact that the drug was originally sold online, and widely disguised as bath salts. The side effects include unusual psychiatric behaviour, psychosis, panic attacks and violent behaviour, as well as the possibility of a heart attack and an elevated body temperature

9/10 2. Whoonga

Whoonga is a combination of antiretroviral drugs, used to treat HIV, and various cutting agents such as detergents and poisons. The drug is widely available in South Africa due to South Africa's high rate of HIV sufferers, and is believed to be popular due to how cheap it is when compared to prescribed antiretrovirals. The drug is highly addictive and can cause major health issues such as internal bleeding, stomach ulcers and ultimately death

10/10 1. Krokodil

Krokodil is Russia's secret addiction. It is believed that over one million Russians are addicted to the drug. Users of krokodil are attracted to the drug due to its low price; it is sold at £20 a gram while heroin is sold for £60. However, krokodil is considered more dangerous than heroin because it is often homemade, with ingredients including painkillers, iodine, lighter fluid and industrial cleaning agents. This chemical make-up makes the drug highly dangerous and likely to cause gangrene, and eventually rotting of the flesh
Perhaps then, the dogs were meant to be more of a discouragement to would-be drug users than an actual drug-busting mechanism. At any rate, the plan backfired. On 11 December 2015, the terms of Fabric's operation - notably the use of sniffer dogs - were reversed. The report notes: "The Judge went further and found that the use of a drugs dog could undermine the licensing objectives in a number of unintended ways, including causing drugs to remain in circulation that would otherwise have been confiscated under Fabric's thorough search procedures." 
The documents relating to the recent suspension of Fabric prior to its review revealed further clarity on the sniffer dog reversal. 
Over the course of 918 pages of written letters requesting the club stay open, some 45 pages concern the use of sniffer dogs, noting their inefficiency at detecting drugs, but also frequent suggestions that "sniffer dogs force scared people into consuming all of their drugs before they enter the venue."
The decision was overturned. Why then did the police feel the need to create "Operation Lenor", despite the fact that that same police force had recently referred other London venues' management to Fabric as a bastion of good practice? 
Government cuts
Islington council has lost half its funding since 2010. A spending review in 2015 confirmed cuts of £70 million over the next four years. In 2016 alone it stands to lose £17 million. The Islington police, who are partly funded by the council, face similar cuts: anything up to 44% of the staff numbers - or 252 officers. 
A paradox exists. Fabric, and the secondary economy around it: the bars, restaurants and late night takeaways that operate in the area, all pay a substantial amount of tax. Likely more than, say, a replacement block of flats or a boutique hotel would. Then there's the fact that the nighttime economy in the area - including police, employs thousands of people. Why shut it down?
The government's austerity measures have created cost-cutting across the board. Councils, police forces and other public services are being shunted off as overheads, whilst all the time new building projects and corporate investment appear. Fabric may have made money locally, yet that money never made it's way back to the council and police in the area.
What's perhaps most saddening of all is the short-view public reaction of all this. A police force that simply can't afford to function as it wants to. A council laying off all its own, forced to shut down one if its borough's treasured icons via a hopelessly half-hearted police report from an officer who noted how much fun the club was, yet social media becomes awash with criticism of both the police and the council. 
Follow the documents, and follow the money trail. Look what happened to Manchester's legendary Hacienda club, which is now 130 apartments. Fabric was always going to close, drugs deaths notwithstanding. It's not the police. It's not drug laws. It's likely a government that continues to roll back public services and institutions in an ever more calculating attempt to attract foreign money. And no amount of well-meaning drug law debate is going to change that. 
-----
Upon request for comment on this article, the Met Police issued the following statement:
"Police felt the need to act due to concerns about the safety of those attending the club due to the supply of class A drugs in the venue and the recent deaths of two young men linked to the club.
"We support this decision made by Islington Council's licensing committee. 
"London has a world renowned night-time economy and people should be able to enjoy it safely, without concerns of serious crime. The Met is committed to working in partnership with those responsible for this sector to ensure that this happens."
An Islington Council spokesperson said:
"The decision of Islington Council's licensing committee on Fabric's licence was based solely on the evidence, submissions, and representations put before the committee. To suggest anything else is simply wrong. For the avoidance of doubt, Islington Council is not the owner of the building and has no financial interest in the site."