Rumours of a Drake and Future collaboration have been rumbling for a while now, and might finally be coming into a fruition.
The evidence:
1. OVO artist OB Brien posted this artwork on his Instagram then swiftly deleted it - it depicts an OVO owl, soaked in purple on top of the Beast Mode heart (too obvious though?)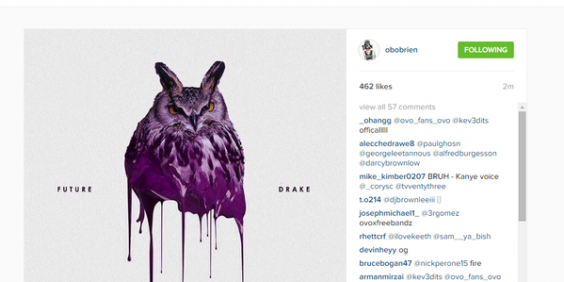 2. In-the-know radio DJ Charlemagne recently appeared to quickly hush a co-host when she blabbed about the mixtape.
Charlamagne: Lets see if he feels about that in a couple of months
Angela Yee: What, when Drake and Future?…..
Charlamagne: Shut up Yee, Jesus Christ
3. She then tweeted about it, only drawing more attention to the possibility of the release.
September 11, 2015
4. Several industry people seem to think its coming out today.
Super secret Drake & Future mixtape drops tomorrow. Yeah I'm telling secrets

— Mike Chehadé (@ChehadeTheKing) September 10, 2015
Damn 2 people are about to break the internet tomorrow with this mixtape coming out of left field...

— DJ Skee (@djskee) September 10, 2015
Yes RT @CAWBBB: Drake x Future collab mixtape this week...was that what you were talking about @MAL___ ??

— ME! THAT'S WHO!! (@MAL___) September 10, 2015
All looks good, but don't hold your breath, we're STILL waiting on that Frank Ocean album after all.
Piggybacking off Drake would be huge for Future, given the incredible success of Drake's last mixtape, If You're Hearing This It's Too Late.
A new album from Drake has also been on the cards for a while, called Views from the 6, though it seems to have gone quiet on that front of late.
Reuse content