Rihanna is enjoying a successful week after being named the bestselling digital singles artist of all time, shortly before her controversial-as-ever new music video dropped online.
The 27-year-old singer is the first to pass the 100 million downloaded and streamed singles milestone a decade after her first hit "Pon de Replay" was released in 2005.
She  is working on her eighth studio album at the moment, featuring "Four Five Seconds" with Kanye West and Paul McCartney and latest track "B**ch Better Have My Money", the video for which was shared with fans yesterday to mixed reactions from fans.
The seven-minute long clip is graphic and highly NSFW, with Rihanna going nude at the end and covering herself in fake blood and dollar bills. The disturbing plot involves the singer kidnapping a rich woman, stripping her completely naked and torturing her as part of a plan to get money she's owed back from her boyfriend. This being Rihanna, it features plenty of bare breasts and controversial scenes.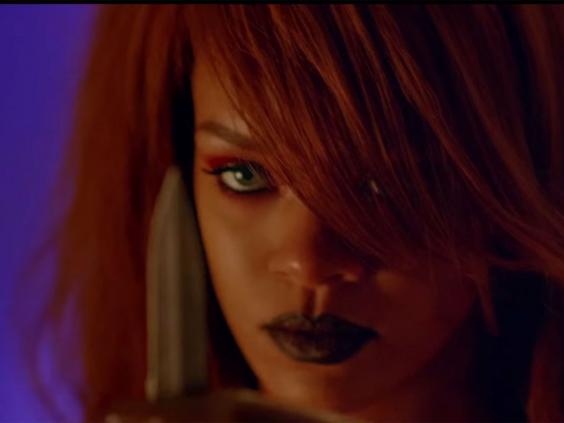 The "Diamonds" star co-directed the Hannibal-inspired video with Megaforce and it has clearly been designed to shock. You can watch it in full below, but consider yourself warned. The video itself does contain a warning for language, nudity and violence.
Viewers have been responding on Twitter, with reactions split between those angered by the levels of violence and how inappropriate it is for children, and those judging it good enough to win an Oscar.
Rihanna raises eyebrows sky-high...
@rihanna propagating misogyny on #BBHMMVideo. Speaking the words of pimps who exploit girls. Assuming a male role as a woman abuser #sellout

— Daniella Maison (@Ladymaison) July 2, 2015
My 11 year old sister been waiting for the #BBHMMVideo, idk if I should show her...

— Chrissie (@Criss11Crissy) July 2, 2015
The #BBHMMVideo got me like: pic.twitter.com/xidlPJCat8

— angel™ (@ehiroman) July 2, 2015
Not impressed by #BBHMMVideo. Sad that Mads Mikkelsen would lower himself to Rihanna level. Just watch Hannibal w/ some metal cranked.

— Mike The Nuanced (@mikeliberation) July 2, 2015
Ugh, #BBHMMVideo was a tough watch. Take me back to when videos had exactly this amount of nihilistic violence please pic.twitter.com/hQ0rEMdeXJ

— Nick Bond (@bondnickbond) July 2, 2015
well, that was a dose of violent misogyny I didn't need #BBHMMVideo

— Halley Reed (@CWnerd12) July 2, 2015
...while making other fans far too excited...
#BBHMMVideo is probably the best thing she's ever done. Just genius. That's an artist doin whatever the F she wants! pic.twitter.com/ErYIfBK3I4

— Kirby Venlet (@kirbyanne001) July 2, 2015
Tbh before people judge on the abusive/violent parts of #BBHMMVideo they should know what the video is even ABOUT.

— Rihanna Demos (@RihannaDemos) July 2, 2015
its not even a music video. i'd call it a short film. its that damn good #BBHMMVideo

— James Joint (@JimmyFenty) July 2, 2015
Me when I see people hating on the video, saying its too vulgar and explicit for children #BBHMMVideo pic.twitter.com/JVcUf1vn28

— ~BЯEИDA~ (@BreendaNavy) July 2, 2015
I used to want to die in my sleep peacefully, but now I want @rihanna to brutally torture me to death. #BBHMMVideo

— Jake Updegraff (@OnAirJake) July 2, 2015