Could it be? Could Ellie Goulding actually be singing the theme song to the next James Bond film, Spectre, as previously hinted by bestie Sam Smith?
Adding fuel to the fire, Goulding has written a tweet that many believe confirms she may have managed to secure the gig, meaning she would have fought off stiff competition from Ed Sheeran, Paloma Faith, Noel Gallagher and Adele.
"Live and let die," reads the Tweet which she coincidently posted as she entered the recording studio. Live and Let Die, for those unaware, is also the title of the 1973 Bond film starring Roger Moore as 007, and whose theme song was written and recorded by ex-Beatle and music legend Paul McCartney as part of Wings.
Live and let die

— Ellie Goulding (@elliegoulding) July 9, 2015
Goulding perhaps seems an usual choice to sing the theme. But, then again, she does have experience doing movie soundtracks having earlier this year sung the pop-tune 'Love Me Like You Do' for 50 Shades of Gray.
She also contributed to the soundtracks of Twilight: Breaking Dawn – Part 2, Divergent and The Hunger Games: Catching Fire.
Bond on screen through the years
Bond on screen through the years
1/8 Barry Nelson

The first ever Bond on screen, Nelson played James Bond in 1954 in Climax! Casino Royale

Hulton Archive/Getty Images

2/8 Sean Connery

The Scottish actor first played Bond in the 1962 'Dr. No'. He portrayed the secret agent from 1962 until 1967, although he reprised the role twice: once in 1971 for 'Diamonds Are Forever' and again in 1983 in 'Never Say Never Again'

Hulton Archive/Getty Images

3/8 David Niven

Niven was 007 the time of one film; the 1967 'Casino Royale'

Roy Jones/Hulton Archive/Getty Images

4/8 George Lazenby

Lazenby played Bond in the 1969 'On Her Majesty's Secret Service'

Larry Ellis/Hulton Archive/Getty Images

5/8 Roger Moore

Moore's Bond started with 'Live and Let Die', the 1973 film directed by Guy Hamilton. He was the face of 007 for 12 years, when his tenure finished with the 1985 'A View to a Kill'

Keystone/Hulton Archive/Getty Images

6/8 Timothy Dalton

Timothy Dalton was James Bond in 'The Living Daylights' and 'Licence to Kill'

Mychele Daniau/AFP/Getty Images

7/8 Pierce Brosnan

Brosnan took over the role in 1995 when he played the spy in 'GoldenEye'. He played in a total of four films, and his last time playing 007 was in 2002 'Die Another Day'

Hulton Archive/Getty Images

8/8 Daniel Craig

Daniel Craig was announced as the new James Bond in 2005. His first appearance as the secret agent was in the 2006 'Casino Royale'. He has since starred as Bond in 'Quantum of Solace' and 'Skyfall'. He is expected to appear once again on screen in 2015 for 'Bond 24'

Greg Williams/Getty Images
The Bond theme song has typically been sung timeless artists with hugely impressive voices – see Tom Jones, Shirley Bassey, Nancy Sinatra – but has also been performed by the likes of Garbage, A-ha and Duran Duran.
According to reports in May, Adele has allegedly already recorded the theme song for Spectre.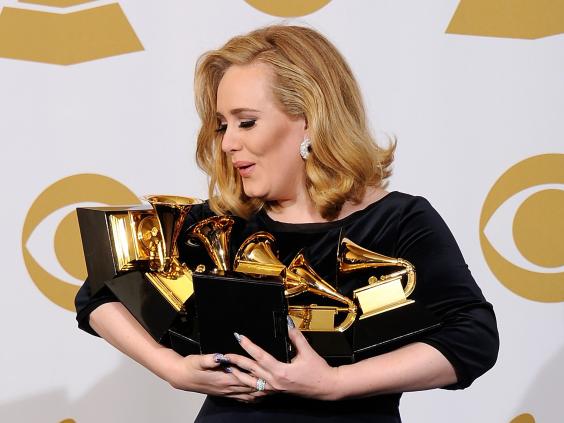 Starring Daniel Craig, Christoph Waltz, Monica Bellucci, Ralph Fiennes, Léa Seydoux and Naomie Harris, Spectre is due to be released on 6 November in the UK.
Reuse content