The music of Taylor Swift, notorious anti-Spotify warrior, has popped up on the streaming service this morning with no explanation.
One of her biggest tracks - "I Knew You Were Trouble" - has been live on Spotify for three days, according to The Guardian, attracting 39,681,189 plays (though many of these will have come from Swift, before she removed her music).
Bizarrely, it was credited to Lostprophets and its artwork was taken from Canadian cartoon Scaredy Squirrel.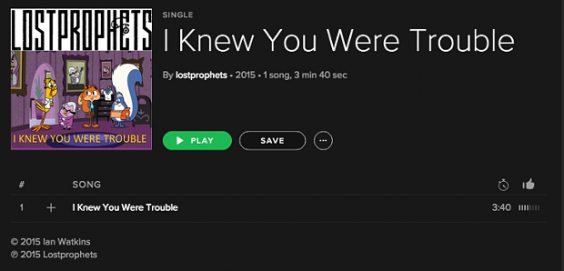 The song shot straight to the top of the Welsh metal band's Spotify profile, and also ended up appearing on Swift's page, which only carries her contribution to soundtracks.
It's all pretty odd, especially given Lostprophets were best known for having a convicted paedophile as a frontman,
Update: The track now seems to have been pulled.
A Spotify spokesperson told us: "The track in question was delivered to us by a provider, whose responsibility it is to ensure that content delivered to Spotify is fully licensed and in compliance with our Infringement Policy. We take the integrity of our catalogue very seriously, and will immediately remove any content that is found to be incorrectly licensed or attributed to the incorrect artist or composer. The track was taken down as soon as it was discovered (3 days after it was delivered), and we will be taking the matter further with the provider who delivered this track."
Reuse content