Libraries are generally underrated as places to take some rare time out, sit for a while, read a book and admire the often stunning architecture.
But French photographer Franck Bohbot has taken it upon himself to travel the world in search of some of the most beautiful book havens out there and so far has visited Paris and Rome.  He plans to travel to Europe and South America, North America and Asia next.
His on-going project, House of Books, is just beginning, but he aims to "offer a new approach in terms of atmosphere, colours and composition".
The world's most beautiful libraries
The world's most beautiful libraries
1/30

Royal Portuguese Reading Room in Rio de Janeiro, Brazil

2/30

Stuttgart City Library

3/30

Liyuan Library in Beijing, China

4/30

Bibliotheque Interuniversitaire de la Sorbonne, Paris

Franck Bohbot

5/30

The main hall of the Strahov library in Prague

Moyan Benn, Flickr

6/30

'Biblioteca Vallicelliana, Rome

Franck Bohbot

7/30

'Biblioteca Angelica, Rome

Franck Bohbot

8/30

The library of Trinity College, Ireland

Benoit Doppagne, Getty Images

9/30

Bibliotheque Mazarine, Paris

Franck Bohbot

10/30

Bibliotheque Nationale de France, Paris

Franck Bohbot

11/30

Bibliotheque de l'Hotel de Ville, Paris

Franck Bohbot

12/30

'BNF, site Francois-Mitterrand, Paris

Franck Bohbot

13/30

Bibliotheque Sainte Genevieve, Paris

Franck Bohbot

14/30

The Sir Duncan Rice Library, University of Aberdeen

15/30

Stift Admont - Bibliothek, Austria

16/30

The State Library of New South Wales (also known as the Mitchell Library) in Sydney, Australia

Christopher Chan, Flickr

17/30

Melk Monastery Library, Austria

18/30

Biblioteca Geral University of Coimbra, Portugal

19/30

Bibliotheque du Senat, Paris

Franck Bohbot

20/30

The library of the French National Assembly in Paris

Francois Guillot, Getty Images

21/30

Wiblingen Monastery Library, Germany

22/30

Beinecke Rare Book Library in New Haven, USA

23/30

George Peabody Library, USA

24/30

25/30

26/30

27/30

Abbey Library, Switzerland

28/30

Jose Vasconcelos Library, Mexico

29/30

The Library of El Escorial, Madrid, Spain

30/30

Central Libary of Vancouver, Canada
"It's about the power of knowledge, he told The Independent. "Nothing is more important after health in our world. Knowledge means everything to understand each other, to tell stories and to archive history."
"I wanted to have a powerful and monumental way of shooting libraries to pay tribute to the books, the people who work there and the architects."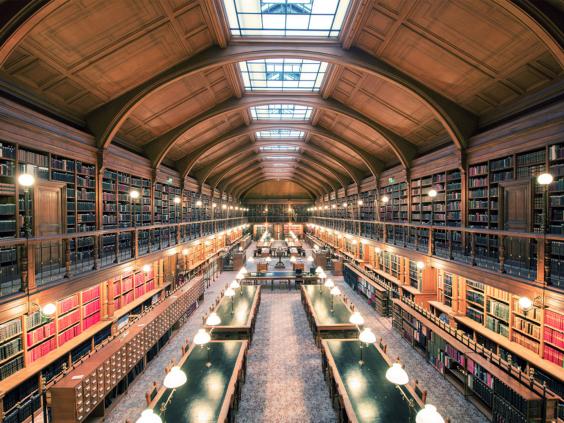 Other than his libraries series, Bohbot photographs swimming pools, theatres, city streets, bars, train stations, museums, fairs, courts, barbershops, workers and night scenes.
As an artist living in New York, he is influenced by the likes of photographer Arnold Newman, Italian artist Luigi Ghirri, architectural photographer Julius Shulman and cinematographer Gordon Willis.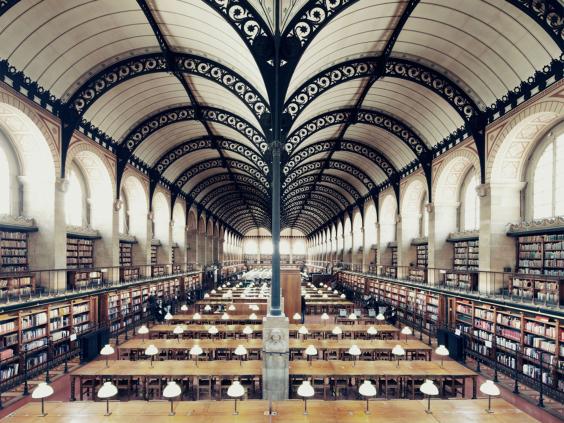 Bohbot describes photography as "moments of solitude, happiness and pain" and has won numerous awards for his work.
Reuse content