Sony Pictures has denied bowing to threats from North Korea by dropping the film The Interview after Barack Obama claimed it had "made a mistake" in shelving the release.
In statement after the President criticised Sony for cancelling the release of the satirical film, the troubled company claimed had only done so after cinemas pulled out of screening it.
The studio said it is now "surveying alternatives to enable us to release the movie on a different platform".
Mr Obama said he was "sympathetic" to the studio during his end-of-year press conference at the White House on Friday, but stressed: "We cannot have a society in which some dictator someplace can start imposing censorship here in the United States."
After leaking private emails and information about the company, hackers had made threats against cinemas who screened The Interview.
The Seth Rogen comedy depicts the assassination of North Korean leader Kim Jong-un.
This threat saw the studio cancel the Christmas Day release.
However, Sony Pictures chief executive and chairman Michael Lynton hit back at the President's comments, telling CNN it had not "caved" following the hack the FBI confirmed North Korea is responsible for.
"We have not given in. And we have not backed down. We have always had every desire to have the American public see this movie," he said.
Sony Cyber Attack: The Worst Affected In Hollywood
Sony Cyber Attack: The Worst Affected In Hollywood
1/13 Leonardo DiCaprio

The actor's 'horrible behaviour' over Steve Jobs biopic was branded 'actually despicable' in leaked Sony executive emails

Getty Images

2/13 Seth Rogen

Seth Rogen and James Franco cancel Interview (North Korea-baiting film) press appearances after Sony hackers' threats

3/13 James Franco

Seth Rogen and James Franco cancel Interview press appearances after Sony hackers' threats

AP

4/13 Aaron Sorkin

The screenwriter has said that the people who hacked into Sony Entertainment Pictures and released private emails are 'threatening the lives of whole families'

Theo Wargo | Getty Images for Nantucket Film Festival

5/13 Amy Pascal

Also leaked: Sony Pictures co-chair Amy Pascal's email joking about President Barack Obama's race

Getty Images

6/13 George Clooney

Leaked email chain between Pascal and George Clooney appeared to reveal just how much the actor struggled to cope with the criticism of his The Monuments Men

Getty

7/13 Barack Obama

Sony executives Scott Rudin and Amy Pascal's leaked email exchange jokes about Barack Obama favouring films with black actors

Getty

8/13 Channing Tatum

Channing Tatum's leaked Sony executive email responding to the success of 22 Jump Street with Jonah Hill, which became the highest grossing R-rated comedy ever when it opened in June this year

Getty Images

9/13 Jaden and Willow Smith

Will Smith and Jada Pinkett Smith's children Willow and Jaden Smith found themselves in the Sony inbox as well

Getty

10/13 Mark Gordon

DiCaprio's exchange with Jobs TV producer Mark Gordon (pictured) was leaked too

Getty Images

11/13 Princess Beatrice

Sony hackers linked to North Korea revealed Princess Beatrice earns $30,000 a year

12/13 Michael Fassbender

Aaron Sorkin's leaked emails claimed he had no idea who actor Michael Fassbender (pictured) was

Getty Images

13/13 Scott Rudin

Information leaked has also included embarrassing emails involving high profile producer Scott Rudin attacking Angelina Jolie

Getty Images
Mr Lynton said "the president, the press and the public are mistaken" over what had actually led to it stopping the release.
"We do not own movie theatres. We cannot determine whether or not a movie will be played in movie theatres."
He said Sony had "a number of options open to us and we have considered those and are considering them".
Many have speculated that a possible release could be online, although Mr Lynton did not comment on this.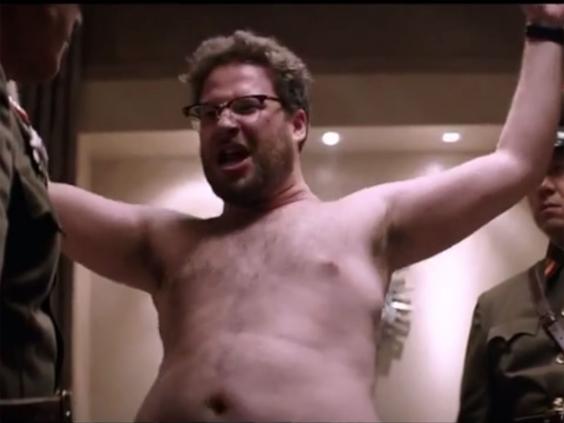 He did say that no "major video on demand distributor" has been "willing to distribute" the film. "We don't have that direct interface with the American public, so we need to go through an intermediary to do that," he told CNN.
In a statement following up from Mr Lynton's comments, Sony added: "It is still our hope that anyone who wants to see this movie will get the opportunity to do so."
Explaining the decision not to proceed with the Christmas Day screening of the film, Sony had said. "Let us be clear - the only decision that we have made with respect to release of the film was not to release it on Christmas Day in theatres, after the theatre owners declined to show it.
"Without theatres, we could not release it in the theatres on Christmas Day. We had no choice.
"It is still our hope that anyone who wants to see this movie will get the opportunity to do so."
Reuse content