They are in different theatres and working on different shows, but Tim Rice and Andrew Lloyd Webber are together again in the West End. The most renowned musical theatre writing partnership since Rodgers and Hammerstein and Gilbert and Sullivan have been estranged for years, with odd sights of reconciliation but nothing in writing.
Rice's new project involves him as co-producer (he bought the rights to James Jones's novel) and lyricist on the musical From Here to Eternity just opened at the Shaftesbury Theatre, with music by unknown Stuart Brayson,.
Meanwhile, Lloyd Webber has teamed with his Sunset Boulevard colleagues Christopher Hampton and Don Black on Stephen Ward, opening at the Aldwych Theatre in early December and charting the tragic demise of the society osteopath – who made no bones about having skeletons in the cupboard – caught up in the Profumo affair and political scandal of 1963, at the very start of the backfiring (was it?) permissive society.
The irony here is that From Here to Eternity is much more Lloyd Webber territory, with its South Pacific similarities (Rodgers and Hammerstein are his heroes) in parallel, difficult war-time love stories in an exotic setting, whereas the Stephen Ward sexual and satirical fable – the big ensemble number developed from Harold Macmillan's catchphrase ("You've never had it so good, you've never had it so often") – might have been right up Rice's boulevard; he was the one who suggested and drove through the pair's great rock-albums-into-theatre projects of high-flying, crowd-pulling celebrities, Jesus Christ Superstar and Evita, tragic icons who both died aged 33, and who rose from the dead in the 1970s musical theatre.
At the recent rock arena revival of Superstar, Rice and Lloyd Webber have put on a show of unity at various curtain calls, but just the latest in one of many points of disagreement between them is the way Lloyd Webber cast the leading actor, the unknown Ben Foster, from a television talent show of his own devising, with the audience voting their favourite; Foster's obviously good, but not that good, and completely outflanked onstage by Tim Minchin as Judas (fair enough, he does have all the best tunes) and former Spice Girl Mel C.
Rice would have preferred to have cast from known rock singers; but he's so laid back and so much less a theatre animal than Andrew that the revival might not have happened at all had it been left to him. And he still feels slightly singed from the forest fire that can be Lloyd Webber in full throttle when he was bounced into writing five new but not very good songs with his ex-partner on the London Palladium only semi-successful version of The Wizard of Oz two years ago.
This wasn't the first half-hearted reunion since their glory days. There was the short piece Cricket commissioned by Prince Edward for his mother's sixtieth birthday at Windsor Castle in 1986. And there was the Oscar-winning new song, "You Must Love Me" they wrote for Madonna as a dying Eva Peron in Alan Parker's 1996 movie. But the relationship was strained almost beyond redemption by then, partly out of Lloyd Webber always hogging head-lines, intentionally or not.
"I have picked up two Oscars with great men in the past," said Rice at the time, referring to post-ALW collaborations with Elton John and Alan Menken on film scores, "but the prospect of picking one up with Andrew Lloyd Webber leaves me with mixed feelings – a bit like watching your mother-in-law driving off a cliff in your new Ferrari."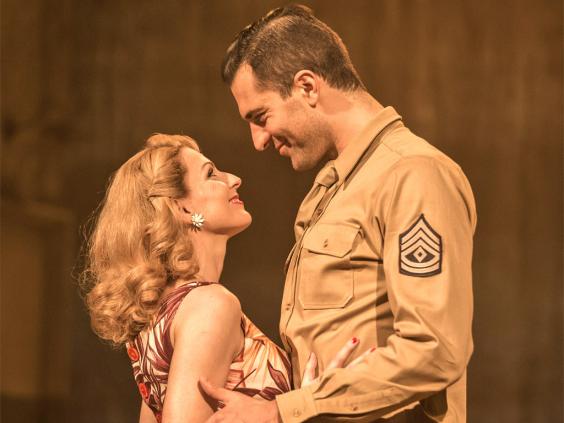 Despite this, Rice remains the colleague whose friendship and approval Lloyd Webber most consistently craves. He was on his way to Oxford in 1965 when a literary agent representing Rice – who had left Lancing College in 1963 and was trying to break into pop music – put them in touch. Rice wrote the fateful letter, telling Lloyd Webber that he'd heard he was looking for a "with-it" writer of lyrics for his pop songs.
Their first collaboration was an Oliver!-influenced song-cycle about Dr Barnardo's homes for orphans, The Likes of Us, but things really got going when the jazz critic Derek Jewell reviewed a 25-minute cantata at Colet Court, the feeder school for St Paul's, that his son was singing in in May 1968 (the month of les événements in Paris); Joseph and the Amazing Technicolour Dreamcoat, fresh as paint, irresistibly melodic, clever beyond mere wittiness, became, eventually, a full-blown commercial success and remains as much a school-hall perennial as Benjamin Britten's Noye's Fludde.
Superstar originated in Tim's fascination with Judas Iscariot and a mild obsession he had with a Bob Dylan song, "With God on Our Side." Evita was kickstarted by a radio programme Tim heard. And the rift started properly when he lost interest in their initially shared enthusiasm for a PG Wodehouse musical, the 1975 flop Jeeves, partly because he didn't want to retreat from "rock theatre" into a shrinking world of musical comedy; so, Alan Ayckbourn, who was writing the libretto, was suddenly writing lyrics, too.
And when Lloyd Webber got involved with Cameron Mackintosh in the 1980s on Cats (which already had lyrics, by one TS Eliot) and Phantom of the Opera (with Starlight Express produced in between by Lloyd Webber's own company), all shows with the composer's name gloriously and globally alone above the title, Rice quietly got on with his own projects, his own life and his abiding love of cricket, eventually becoming President of the MCC.
As we learn once again from the newly published letters of Leonard Bernstein, all collaborations in musical theatre are fraught with intellectual violence and personality clashes. Tim and Andrew – the first outwardly relaxed, the second, impulsive and prone to change his mind as often as his socks – simply grew professionally apart, having always worked at a different pace. And with Lloyd Webber, the music always comes first; the lyrics do what's needed.
But you never say never again in these matters. Throughout the 1980s, Rice was on Lloyd Webber's Really Useful Company board. He had a great success (though it flopped in New York) with Chess, co-written with the Abba composers, in 1984, and the idea for Lloyd Webber's 1987 Aspects of Love had first come through him; Rice commented at the time, "I need the money and he [Andrew] needs the credibility."
Again, Rice lost interest, and Lloyd Webber went ahead on what turned out to be a delicate, touching Mozartian piece (although it was given an over-inflated production by Trevor Nunn in an unsuitably large theatre, the Prince of Wales) with lyrics by the trusty Don Black (a good friend of Rice's) and Charles Hart, who had been plucked from obscurity to write the lyrics on Phantom with Richard Stilgoe.
It may well be that Lloyd Webber, who has already slipped into From Here To Eternity, has composed an alternative score for Tim in his head, one with a bit more harmonic complexity and melodic oomph, perhaps, than Stuart Brayson's admirably efficient and energetic effort.
And although Rice affects not to know anything so far about Stephen Ward, he may well be thinking, "Mmm, that was our period, that was our time…" Who knows? The two of them will almost certainly be lunching together before the year's out to bury the hatchet, and not necessarily in each other's heads; they are, after all, joined at the hipsters, and they know each other too well to walk on by.
'From Here to Eternity', Shaftesbury Theatre, London WC2 (fromheretoeternitythemusical.com) to 26 April
Reuse content