Titus Andronicus, the "grotesquely violent" Shakespearean tale of revenge, has 14 deaths, many violently bloody, as well as rape and mutilation.
But that's nothing compared to the audience casualty toll of its recent run at the Globe Theatre in London. The Independent can disclose that more than 100 people either fainted or left the theatre after being overcome by on-stage gore – making it a strong candidate for the most potent show in British history.
The production opened at the beginning of May and it became quickly clear that the production had a strong physical effect on the audiences. Those who fainted included The Independent's reviewer.
The play ran for 51 performances and closed a week ago. A spokeswoman said "two to four people per performance either fainted or left feeling queasy". Lucy Bailey, the director, said: "I find it all rather wonderful. That people can connect so much to the characters and emotion that they have such a visceral effect."
She added: "I used to get disappointed if only three people passed out."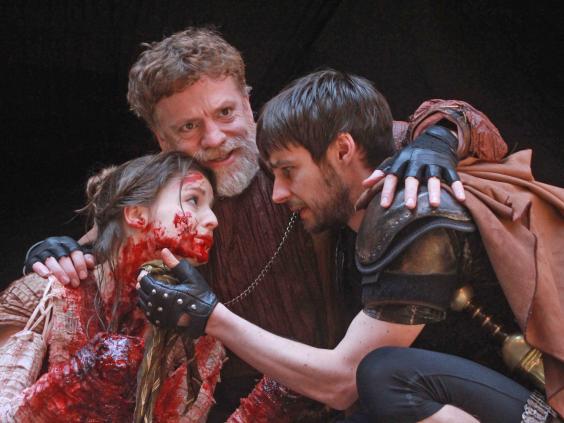 Titus Andronicus is a story set in the Roman Empire of a general who returns to Rome with the queen of the Goths and her sons as prisoners of war.  His decision to refuse the title of emperor initiates "a terrible cycle of mutilation, rape and murder".
The scene that prompted the majority of the audience to drop was the entrance on stage of Lavinia, played by Flora Spencer-Longhurst, who has been raped and had her hands cut off and tongue cut out, with blood pouring out of her mouth.
Ms Bailey said: "With Lavinia, it's hugely about her imagined pain and the shock of it all."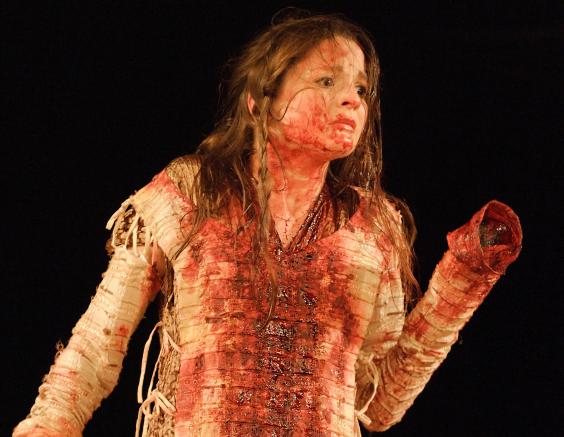 The actors had found it initially off-putting as staff had to deal with audience members losing consciousness as the play continued.
"They got used to it, but had found it difficult at the start as they didn't know if they should carry on or have a different response," Ms Bailey said.
Reuse content