Set and Reset, Tate Modern, London, review: An entrancing meeting of Trisha Brown, Rauschenberg and composer Laurie Anderson.
To coincide with the Robert Rauschenberg retrospective, Trisha Brown's dance piece 'Set and Reset' (1983) is being performed at Tate Modern, with set and costumes by the American artist
4
Click to follow
The Independent Culture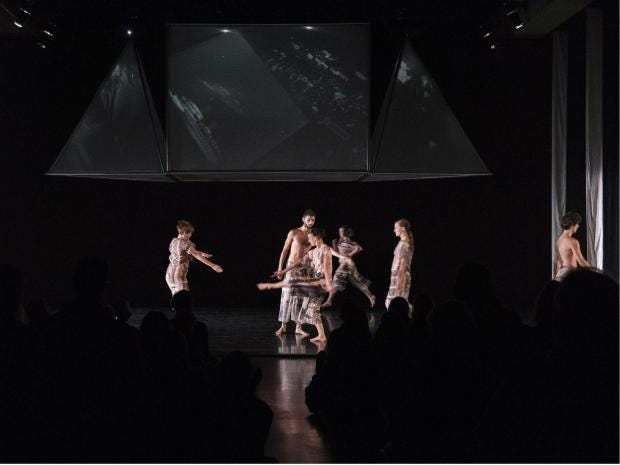 Trisha Brown's Set and Reset is a glowing celebration of art as collaboration, as layered and lovely as the Robert Rauschenberg collages on its dancers' costumes. Created in 1983, it's an entrancing meeting of Brown, Rauschenberg and composer Laurie Anderson. 
This revival was staged as part of Tate's retrospective on Rauschenberg, whose work embraced pop art, abstract impressionism and dance (both as a performer and as a designer). It took place in the Tanks at Tate Modern, an industrial space in the depths of the gallery, where massive concrete shapes framed the more ethereal geometry of the dance. It offered layers and layers of sound, image and meaning.
Set and Reset opens with a woman walking on a wall. She's held overhead by three dancers, lying on their upstretched hands, her feet strolling. It's an echo of some of Brown's own early experimental dances, in which she rigged up dancers to walk on the sides of buildings. In this stylised stage version, the dancer floats – at one point, she and her supporters wander in and out of the wings, so that she's "walking" on fluttering silk. 
Rauschenberg's set hangs overhead, a box and two pyramids of gauze, looking both airy and solid. Black and white film clips are projected onto it, flickering found footage of buildings, landscapes, traffic and Americana. It has an echo in the dancers' sheer costumes, silkscreened with more monochrome photographs. They read as abstract patterns, floating over the dancing human bodies.
Anderson's score loops and fractures the spoken phrase "Long time no see", overlaying it with chiming bells. It builds shimmering patterns from everyday sound.
Brown's choreography runs alongside the music or bounces off it. Throughout, it plays with weight and lightness. A fluid dip of the shoulder will ripple right through the dancer's torso, becoming a swung leg or a dive into a forward roll. 
Hips swivel, feet scamper; the speed looks improvised, while the patterns are mathematically precise. There's also a teasing sense that what you can see may rely on things you can't. Two couples hold the same supported pose – but in one case, the partner is hidden in the wings, a pair of disembodied hands. 
Brown's six dancers have a throwaway elegance, letting a casual gesture curl and develop into a gorgeous phrase. There's so much going on; they make it look easy.
Reuse content
Comments