India will reportedly create its own version of the international TV series Game of Thrones.
Period drama Rani Mahal will take its lead from R. R. Martin's Game of Thrones and will feature a clutch of characters closely based on the TV series and books.
The new series will star Indian television actress Sakshi Tanwar, famed in India for Ekta Kapoor's Kahaani Ghar Ghar Ki, in a Daenerys-inspired lead role, The Indian Express reported.
Online rumours indicate that although the series will take its lead from the fantasy books and TV series, it will be set in the year of the Indian Mutiny of 1857 – so is unlikely to feature dragons.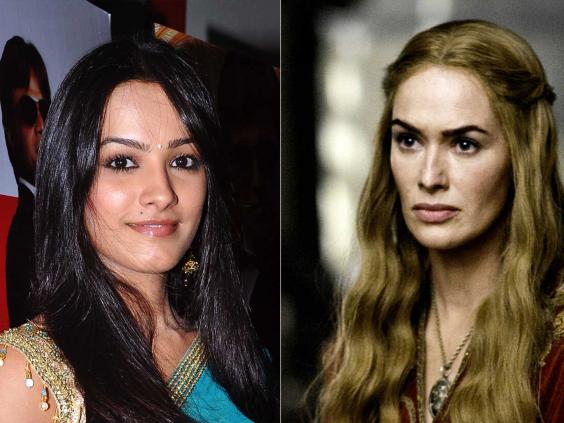 Despite this, a clutch of Indian stars are already being lined up to play characters such as Cersei Lanaster and Jon Snow.
Anita Hassanandani, star of Yeh Mohabbatein, will play the power-mad Cersei. Parth Samthaan, from MTV's Kaisi Yeh Yaariaan, will play 'You know nothing' Jon Snow.
In pictures: Game of Thrones characters
In pictures: Game of Thrones characters
1/9 Daenerys Targaryen

Forced to flee Westeros after her father's throne was usurped when she was a baby, Daenerys is busy making plans to build an army and take back the Seven Kingdoms. She also has three small dragons which plans to use to retake her throne, it's significant because dragons are thought to be extinct in this world.

HBO

2/9 Cersei Lannister

She's the queen of Westeros and mother to Joffrey who ascended to the throne. She hates her dwarf brother Tyrion and is involved in an incestuous relationship with her twin brother Jaime, in fact Joffrey is the offspring of her union with Jaime.

HBO

3/9 Jaime Lannister

Also known as the 'Kingslayer' after killing Daenerys' father the 'Mad King' Aerys Targaryen. In the last season he was captured during battle and became a prisoner of war. He was eventually released as part of an unofficial hostage exchange and was being escorted back to the capital of Westeros King's Landing but not before having his right hand chopped off.

HBO

4/9 Joffrey Lannister

Cruel, sadistic and the character everyone loves to hate the most. He ascended to the Iron Throne after his father Robert Baratheon died. However, he's heard rumours his father might actually be his uncle Jaime. He was also bethrothed to Sansa stark but this was dissolved at the end of the season 2.

HBO

5/9 Tyrion Lannister

A dwarf and sometimes referred to as the 'Imp' depending on who's asking, Tyrion is the best character in Game of Thrones. Not only does he get the best lines but he is a wonderfully complex character and probably the only likeable member of his family. He's also slapped Joffrey which is never a bad thing.

HBO

6/9 Bran Stark

Another one of the five Stark children, he was crippled by Jaime Lannister who threw him out of a tower after Bran accidentally stumbled across one of Cersei and his trysts. Bran had to flee his home when it was invaded and razed to the ground.

HBO

7/9 Arya Stark

The younger stark daughter and a complete tomboy who prefers sword fighting to sewing. Unsurprisingly, she is often mistaken for be a boy. She was in King's Landing and saw Joffrey sentence her father to death, luckily during the chaos she managed to escape the city. She is still on the run with a character called The Hound.

HBO

8/9 Sansa Stark

The complete opposite of her sister Arya and the eldest Stark girl, Sansa is beautiful if naive. She is being held captive in King's Landing by the Lannisters. Her engagement to Joffrey has been broken off much to her delight but she's not safe yet and hopes to escape the city.

HBO

9/9 Jon Snow

The illegitimate son of Ned Stark. Jon is part of an ancient order known as the Night's Watch who guard the realm from savage people known as wildings and other dangerous creatures that live on the other side of the Wall - a mammoth structure that divides Westeros and the frozen wastes beyond. In the last season Jon was captured by the wildings but managed to escape.

HBO
The series will reportedly be made by Sony Entertainment Television.
Reuse content