Apple is gearing up to take on Netflix and Amazon Prime by making a long-awaited move into creating its own original programming.
The technology giant is seeking to poach an executive to head its proposed new production and development business and has held secret talks with leading Hollywood figures over the role, Variety reported.
Apple made a bid to sign Jeremy Clarkson and the Top Gear team before Amazon secured the former BBC trio in a £160m deal to produce an exclusive new car show for subscribers to the online retailer's Prime service, it has emerged.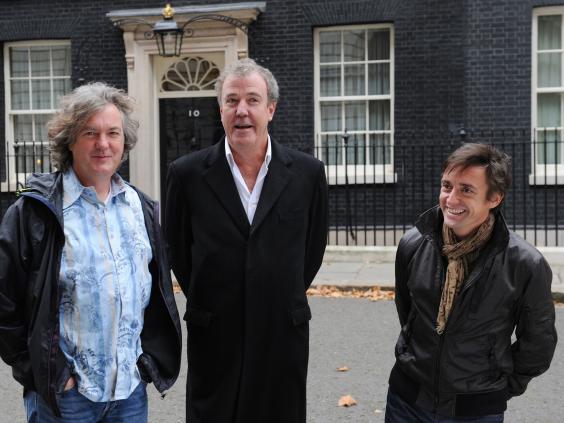 It is not yet clear whether Apple intends to produce its own films as well as television series through its own studio. The company already sells films and television show downloads through its iTunes store.
A streaming service offering original programming, which would challenge Netflix and Amazon Prime head on, could be marketed as an addition to the new Apple Music service, which claimed 11 million trial users a month after its launch.
Apple launched its own radio station, Beats 1, alongside the subscription music service. An in-house team has produced music videos for artists like Drake, Eminem and M.I.A.
Eddy Cue, the executive in charge of Apple Music, is believed to be heading the unit charged with creating original screen content. Apple wants the division to be operational next year.
Offering hit shows of the calibre of Netflix's House of Cards would be a selling point for a new Web-based subscription television service, which Apple has been developing to coincide with the release of the latest version of its Apple TV at an event next week.
The new box will include Siri support, a redesigned remote control and an app store that will allow developers to run programs on it.
The subscription service the company is reported to be developing would offer Apple's own shows alongside 25 channels, including the major television networks. It would be available on Apple TV as well as other devices running Apple's iOS operating system, according to reports.
The original content discussions are said to be at an early stage. Cue recently said: "TV is a hard problem to solve. One of the problems you have with a TV is you have a disparate system with a bunch of providers. There's no standards. There's a lot of rights issues."
There have been suggestions that Apple could use its resources to simply buy a Hollywood studio. But the California company could work in partnership with the major film and television producers, tapping into their expertise in order to produce original content for its web TV service.
Best Netflix originals to watch in 2015
Best Netflix originals to watch in 2015
1/11 Orange is the New Black (Season 3)

Aussie model Ruby Rose has confirmed she will be the next star in stripes at Litchfield Penitentiary when OITNB returns on 10 July.

2/11 Daredevil

Marvel's new Netflix series will be released on 10 April (all 13 episodes), starring Charlie Cox as blind lawyer by day and masked vigilante by night Matt Murdock.

Netflix

3/11 What Happened, Miss Simone?

Music legend and civil rights activist Nina Simone is the subject of this film from Oscar-nominated Liz Garbus. Expect unheard recordings and rare archival footage.

Netflix

4/11 Marseille

The French port city of Marseille will be the focus of a new drama about the local mayor, who is forced to face the man he chose as his heir in the elections.

Simon Calder

5/11 Grace and Frankie

Jane Fonda will arrive on Netflix on 8 May in this show about two rivals brought together after their husbands announce they are in love and plan to marry. Also starring Lily Tomlin.

Reuters

6/11 Sense8

No not The Matrix - but directors Andy and Lana Wachowski have created a new sci-fi drama series involving eight strangers from around the world who suddenly become mentally and emotionally connected after a tragic event.

Rex Features

7/11 Narcos

Ten-episode series Narcos will see Brazilian actor Wagner Moura play notorious Colombian drug lord Pablo Escobar.

8/11 Dreamworks Dragon

This will bridge the gap between How to Train Your Dragon 2 and the third film. Storylines include Hiccup's new flight suit, the secrets of his dragon blade and the young Viking's budding romance with Astrid.

9/11 Better Call Saul

The Breaking Bad spin-off series began in February starring Bob Odenkirk as sleazy lawyer Saul Goodman. The drama documents the trials and tribulations of Goodman before he moves to his strip-mall law office in Albuquerque.

Netflix

10/11 House of Cards (Season 3)

Kevin Spacey is back as the conniving Frank Underwood on 27 February for the third season of this hit White House drama.

AP

11/11 Crouching Tiger, Hidden Dragon: The Green Legend

The sequel to this Oscar-winning martial arts epic hits Netflix on 28 August - the same day of its cinematic release.

Netflix
Variety speculated that Apple's television plans could extend beyond high-end drama to reality shows, tapping into the kind unscripted content which has turned many vloggers into YouTube celebrities. Apple has expanded its independent film offering on iTunes and regularly offers films to rent before their theatrical release.
Apple's consumer base is so large that potential rivals are also currently collaborators. Amazon announced yesterday that it is letting Prime members download television episodes and films on Apple iPhones and iPads as well as Android phones and tablets for watching while offline, a feature Netflix and the US streaming service Hulu doesn't offer.
Netflix hopes to attract more subscribers by investing in original films which will be given a global premiere on the platform.
In a challenge to traditional cable pay-TV providers, Netflix will from next year give subscribers access to first-run, live-action and animated feature films from Disney, including Pixar, Lucasfilm and Marvel under a deal with Disney. Apple has declined to comment on its programming plans.
Reuse content