Rita Ora may have liked the plunging white trouser suit she wore on The One Show. but hundreds of viewers found it cause to complain.
The newly-appointed Voice judge, 24, was appearing on the prime-time BBC1 chat show with Kaiser Chief's Ricky Wilson to promote the TV singing contest.
But her decision to wear nothing underneath the Ermanno Scervino blazer soon came under attack, with 399 people complaining to the broadcaster.
"I am no prude but found it totally inappropriate," one viewer wrote on the BBC's Points of View message board, while another requested that a "dress code" be introduced to avoid seeing "boobs hanging out".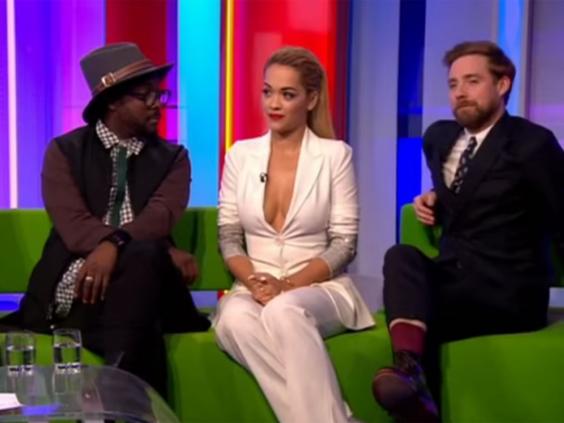 "Is Rita Ora's outfit really suitable for this time of evening?" another message read. "Thankfully my 7-year-old boy is elsewhere. Come on BBC, make the woman put a vest on."
Wilson joked about the "How We Do" singer's appearance, describing her as "naughtier" than former judges Kylie Minogue and Jessie J. "Look at her!" he said.
Other viewers defended Ora, arguing that "complaints about a woman showing a bit of cleavage" were like something from the Fifties.
"Seen more on a cold beach in Bournemouth in April," one post read.
Funniest PR fails
Funniest PR fails
1/5 U2

U2 thought they would give away their first album in five years for free to 500 million iTunes customers in September.

It turns out not everyone wanted Songs of Innocence popping up on their iPods.

Getty

2/5 Rita Ora

The "I Will Never Let You Down" singer tweeted that she would release her new single the Monday after Halloween if she received 100,000 retweets.

But after receiving less than 2,000, she deleted the tweet.

Obviously, it didn't go unnoticed.

Getty

3/5 Susan Boyle

#susanalbumparty

Look, we're not going to explain this one to you but let's just say that someone should have re-read this hashtag a few times...

It did refer to an album party, by the way. Susan Boyle was launching her new release, Standing Ovation, back in 2012. Cue multiple parody accounts and general hilarity in the Twittersphere.

Needless to say, it was hastily changed to #SusanBoylesAlbumParty

Getty

4/5 Ryanair

Ryanair boss Michael O'Leary took to Twitter for a live Q&A in October 2013, using the hashtag #GrillMOL

Let's just say it didn't go too well...

PA

5/5 Tesco

In the wake of the horsemeat scandal, the Tesco Customer Care Twitter account posted a tweet that appeared to make light of the incident.

It said: "It's sleepy time so we're off to hit the hay! See you at 8am for more tweets. #TescoTweets"

It was criticised for being in bad taste but people found it quite funny too.

It turned out the tweet had been scheduled before the news broke.

Getty
A BBC spokesperson said at the time that The One Show "allows guests to choose their own attire and pop stars often opt for something glamorous or striking".
"We didn't feel that Rita's outfit would be outside of most viewers' expectations of that of a major pop star, but we appreciate that tastes vary."
However, the following message has since appeared on the show's Facebook page: "We're sorry to those of you were were offended by Rita Ora's choice of outfit on yesterday's show. If we had been consulted on it we would have requested she wore something more suitable for 7pm."