Fans hotly awaiting the return of BBC drama Sherlock have been warned to "expect tragedy" in series four.
Co-creator Mark Gatiss dropped some hints in a recent interview, after Steve Moffat similarly said the upcoming episodes starring Benedict Cumberbatch as the super sleuth would be "devastating".
Best moments from Sherlock
Best moments from Sherlock
1/9 Best Sherlock moments

Sherlock's 'dies' after he falls off the edge of St Bart's hospital. The nation mourned for all of five minutes before it was revealed that the super sleuth had faked his death

2/9 Best Sherlock moments

Sherlock and Moriarty go in for a kiss - prompting shipping theories to crop up across the internet.

3/9 Best Sherlock moments

Sherlock accidentally disrobes in Buckingham Palace in 'Scandal of Belgravia'.

4/9 Best Sherlock moments

Sherlock and Watson play a drinking game during Watson's two-man stag do. The rest of the evening ends in typcically raucous style.

5/9 Best Sherlock moments

Sherlock and Watson have a punch up in 'The Empty Hearse'. In possible the best fight since 'Bridget Jones's Diary', the pair tussled furiously when Sherlock surprised Watson by coming back from the dead.

6/9 Best Sherlock moments

Molly and Sherlock's Christmas present was one of the sweetest moments between the pair. The romance that viewers want to happen.

7/9 Best Sherlock moments

Sherlock exposes Sun journalist Kitty Riley, who pretends to be a big Sherlock fan.

8/9 Best Sherlock moments

The series one finale of 'Sherlock' left fans on tenterhooks after Moriarty strapped a bomb to Watson in a standoff with the detective

9/9 Best Sherlock moments

It was a partnership made in heaven - Sherlock and Watson meet for the first time.
"Expect tragedy as well as adventure, that's just how it goes," Gatiss told Radio Times, adding that the TV show's plotline would not necessarily follow that of Sir Arthur Conan Doyle's original books.
"Just because it's in the stories, doesn't mean it'll happen in the series," he said. "There's an awful lot of changes and an awful lot of places to go and things to do.
"It should be clear by now that while, of course, Doyle is our absolute god, we have gone quite a long way away as well. We've introduced Sherlock and Mycroft's parents – I don't think they've ever been seen in any adaptation – so there are lots of surprises to come."
One character who could be facing the chop is John Watson's wife Mary, played by Amanda Abbington, real-life partner of Watson actor Martin Freeman.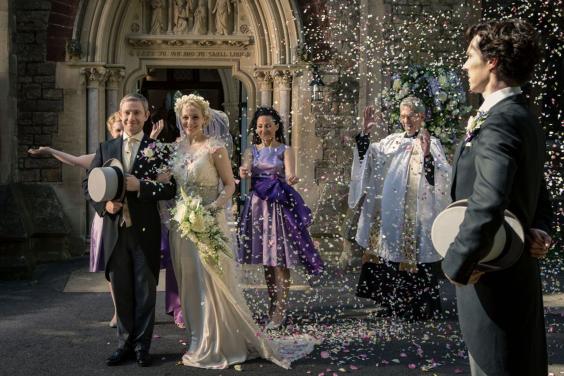 Freeman has previously suggested that Mary could be killed off "at some point" in line with Conan Doyle's stories.
"While we play fast and loose with the original stories, we generally follow the trajectory of what Conan Doyle did," he told The Telegraph. "So [Watson] gets married and then Mary dies – so at some point presumably she'll die."
Should Mary face her demise in the next series, fans could see Watson move back into the Baker Street flat with Holmes, as happens in the books. But with Sherlock, anything could happen.
A one-off Sherlock special begins production in January for a possible Christmas broadcast while a further three episodes will be shot later in the year to be aired in 2016.
Reuse content