Sherlock Holmes has returned.
The first teaser for series four of the popular BBC series was released on Thursday, simply showing Holmes and John Watson up to their ankles in water at 221b Baker Street.
Series four will see Toby Jones join the cast as villain Culverton Smith in second episode The Lying Detective - a riff off of The Adventure of the Dying Detective.
Here's what we can deduce from the new picture:
1) Is Moriarty back?
Two things hinted at the return of Sherlock's arch-nemisis. The sheet music floating around in the water is titled 'Miss Me?' and we all know where we've heard that before. 

Then you have the bone china cup, which looks a lot like the one Moriarty drank from when he sat down to tea with Sherlock in that very living room.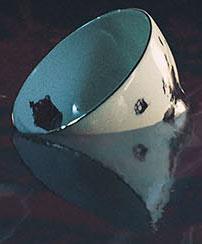 While Sherlock said that Moriarty is definitely dead at the end of the Christmas special, this could be a sign that Moriarty will haunt him long after.
2) Tom Hiddleston may have been cast as the third Holmes brother
In series three, Sherlock's big brother Mycroft reminded him what happened to "the other one", and referred to him as 'Sherrinford', which was the monikor Sir Arthur Colan Doyle wanted for his famous detective before he settled on Sherlock.
Fans have been desperate to see Hiddleston cast as Sherrinford since the third episode, but back in July, Mark Gatiss gave the first hint that this could actually happen.
At Comic Con in San Diego, he tweeted a picture of himself with Hiddleston and fellow Sherlock star Amanda Abbington, with the hashtag #blud (slang for brother).
And what do we see floating in the water? That red leather book is a copy of Shakespeare's Henry V. Hiddleston starred as Henry in the BBC2 adaptation of The Hollow Crown, which also saw Benedict Cumberbatch as Richard III.
3) Busts of Margaret Thatcher are probably going to get smashed to smithereens
There's a plaster bust/statue on the mantlepiece at the back of the room.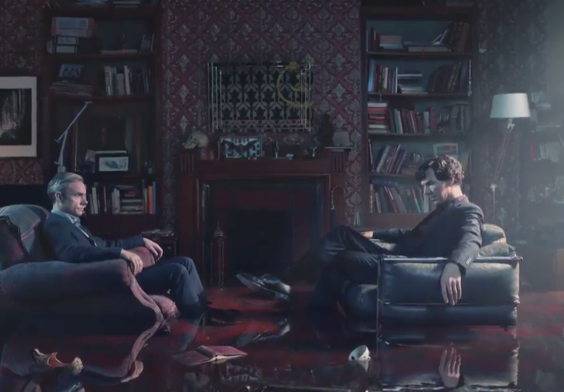 The first episode of series four is called The Six Thatchers - this is obviously a nod to Conan-Doyle's Sherlock story The Adventure of the Six Napoleans, where Sherlock and Watson investigate a man who has been shattering plaster busts of Napoleon (we won't spoil why).
4) A stab in the dark
It's not as confusing as some of the other clues. In The Musgrave Ritual Dr Watson observed that he would often find his flatmate's unanswered post "transfixed by a jack-knife into the very centre of his wooden mantlepiece".
That Persian slipper floating in the water also alludes to the one used to hide Sherlock's tobacco in the same story.
The third episode hasn't been named yet, so maybe the final installment of series four will take its plot from that particular tale. 
Sherlock series four is due to air on New Year's Day
Reuse content