Not even the head honchos at Netflix could have foreseen the success of Stranger Things, the supernatural sci-fi series that has swept the world since its streaming service debut last month.
From the creative minds of The Duffer Brothers, the 80s-set show stars Winona Ryder as the mother of missing child Will Byers whose disappearance triggers a series of extraordinary mysteries in Hawkins, Indiana.
While it's been near impossible to avoid mention of Stranger Things across the web over these past few weeks, it's unknown whether the intense word-of-mouth has correlated into successful viewing figures for Netflix - especially considering all eight episodes dropped simultaneously. Until now, that is.
Netflix originals to look forward to in 2016
Netflix originals to look forward to in 2016
1/14 House of Cards - Season Four - 4 March

Last time we were in Frank Underwood's White House things weren't looking to great for the President, his first Lady having just walked out on him. What will happen next in the critically acclaimed show is anyone's guess.

Netflix

2/14 Daredevil - Season Two - 18 March

Back in Hell's Kitchen things were seemingly getting better. Kingpin is in prison and the crime syndicates should have dispersed - for the meantime at least. Unfortunately for Matt Murdoch, there's a new anti-hero in town: The Punisher.

3/14 Flaked - 11 March

According to Netflix, Flaked is set in the insular world of Venice, California. It follows the "serio-comic story of a self-appointed 'guru' who falls for the object of his best friend's fascination. Soon the tangled web of half-truths and semi-b******* that underpins his all-important image and sobriety begins to unravel. Arnett plays Chip, a man doing his honest best to stay one step ahead of his own lies.

Netflix

4/14 Unbreakable Kimmy Schmidt - Season Two - 15 April

Following the story of 29-year-old Kimmy Schmidt on her journey through New York, season two is set to start right where the last left us. The Tina Fey created sitcom has already been renewed for a third season, so you know this one has to be good.

5/14 The Ranch - 1 April

A comedy starring Ashton Kutcher. Based on a failed semi-pro footballer who returns home to a Colorado ranch. It also has some of the producers from Two and a Half Men behind it, which just happens to be one of the most successful shows of all time.

6/14 Marseille - 5 May

Netflix's first French language original is a tale of 'power, corruption and redemption'. Sounding like it could very well be the next Narcos.

7/14 Grace and Frankie - Season Two - 6 May

The tale of a retired cosmetics mogul and a hippie art teacher living together was a hit across the world, especially in the US. Starring Jane Fonda and Lily Tomlin, the show has already been renewed for a third season.

8/14 Orange is the New Black - Season Four - 17 June

Another Netflix powerhouse, Orange is the New Black will see us returning to Litchfield Penitentiary. Prepare for more Piper, Alex and Red come June.

9/14 Stranger Things - 15 July

Eight-episode series starring Winona Ryder that follows a small community as they look for a young boy who has seemingly vanished. It all sounds quite scary.

10/14 The Get Down - August 12th

"Told through the lives and music of a ragtag crew of South Bronx teens, The Get Down is a mythic saga of the transformation of 1970s New York City." Directed by Baz Luhrmann, this is sure to be as stylish as anything he's done before.

11/14 The Crown - Spring

Starring Doctor Who actor Matt Smith, the period drama "reveals the political rivalries and romance behind Queen Elizabeth II's reign and the events that shaped the 2nd half of the 20th century."

12/14 Luke Cage - Fall 2016

First appearing alongside Jessica Jones in her Netflix series, Luke Cage will pic up the pieces, seeing Cage come to terms with his super-strength and impenetrable skin. It is unknown whether Kathryn.

13/14 Narcos - Season 2 - Fall 2016

It's back. The Netflix series hyped to match Breaking Bad was an astounding success around the world, apparently watched more than Game of Thrones. We'll find out what happens to Pablo Escabar now he doesn't have the protection of all his men.

Netflix Inc.

14/14 A Series of Unfortunate Events - Fall 2016

Netflix is set to revisit the much-loved children's novel, putting Neil Patrick Harris as Count Olaf in a show that looks so much creepier than the 2004 film. Not much else is known - i.e. casting - but Lemony Snicket is on board as executive producer, so get excited.
Business Insider has reported how its success compares with other Netflix shows: Stranger Things is officially one of it's biggest properties of all time having racked up 8.2 million viewers in its first 16 days.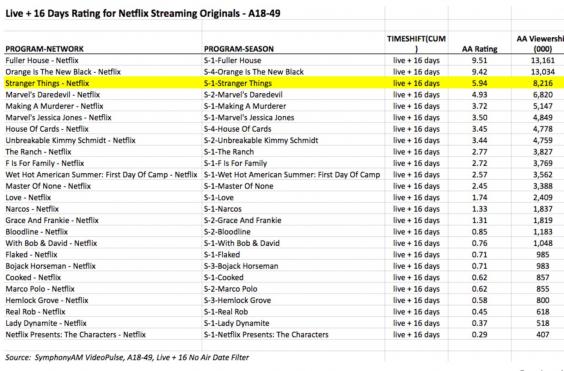 The only two TV shows to have beaten Stranger Things is Fuller House - which was recently (rather unexpectedly) announced as Netflix's most-watched series - and the latest season of Orange Is the New Black . This makes Stranger Things more popular than House of Cards, Narcos and Marvel properties Daredevil and Jessica Jones.
Netflix's chief executive Reed Hastings recently confirmed plans are in motion to make a second season. Such was the popularity of the show's soundtrack - scored by Kyle Dixon and Michael Stein - that it's to get a two-volume release.