The rainforests of Didy in eastern Madagascar usually ring with the calls of the indri, the island's largest lemur. But there is a different noise now: the chopping of trees, digging of gravel, and cheers of encouragement from the thousands of illegal miners who have flooded to these forests since sapphires were discovered in late September.
Bemainty, an area in the west of Didy, is experiencing a sapphire rush. Rosey Perkins, a gemologist, visited soon after the rush began in October. She estimated 45,000 people were already involved and that the mine was growing by 1,500 to 2,000 people a day. By now it may be significantly bigger.
She told me: "These gem deposits are found in the gravels of ancient river beds. Some are unusually large and have an attractive blue colour; there have been some phenomenal finds which are drawing in traders from as far away as Sri Lanka."
Madagascar is one of the poorest countries in the world. People are desperate for any new income sources and will understandably travel to wherever they see an opportunity. The discovery of precious stones has led to rapid development in a number of parts of the country.
Particular challenges are raised when the stones are discovered in areas of importance for conservation, as with the latest find, which is in a protected area: the Corridor Ankeniheny Zahamena (or CAZ). Herintsitohaina Razakamanarivo, a professor of forestry and soil sciences at the University of Antananarivo, said: "These forests really matter for their world famous biodiversity, for their contribution to avoiding climate change and of course they also contribute to local livelihoods and are culturally important."
Workers must walk for 12 hours to reach the mine, which is in a remote corner of Madagascar's eastern forests.
The mining involves removing the trees so the gem-rich gravels can be dug up and sieved to find the precious stones. There are also concerns that the miners will increase bushmeat harvesting, which is already a growing threat to lemurs and other wildlife in much of Madagascar.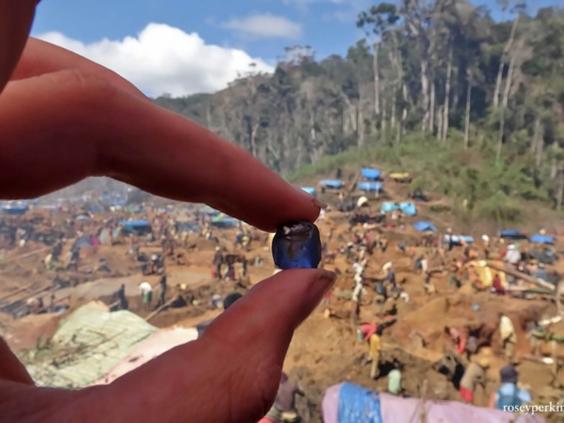 However, the impact of a sudden influx of thousands of people is not simply a conservation issue. This is an example of how the agenda of conservationists and those of local people could be aligned.
I spoke to Tokihenintsoa Andrianjohaninarivo from Conservation International Madagascar, the NGO responsible for managing the protected area. She explained how previous sapphire rushes caused local people who live in these forests to suffer.
"Insecurity increases, the cost of living rises, and the education of a generation of kids may be damaged as schools close. Water becomes polluted as there are suddenly thousands of new people living in an area with no sanitation facilities."
World news in pictures
World news in pictures
1/14 5 December 2016

The sun rises behind skyscrapers amidst the clouds on a foggy morning in Dubai

Getty

2/14 5 December 2016

An Iraqi soldier gestures as he steps on the head of the dead body of who Iraqi forces say was an Islamic State militant, in Shayyalah al-Imam near Mosul

Reuters

3/14 5 December 2016

A man checks the damage at a medical clinic following overnight government air strikes on the town of Binnish, in Syria's northwestern Idlib province

Getty

4/14 5 December 2016

A quarantine official disinfects a road leading to a chicken farm in Pyeongtaek, west of Seoul, South Korea. A suspected case of avian influenza was reported at the farm

EPA

5/14 5 December 2016

Rescue workers stand beside the bodies of the victims following a fire at a local hotel, at a hospital in Karachi, Pakistan

EPA

6/14 5 December 2016

Iraqis ride bicycles between Baghdad's Abu Nawas street and the suspension bridge in the capital's Karrada district during an event calling for peace and the eradication of the Islamic State (IS) group

Getty

7/14 5 December 2016

Iraqis gather prior to cycling between Baghdad's Abu Nawas street and the suspension bridge in the capital's Karrada district during an event calling for peace and the eradication of the Islamic State (IS) group

Getty

8/14 5 December 2016

The bust of the late President Park Chung-hee is seen spray painted in a park in Seoul, South Korea. The bust was vandalized in an apparent anonymous act of discontent with his daughter and incumbent President Park Geun-hye who is suspected of having been involved in an unprecedented corruption scandal. The grafitti reads 'Order of Removal'

EPA

9/14 4 December 2016

Young people march around the Plaza de la Revolucion and chant 'Yo soy Fidel,' 'I am Fidel' in English, before the arrival of the remains of former Cuban President Fidel Castro during on their four-day journey across the country in Santiago de Cuba, Cuba

Getty

10/14 4 December 2016

The urn with the ashes of Cuban leader Fidel Castro leaves Revolution Square in Santiago, Cuba on its way to the cemetery

Getty

11/14 4 December 2016

A Honduran soldier confronts fans of Real Espana football team following clashes after Platense qualified for the Honduran Tournament final, outside the Municipal Excelsior stadium in Puerto Cortes, 260 kms north of Tegucigalpa

Getty

12/14 4 December 2016

People take part in a nation-wide protest against corruption at Copacabana beach in Rio de Janeiro, Brazil

Getty

13/14 4 December 2016

Demonstrators protest along Paulista Avenue in Sao Paulo, Brazil against corruption and in support of the Lava Jato anti-corruption operation that investigates the bribes scandal of Petrobras

Getty

14/14 4 December 2016

Cuban President Raul Castro places the urn with the ashes of his brother Fidel Castro in his tomb at the Santa Ifigenia cemetery in Santiago de Cuba

Getty
As the latest mine continues to grow, conditions appear to be getting worse. A friend from the area, who does not want to be named, told me about deaths from disease and violent conflict. There are also reports of rapes, including a shocking case which allegedly resulted in a girl's death. (It should be noted that these claims are anecdotal and haven't been verified.)
Rosey Perkins's visit to the mine, October 2016.
Artisanal mining in Madagascar is a significant industry and the country may be one of the largest producers of precious stones in the world. The vast majority of the trade is illegal, however, with no tax paid on the exports.
There have been repeated calls to bring this profitable business out of the shadows so it can contribute to national development. Many people from the region are seeing the benefits though – the mayor of Didy has been on local television to argue in favour of the mining. And rumours persist that powerful individuals profit from the illicit nature of the trade.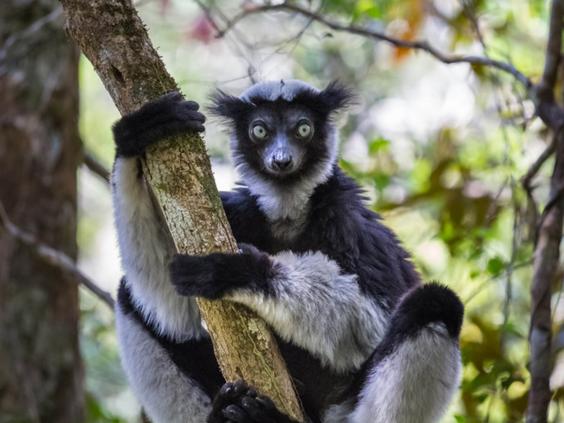 Ms Andrianjohaninarivo told me the conservation managers of the site had a meeting with key officials from the government in November and that an action plan has been made. Professor Razakamanarivo emphasises the urgency of a response: "Much of the harm already caused by this sudden sapphire rush may well be irreversible. The miners need to leave the forest before more damage is done."
The rush going on right now in Bemainty is only the last of a series that have occurred in protected areas in Madagascar in recent years. In 2012, thousands of miners invaded another part of the Didy forest but were eventually moved on by government agents. In 2015, a similar rush occurred in Zahamena National Park, slightly to the north.
Shiny stones have been buried under Madagascar's incredible rainforests for millions of years. Miners and traders seeking to capitalise on the value of these gems are placing enormous pressure on the island's landscape and wildlife, and it remains to be seen whether these areas can be protected in the longer term.
As a conservation scientist I am hugely concerned about the threat to the forest from this sapphire rush. But the most urgent need right now is to bring the area under control, before more people die.
This article first appeared on The Conversation (theconversation.com). Julia PG Jones is a professor of conservation science, at Bangor University.
Reuse content