Australia is the worst industrialised country in the world for climate change, according to a report released during international talks in Peru.
It ranked second-bottom, above only Saudi Arabia for its emissions levels, lack of progress, renewable energy and national policy.
The UK came third, below Denmark and Sweden, in the 2015 Climate Change Performance Index released at the UN Climate Conference.
Australia's slip down the table was blamed on moves by Tony Abbott's government to repeal the country's carbon tax in favour of his much-criticised "Direct Action" policy.
The Prime Minister came under fire from President Barack Obama and other world leaders at the G20 summit, where he appeared to avoid the issue of climate change.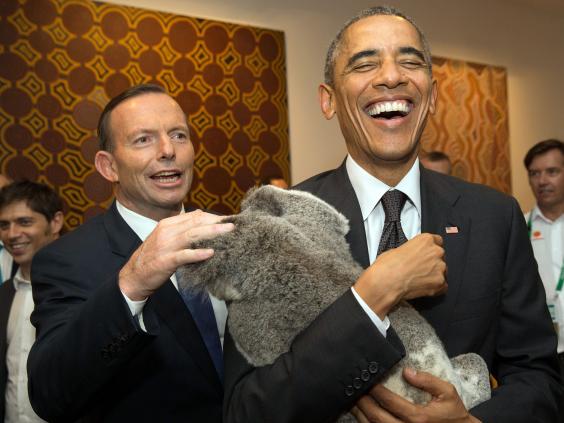 David Cameron said every country needed to "put more on the table" if the world was to reach a successful agreement next year on reducing greenhouse emissions after 2020.
"Countries that have so far done the least have to think about what more they can do," he told Sky News. "I've had good and friendly discussions with prime minister Abbott about that…I hope [Australia will] do everything they can in the coming months to look at what more they can deliver."
Mr Abbott has emphasised that Australia was not among the world's largest polluters and claimed his policy is working to cut emissions by a 5 per cent target.
The index put Australia in 60th place rated "very poor" with a score of 36, compared to Britain's score of a "good" 71.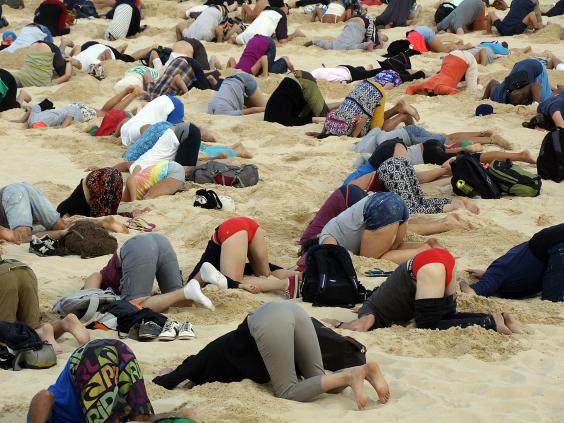 "The new conservative Australian government has apparently made good on last year's announcement and reversed the climate policies previously in effect," the report said. "As a result, the country lost a further 21 positions in the policy evaluation compared to last year, thus replacing Canada as the worst performing industrial country."
China, the world's biggest emitter, was found to be making improvements.
In pictures: Climate Change Protests Around the World
In pictures: Climate Change Protests Around the World
1/6 Sydney

Enviromental protesters form the words 'Beyond Coal + Gas' during a meeting in a park in Sydney on September 21, 2014, as part of a global protest on climate change. Australians rallied for climate action forming a human chain message as part of an international day of action to fight climate change ahead of a United Nations summit in New York on 23 September

AFP/Getty

2/6 London

People with giraffe puppets march during The People's Climate March, central London, a march and rally to demand urgent action on climate change

PA

3/6 New York

Actor Leonardo DiCaprio, centre, walks down 6th Avenue during the People's Climate March. Activists mobilized in cities across the globe for marches against climate change, with one of the biggest planned for New York

AFP/Getty

4/6 New York

People dance during a rally against climate change in New York

Reuters

5/6 London

Vivienne Westwood, Peter Gabriel and Emma Thompson show their support at the People's Climate March, London

PA

6/6 Berlin

Participants of the climate demonstration 'Mal schnell die Welt retten' (roughly translated as 'Save the world in passing') hold signs reading 'Share more, buy less' in front of Brandenburg Gate in Berlin, Germany, 21 September 2014

EPA
The report, by Germanwatch and CAN Europe, was released at the UN climate talks in Lima at the start of the second week of negotiations.
Delegates are working to establish a draft international climate change agreement to be signed by all countries at the Paris Climate Summit next year.
Tony Abbott in quotes
"The climate change argument is absolute crap, however the politics are tough for us because 80 per cent of people believe climate change is a real and present danger" (2010)
"Western civilisation came to this country in 1788 and I'm proud of that." (2010)
"Let boys be boys, let girls be girls - that's always been my philosophy." (2014)
"Frankly, [the burqa is] not the sort of attire that I would like to see widespread in our streets." (2013)
"While I think men and women are equal, they are also different and I think it's inevitable and I don't think it's a bad thing at all that we always have, say, more women doing things like physiotherapy and an enormous number of women simply doing housework." (2010)
"We want [illegal migrants] to go back to the country from which they came, that's what we want." (2014)
"Jesus knew that there was a place for everything and it's not necessarily everyone's place to come to Australia." (2010)
"What the housewives of Australia need to understand as they do the ironing is that if they get it done commercially it's going to go up in price and their own power bills when they switch the iron on are going to go up." (2010)
"I probably feel a bit threatened [by homosexuality], as so many people do. It's a fact of life." (2010)
"We just can't stop people from being homeless if that's their choice."  (2010)
Reuse content