The enormity of climate-change inequality has been laid bare by new research showing that the richest 1 per cent of the world's population produces 175 times as much CO2 per person as the bottom 10 per cent.
With the serious business of negotiation beginning at the UN Climate Change summit in Paris, Oxfam have published a report showing that, despite the rich causing most of the global warming, it is the poor that must bear the brunt of the consequences.
The richest tenth of the world's population produce half the CO2 emissions, while the poorest half generate just 10 per cent of them, the Oxfam report says.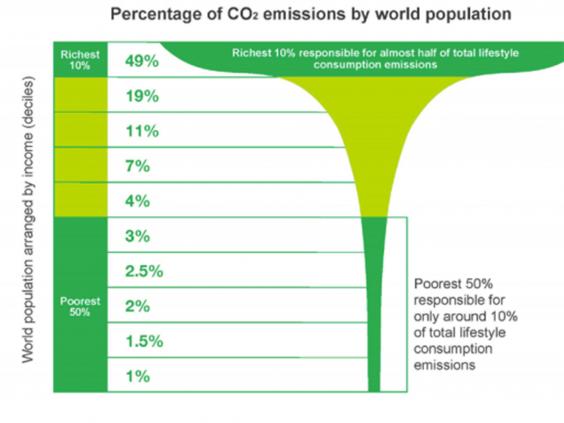 "Climate change and economic inequality are inextricably linked and together pose one of the greatest challenges of the 21st century," said Oxfam's head of food and climate policy Tim Gore.
"Paris must be the start of building a more human economy for all, not just for the 'haves' – the richest and highest emitters – but also for the 'have-nots' – the poorest people who are the least responsible for, and most vulnerable, to climate change."
The majority of the world's poorest people live in the developing world, where the impact of global warming will generally be much greater – a problem compounded by the lack of money to deal with the problem. But climate-change inequalities also exist within countries in both the developed and the developing world, the report says. Poor people are more vulnerable than rich people in developed countries: for example, the former often can't afford to take measures such as insulating their homes from rising heat or insuring them against damage caused by storms, which are likely to become more frequent as the world warms.
Meanwhile, rich people in poor countries are much better able to weather any problems that global warming can throw at them, protecting them, for example, from hurricanes, water shortages and the expected increase in diseases such as malaria, the report says. "Rich, high emitters should be held accountable for their emissions, no matter where they live," said Mr Gore. "But it's easy to forget that rapidly developing economies are also home to the majority of the world's very poorest people, and while they have to do their fair share, it is the rich countries that should still lead the way."
Oxfam called on world leaders to ensure any deal in Paris included money to help poor countries pay for damage from the increase in extreme weather events. 
Climate change around the world - in pictures
Climate change around the world - in pictures
1/17 Greenland

Calved icebergs from the nearby Twin Glaciers are seen floating on the water in Qaqortoq, Greenland

2/17 Coastal systems and low-lying areas

Flood damaged streets in Queens, New York where the historic boardwalk was washed away due to Hurricane Sandy in 2012. The report predicts that by the end of the century "hundreds of millions of people will be affected by coastal flooding and displaced due to land loss"

Getty

3/17 Food security

Widespread drought devastated a corn crop on a farm near Bruceville, Indiana in 2012. The report forecasts that climate change will reduce median yields by up to 2 per cent per decade for the rest of the century

AFP/Getty

4/17 The global economy

The Evening Standard headline board showing the words 'Black Friday Shares Crash' in London in October 2008 in London. The report warns a global mean temperature increase of 2.5C above pre-industrial levels may lead to global aggregate economic losses of between 0.2 and 2.0 per cent

Getty

5/17 Human health

A child suffering from malnutrition and diarrhoea is seen at the Banadir hospital in the Somalian capital of Mogadishu in 2009. Climate change will lead to increases in ill-health in many regions, with examples including an increased likelihood of under-nutrition.

Getty

6/17 Human security

A Muslim migrant holds his son as they are detained at the Immigration Police Office on the Thai-Malaysian border in March 2014. The report states that climate change over the 21st century will have a significant impact on forms of migration that compromise human security

EPA

7/17 Freshwater resources

A villager walks through a parched paddy in Tianlin county, China in 2012. The report finds that climate change will "reduce renewable surface water and groundwater resources significantly in most dry subtropical regions"

Getty

8/17 Unique landscapes

Machair, a grassy coastal habitat found only in north-west Scotland and the west coast of Ireland, is one of the several elements of the UK's "cultural heritage" that is at risk from climate change

Getty

9/17 Greenland

A boat navigates among calved icebergs from the nearby Twin Glaciers in Qaqortoq, Greenland. Boats are a crucial mode of transportation in the country that has few roads. As cities like Miami, New York and other vulnerable spots around the world strategize about how to respond to climate change, many Greenlanders simply do what theyve always done: adapt. 'Were used to change, said Greenlander Pilu Neilsen. 'We learn to adapt to whatever comes. If all the glaciers melt, well just get more land

10/17 Norway

The Svalbard Global Seed Vault is seen after being inaugurated in Longyearbyen, Norway. The 'doomsday' seed vault built to protect millions of food crops from climate change, wars and natural disasters opened deep within an Arctic mountain in the remote Norwegian archipelago of Svalbard

11/17 France

A technician preparing to drain a vast underground lake at the Tete Rousse glacier on the Mont Blanc Alpine mountain, to avert a potentially disatrous flood. Some 65,000 cubic metres (2.3 million cubic feet) of water have gathered in a cavity, dangerously raising the pressure beneath the mountain, a favourite spot for holiday makers in Saint-Gervais-les-Bains

12/17 Iran

Oroumieh, one of the biggest saltwater lakes on Earth, has shrunk more than 80 percent to 1,000 square kilometers in the past decade. It shrinks mainly because of climate change, expanded irrigation for surrounding farms and the damming of rivers that feed the body of water

13/17 Switzerland

Cracked mud is picture at sunrise in the dried shores of Lake Gruyere affected by continous drought near the western Switzerland village of Avry-devant-Pont. A leading climate scientist warned that Europe should take action over increasing drought and floods, stressing that some climate change trends were clear despite variations in predictions

14/17 USA

Cattle graze on grassland that remains dry and brown at the height of the rainy season in south of Bakersfield, California. Its third straight year of unprecedented drought, California is experiencing its driest year on record, dating back 119 years, and dating back as far as 500 years, according to some scientists who study tree rings

15/17 Pakistan

An aerial view shows tents of flood-displaced people surrounded by water in southern Sehwan town. United Nations Framework Convention on Climate Change (UNFCCC) executive secretary Christiana Figueres met with people displaced by last year's devastating floods. Catastrophic monsoon rains that swept through the country in 2010 and affected some 20 million people, destroyed 1.7 million homes and damaged 5.4 million acres of arable land

16/17 Australia

An aerial view of flooding in North Wagga Wagga. Climate change is amplifying risks from drought, floods, storm and rising seas, threatening all countries but small island states, poor nations and arid regions in particular, UN experts warned

17/17 Honduras

Damages caused by a landslide on the Pan-American highway near La Moramulca, 55 Km south of Tegucigalpa. International highways have been washed out, villages isolated and thousands of families have lost homes and crops in a region that the United Nations has classified as one of the most affected by climate change
The charity's report came a day after 150 world leaders, including David Cameron and Indian prime minister Narendra Modi, descended on Paris for the first day of a two-week UN climate change summit. The aim of the summit is to agree decisive action that will limit global warming to 2˚C, beyond which the consequences become increasingly devastating.