A judge has been urged not to act on her threat to jail 13 peaceful environmental protesters – as campaigners warn that the British legal system's long-standing tolerance towards non-violent direct action is under threat. 
A retired atmospheric physicist with a sick 94-year old mother is among 13 peaceful protesters facing prison later this month after a judge told them to expect a custodial sentence for disrupting flights at Heathrow Airport last summer.
If the "Heathrow 13" are jailed, this would be the first time peaceful environmental protesters have gone to prison for the offence of aggravated trespass since it came into force two decades ago.
In interviews with The Independent, members of the group said they are scared by the prospect of jail time but more convinced than ever that they hold the moral high ground. Some have vowed to step up their protests after release, to keep drawing attention to the huge role air travel plays in global warming.
At 68, Dr Rob Basto is the oldest member of the group, who each face up to three months in prison when they are sentenced on February 24. Dr Basto, who lives in Reigate in Surrey, is an atmospheric physicist by training but spent most of his career as a software engineer on contract for the Wellcome Trust and Reuters.
Married to Judy for 29 years and with a 28-year-old son who also studied physics, he is particularly concerned about the impact on his family should he go to jail.
"I still feel fit and healthy and I go climbing. But I am quite apprehensive because of my family situation. My mother is ill and she's 94," he said. Dr Basto said he was  "frightened" into protesting 15 years ago after studying research into the impact of climate change.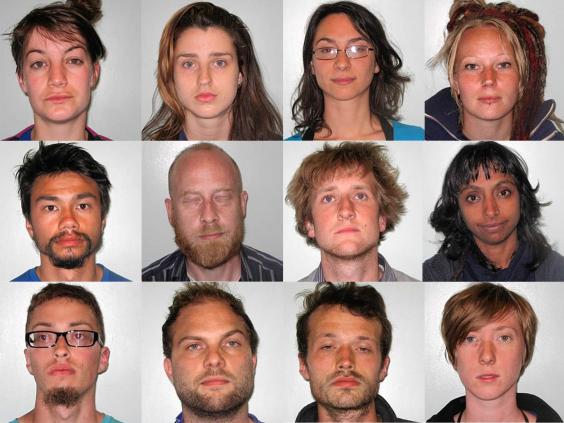 Danielle Paffard, 28, is a biology graduate of Oxford University who helped set up the UK Uncut tax avoidance protest group that occupied branches of Top Shop and Vodafone. She also faces a jail sentence for her part in the Heathrow action.
"I was very shocked by the judge's comments. It was really galling to hear her say she understands the serious impact of climate change - but that we made some people late and that's unacceptable," said Ms Paffard, who grew up in the Nottinghamshire countryside with her mother, a psychiatrist, and father, who works in the NHS. 
Ten of the Heathrow 13 have no previous convictions, while three have been convicted of aggravated trespass before. 
Ella Gilbert, who recently finished an MA in climate change at the University of East Anglia in Norwich, added: "It is a bit of a shock, but I have absolutely no regrets or reservations about it. I think we're standing up and making a difference by contributing to a wider discourse and actually stopping emissions from aviation."
Campaigners were astonished last week at Willesden Magistrates' Court  last week as District Judge Deborah Wright found the protesters guilty of aggravated trespass and said she planned to jail them.
She paid tribute to the demonstrators for their passion about the environment – saying "They are all principled people" – before telling them custodial sentences were "almost inevitable".
The Heathrow protest – part of the long-running Plane Stupid campaign to end airport expansion – saw the group cut a hole in a fence and making their way on to the north runway. The demonstration at around 3.30am on the morning of Monday July 13 forced the cancellation of 25 flights.
"It does feel harsh to send us to prison for a peaceful, non-violent direct action," said 44-year old Sheila Menon, a London-based filmmaker and environmental campaigner.
UK news in pictures
UK news in pictures
1/18 23 June 2017

British Prime Minister Theresa May addresses a news conference at the EU summit in Brussels, Belgium, June 23, 2017

Reuters

2/18 22 June 2017

Cosplay fans (L-R) George Massingham, Abbey Forbes and Karolina Goralik travel by tube dressed in Harry Potter themed costumes, after a visit to one the literary franchise's movie filming locations at Leadenhall Market in London, Britain

Reuters

3/18 22 June 2017

Racegoers cheer on their horse on Ladies Day at the Royal Ascot horse racing meet, in Ascot, west of London

Getty

4/18 21 June 2017

A reveller walks among the tipi tents at the Glastonbury Festival of Music and Performing Arts on Worthy Farm near the village of Pilton in Somerset, South West England

Getty

5/18 20 June 2017

A police officer lays some flowers passed over by a member of the public, close to Finsbury Park Mosque in north London, after one man died and eight people were taken to hospital and a person arrested after a rental van struck pedestrian

PA

6/18

The Borough Market bell is seen in Borough Market in central London following its re-opening after the June 3 terror attack

Getty Images

7/18

Two women embrace in Borough Market, which officially re-opens today following the recent attack, in central London

REUTERS/Hannah McKay

8/18

Mayor of London Sadiq Khan attends the re-opening of Borough market in central London following the June 3 terror attack

Getty Images

9/18

People walk through Borough Market in central London following its re-opening after the June 3 terror attack

Getty Images

10/18

News Corp CEO Rupert Murdoch, with one of his daughters, visit Borough Market, which officially re-opened today following the recent attack

REUTERS

11/18

A woman reacts in front of a wall of messages in Borough Market, which officially re-opened today following the recent attack, in central London

REUTERS/Hannah Mckay

12/18

Vivenne Westwood walks the runway at the Vivenne Westwood show during the London Fashion Week Men's June 2017 collections

Getty Images

13/18

Millwall fan and London Bridge hero Roy Larner on 'Good Morning Britain'

Rex

14/18

Richard Arnold, Roy Larner, Piers Morgan and Susanna Reid on 'Good Morning Britain'

Rex

15/18 11 June 2017

England players celebrate after defeating Venezuela 1-0 to win the final of the FIFA U-20 World Cup Korea 2017 at Suwon World Cup Stadium in Suwon, South Korea

AP

16/18 11 June 2017

England players celebrate with the trophy after the final match of the FIFA U-20 World Cup 2017 between Venezuela and England at Suwon World Cup Stadium in Suwon, South Korea

EPA

17/18 11 June 2017

Great Britain's Alistair Brownlee celebrates winning the Elite Men Columbia Threadneedle World Triathlon Leeds

Danny Lawson/PA Wire

18/18 11 June 2017

Two men drink beer outside the Southwark Tavern which reopened for business today next to an entrance to Borough Market which remains closed in London

Getty Images
Mike Schwarz, a lawyer from Bindmans who is representing nine of the Heathrow 13, said:  "A custodial sentence would be excessive and wrong because there is a long history of recognition by senior judges that an allowance should be made on sentencing for peaceful protests of public importance."
Paul Heron, from the Public Interest Lawyers legal firm, added: "For first time offenders, particularly because they not only alerted the authorities and acted in a peaceful way, it would seem harsh to attract a custodial sentence." Mr Heron is not involved in the case and was speaking in a personal capacity.
Dr Graeme Hayes, a reader in political society at Aston University, who has been researching environmental protests for 25 years, said: "It would be unprecedented in modern times - for an environmental activist to be imprisoned for a peaceful, non-violent protest which the judge recognises as being conducted with honesty, sincerity and integrity."
Reuse content