A judge has been urged not to act on her threat to jail 13 peaceful environmental protesters – as campaigners warn that the British legal system's long-standing tolerance towards non-violent direct action is under threat. 
A retired atmospheric physicist with a sick 94-year old mother is among 13 peaceful protesters facing prison later this month after a judge told them to expect a custodial sentence for disrupting flights at Heathrow Airport last summer.
If the "Heathrow 13" are jailed, this would be the first time peaceful environmental protesters have gone to prison for the offence of aggravated trespass since it came into force two decades ago.
In interviews with The Independent, members of the group said they are scared by the prospect of jail time but more convinced than ever that they hold the moral high ground. Some have vowed to step up their protests after release, to keep drawing attention to the huge role air travel plays in global warming.
At 68, Dr Rob Basto is the oldest member of the group, who each face up to three months in prison when they are sentenced on February 24. Dr Basto, who lives in Reigate in Surrey, is an atmospheric physicist by training but spent most of his career as a software engineer on contract for the Wellcome Trust and Reuters.
Married to Judy for 29 years and with a 28-year-old son who also studied physics, he is particularly concerned about the impact on his family should he go to jail.
"I still feel fit and healthy and I go climbing. But I am quite apprehensive because of my family situation. My mother is ill and she's 94," he said. Dr Basto said he was  "frightened" into protesting 15 years ago after studying research into the impact of climate change.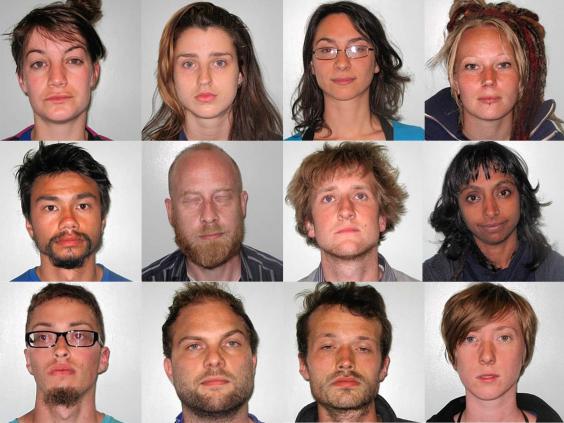 Danielle Paffard, 28, is a biology graduate of Oxford University who helped set up the UK Uncut tax avoidance protest group that occupied branches of Top Shop and Vodafone. She also faces a jail sentence for her part in the Heathrow action.
"I was very shocked by the judge's comments. It was really galling to hear her say she understands the serious impact of climate change - but that we made some people late and that's unacceptable," said Ms Paffard, who grew up in the Nottinghamshire countryside with her mother, a psychiatrist, and father, who works in the NHS. 
Ten of the Heathrow 13 have no previous convictions, while three have been convicted of aggravated trespass before. 
Ella Gilbert, who recently finished an MA in climate change at the University of East Anglia in Norwich, added: "It is a bit of a shock, but I have absolutely no regrets or reservations about it. I think we're standing up and making a difference by contributing to a wider discourse and actually stopping emissions from aviation."
Campaigners were astonished last week at Willesden Magistrates' Court  last week as District Judge Deborah Wright found the protesters guilty of aggravated trespass and said she planned to jail them.
She paid tribute to the demonstrators for their passion about the environment – saying "They are all principled people" – before telling them custodial sentences were "almost inevitable".
The Heathrow protest – part of the long-running Plane Stupid campaign to end airport expansion – saw the group cut a hole in a fence and making their way on to the north runway. The demonstration at around 3.30am on the morning of Monday July 13 forced the cancellation of 25 flights.
"It does feel harsh to send us to prison for a peaceful, non-violent direct action," said 44-year old Sheila Menon, a London-based filmmaker and environmental campaigner.
UK news in pictures
UK news in pictures
1/30 28 June 2016

Queen Elizabeth II & Prince Philip, Duke Of Edinburgh attend the unveiling of the Robert Quigg VC memorial statue in Bushmills village, Northern Ireland

Getty Images

2/30 27 June 2016

Opposition Labour party leader Jeremy Corbyn leaves after addressing a gathering of supporters demonstrating in Parliament Square, in central London

REUTERS

3/30 26 June 2016

A man dressed as Boris Johnson and Donald Trump prepare to take part in a tomato fight at the Glastonbury Festival 2016 at Worthy Farm

Getty Images

4/30 26 June 2016

People walk over Westminster Bridge wrapped in Union flags in central London. Britain's opposition Labour party plunged into turmoil and the prospect of Scottish independence drew closer, ahead of a showdown with EU leaders over the country's seismic vote to leave the bloc

AFP/Getty Images

5/30 25 June 2016

People pay tribute to the victims of the Orlando nightclub shooting as they take part in the annual Pride London Parade which highlights issues of the gay, lesbian and transgender community, in London

REUTERS

6/30 25 June 2016

Scotland's First Minister and Leader of the Scottish National Party (SNP), Nicola Sturgeon, addresses the media after holding an emergency Cabinet meeting at Bute House in Edinburgh, following the pro-Brexit result of the UK's EU referendum vote

AFP/Getty Images

7/30 24 June 2016

A man carries a EU flag, after Britain voted to leave the European Union, outside Downing Street in London

8/30 23 June 2016

AFP/Getty Images

9/30 22 June 2016

British Prime Minister David Cameron poses for a photograph after addressing pro-EU "Vote Remain" supporters at rally in Bristol, whilst campaigning to avoid a Brexit, ahead of the 23 June EU referendum

AFP/Getty Images

10/30 21 June 2016

Scottish Conservative leader Ruth Davidson (left) and Mayor of London Sadiq Khan speak during the EU debate at Wembley Arena in London

Getty Images

11/30 20 June 2016

A full moon rises behind Glastonbury Tor as people gather to celebrate the summer solstice in Somerse

Getty Images

12/30 19 June 2016

Hot air balloons took to the air as part of the annual Lord Mayor's Hot Air Balloon Regatta, a charity event in aid of the Lord Mayor's Fund, in London

Getty Images

13/30 19 June 2016

Liberal Democrats leader Tim Farron (C) poses with supporters after arriving in the Liberal Democrat Vote Remain campaign bus, campaigning to avoid a Brexit in the EU referendum, during a launch event in east London

AFP/Getty Images

14/30 18 June 2016

A man lights a flare among pro-refugee activists rallying outside the French Embassy in central London, during a protest after most of an aid convoy of vehicles organised by campaign groups heading to northern France were turned back at the French frontier at the port of Dover

AFP/Getty Images

15/30 17 June 2016

Prime Minister David Cameron and Labour Leader Jeremy Corbyn arrive to pay their respects at the scene where Jo Cox was shot in Birstall

Getty Images

16/30 16 June 2016

Floral tributes and candles are placed by a picture of slain Labour MP Jo Cox at a vigil in Parliament square in London. Cox died after a shock daylight street attack, throwing campaigning for the referendum on Britain's membership of the European Union into disarray just a week before the crucial vote

AFP

17/30 15 June 2016

Boats from the 'Fishing for Leave' campaign group join a flotilla along the Thames River in London. The flotilla organised by members of the Fishing for Leave group, who are campaigning to leave the European Union ahead of the referendum on the 23 of June, was countered by boats representing the 'In' campaign

Getty Images

18/30 14 June 2016

A general view of the Tate Modern's new Switch House in London. The Tate Modern art gallery has unveiled its new Switch House building designed by architects Herzog & de Meuron

Getty

19/30 13 June 2016

Labour Leader Jeremy Corbyn (C) and Deputy Labour Leader Tom Watson (R) attend a vigil for the victims of the Orlando nightclub shooting, outside the Admiral Duncan pub on Old Compton Street in Soho, London

Getty Images

20/30 12 June 2016

A pigeon flies ahead of Britain's Queen Elizabeth and Prince Philip, and Princes William, Harry and Kate Duchess of Cambridge behind as they wave to guests attending the Patron's Lunch on the Mall, an event to mark her 90th birthday, in London

REUTERS

21/30 11 June 2016

A Guardsman faints at Horseguards Parade for the annual Trooping the Colour ceremony in central London

REUTERS

22/30 10 June 2016

The national service of thanksgiving for the 90th birthday of Britain's Queen Elizabeth II at St Paul's Cathedral in London, which is also the Duke of Edinburgh's 95th birthday

Getty Images

23/30 9 June 2016

Princess Anne, Princess Royal attends the Founders Day Parade at The Royal Hospital Chelsea in London

Getty Images

24/30 8 June 2016

Two women walk barefoot through heavy rain in Westminster in London. The Met Office has issued flood alerts for parts of the south east of England as torrential rain hit parts of the country

Getty Images

25/30 7 June 2016

An Osprey catches two Rainbow Trout at Rothiemurchus in Kincraig, Scotland. Ospreys migrate each spring from Africa and nest in tall pine trees around the Aviemore area, the raptor was hunted to the point of extinction in the Victorian era, their migratory habits eventually brought them back to Scotland with the first successful breeding pair being recorded in 1954

Getty

26/30 6 June 2016

David Cameron speaks at a Remain in the EU campaign event at the Oval cricket ground in London

Getty Images

27/30 5 June 2016

Original participants take part in Japanese artist Koki Tanaka's recreation of the 1985 youth training scheme protest as part of the Liverpool Biennial. The 1985 protest saw 10,000 UK school children take to the street to protest against the Conservative government's controversial youth training Scheme

Getty Images

28/30 4 June 2016

Troops parade along The Mall after the Colonel's Review in London

Getty Images

29/30 3 June 2016

Large scale recreation of Dutch flower painting 'A Still Life of flowers in a Wan-Li Vase' by Ambrosius Bosschaert made out of real flowers is seen outside National Gallery in London

Rex

30/30 2 June 2016

Final preparations are made for the RHS Rose Show in London. The RHS London Rose Show runs from June 3-4 at RHS Lawrence Hall in Westminster

Getty Images
Mike Schwarz, a lawyer from Bindmans who is representing nine of the Heathrow 13, said:  "A custodial sentence would be excessive and wrong because there is a long history of recognition by senior judges that an allowance should be made on sentencing for peaceful protests of public importance."
Paul Heron, from the Public Interest Lawyers legal firm, added: "For first time offenders, particularly because they not only alerted the authorities and acted in a peaceful way, it would seem harsh to attract a custodial sentence." Mr Heron is not involved in the case and was speaking in a personal capacity.
Dr Graeme Hayes, a reader in political society at Aston University, who has been researching environmental protests for 25 years, said: "It would be unprecedented in modern times - for an environmental activist to be imprisoned for a peaceful, non-violent protest which the judge recognises as being conducted with honesty, sincerity and integrity."