A judge has been urged not to act on her threat to jail 13 peaceful environmental protesters – as campaigners warn that the British legal system's long-standing tolerance towards non-violent direct action is under threat. 
A retired atmospheric physicist with a sick 94-year old mother is among 13 peaceful protesters facing prison later this month after a judge told them to expect a custodial sentence for disrupting flights at Heathrow Airport last summer.
If the "Heathrow 13" are jailed, this would be the first time peaceful environmental protesters have gone to prison for the offence of aggravated trespass since it came into force two decades ago.
In interviews with The Independent, members of the group said they are scared by the prospect of jail time but more convinced than ever that they hold the moral high ground. Some have vowed to step up their protests after release, to keep drawing attention to the huge role air travel plays in global warming.
At 68, Dr Rob Basto is the oldest member of the group, who each face up to three months in prison when they are sentenced on February 24. Dr Basto, who lives in Reigate in Surrey, is an atmospheric physicist by training but spent most of his career as a software engineer on contract for the Wellcome Trust and Reuters.
Married to Judy for 29 years and with a 28-year-old son who also studied physics, he is particularly concerned about the impact on his family should he go to jail.
"I still feel fit and healthy and I go climbing. But I am quite apprehensive because of my family situation. My mother is ill and she's 94," he said. Dr Basto said he was  "frightened" into protesting 15 years ago after studying research into the impact of climate change.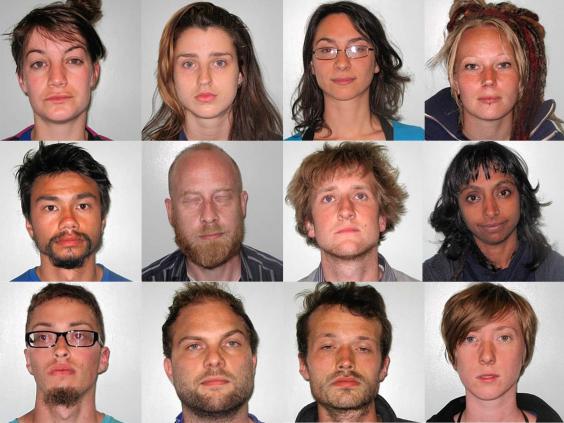 Danielle Paffard, 28, is a biology graduate of Oxford University who helped set up the UK Uncut tax avoidance protest group that occupied branches of Top Shop and Vodafone. She also faces a jail sentence for her part in the Heathrow action.
"I was very shocked by the judge's comments. It was really galling to hear her say she understands the serious impact of climate change - but that we made some people late and that's unacceptable," said Ms Paffard, who grew up in the Nottinghamshire countryside with her mother, a psychiatrist, and father, who works in the NHS. 
Ten of the Heathrow 13 have no previous convictions, while three have been convicted of aggravated trespass before. 
Ella Gilbert, who recently finished an MA in climate change at the University of East Anglia in Norwich, added: "It is a bit of a shock, but I have absolutely no regrets or reservations about it. I think we're standing up and making a difference by contributing to a wider discourse and actually stopping emissions from aviation."
Campaigners were astonished last week at Willesden Magistrates' Court  last week as District Judge Deborah Wright found the protesters guilty of aggravated trespass and said she planned to jail them.
She paid tribute to the demonstrators for their passion about the environment – saying "They are all principled people" – before telling them custodial sentences were "almost inevitable".
The Heathrow protest – part of the long-running Plane Stupid campaign to end airport expansion – saw the group cut a hole in a fence and making their way on to the north runway. The demonstration at around 3.30am on the morning of Monday July 13 forced the cancellation of 25 flights.
"It does feel harsh to send us to prison for a peaceful, non-violent direct action," said 44-year old Sheila Menon, a London-based filmmaker and environmental campaigner.
UK news in pictures
UK news in pictures
1/30 25 May 2016

Steel workers wave banners as they take part in a protest march through central London. Britain's business minister Sajid Javid met Tata Steel bosses in Mumbai ahead of a crunch board meeting expected to discuss potential buyers for its loss-making UK assets. Tata Steel, Britain's biggest steel employer, announced in March that it planned to sell its Port Talbot plant in Wales and other assets, putting 15,000 jobs at risk

Getty Images

2/30 24 May 2016

Members of the public enjoy the gardens at the 2016 Chelsea Flower Show at Royal Hospital Chelsea in London

Getty Images

3/30 23 May 2016

Chelsea Pensioners walk through the 5000 Poppies Garden at the Chelsea Flower Show in London, the garden, created by Australians Lynn Berry and Margaret Knight is a tribute to their fathers who both fought in WWII

Getty Images

4/30 23 May 2016

4-18 NOW and Brighton Festival light up Brighton Pavilion for Dr Blighty, which commemorates the Indian soldiers who fought for the allies in the First World War

Getty Images

5/30 22 May 2016

Spectators watch as Conductor Valery Gergiev leads the London Symphony Orchestra during The 5th edition of BMW LSO Open Air Classics performed in Trafalgar Square in London

Getty Images

6/30 21 May 2016

A flare goes off during the Scottish Cup Final between Rangers and Hibernian at Hampden Park in Glasgow

Getty Images

7/30 20 May 2016

Leader of the United Kingdom Independence Party (UKIP) Nigel Farage waves from a campaign bus in Westminster in London. The party unveiled a tour bus as part of their campaign to leave the European Union ahead of the EU referendum

Getty

8/30 19 May 2016

Cadbury has unveiled the UK's first ever Monster Truck taxi. The vehicle takes to the streets of London and will then set off on a journey across the country, making a stop in Manchester, Birmingham and Liverpool where it will give chocolate fans the chance to enjoy an exhilarating experience inside the cab, as well as sample some delicious new product

9/30 19 May 2016

Greenpeace activists hang banners on the front of the British Museum in London. The protest was aimed at BP's sponsorship of one of the Museum's new exhibits 'Sunken Cities'

Getty Images

10/30 18 May 2016

Britain's Queen Elizabeth II reads the Queen's Speech during the State Opening of Parliament in the House of Lords in London

AP

11/30 17 May 2016

Nadiya Hussain poses with a Great Fire of London inspired bake at The London Dungeon, which marks the 350th anniversary of the Great Fire of London

Getty Images

12/30 16 May 2016

A huge six-metre statue of Monkey has sailed down the Thames, enjoying a fresh tasting cup of PG tips Green Tea. The two-storey topiary was crafted from 110,486 fabricated green tea leaves

PA

13/30 15 May 2016

Camilla, Duchess of Cornwall, Prince Philip, Duke of Edinburgh and Catherine, Duchess of Cambridge along with Queen Elizabeth II during the final night of the Queen's 90th birthday celebrations in Windsor

Getty Images

14/30 14 May 2016

Participants gather in Clerkenwell ahead of the annual Tweed Run in London. The Tweed Run sees cyclists in vintage and period dress ride through the city

Getty Images

15/30 13 May 2016

Managing Director of the International Monetary Fund Christine Lagarde meets with Britain's Chancellor George Osborne at the Treasury, prior to a press conference in London. The IMF Director warned of the risks to the UK economy should British voters chose to quit the EU in the forthcoming referendum during the conclusion of their Article IV mission to the United Kingdom

Getty Images

16/30 12 May 2016

Protesters throw fake money as they take part in a demonstration against tax havens in London. The protest, organised by Oxfam, ActionAid and Christian Aid, turned part of Trafalgar Square into a 'tropical tax haven' to highlight tax dodging as an international corruption summit hosted by David Cameron was held in nearby Lancaster House

Getty Images

17/30 11 May 2016

Patricia Scotland (R), secretary-general of the Commonwealth walks with Nigerian President Muhammadu Buhari (C) on their way to address delegates at a conference to tackle corruption at the Commonwealth Secretariat in London

Getty Images

18/30 10 May 2016

Jeremy Corbyn speaks beside shadow Minister for Young People and Voter Registration, Gloria De Piero (2nd L) and deputy leader of the Labour Party, Tom Watson (L), in front of the 'Labour In For Britain' campaign bus at a launch in central London

Getty Images

19/30 9 May 2016

British Prime Minister David Cameron delivers a speech on the European Union (EU), at the British Museum in London. Prime Minister David Cameron warned that if Britain left the European Union it would put peace and stability on the continent at risk

Getty Images

20/30 8 May 2016

Mary Berry and Nadiya Hussain attend the House Of Fraser British Academy Television Awards 2016 at the Royal Festival Hall in London

Getty Images

21/30 7 May 2016

Britain's incoming London Mayor Sadiq Khan attends his swearing-in ceremony at Southwark Cathedral. London's new mayor Sadiq Khan thanked voters for choosing 'unity over division' as he was elected Saturday, becoming the first Muslim leader of a major Western capital

Getty Images

22/30 6 May 2016

Scotland's First Minister and SNP leader Nicola Sturgeon addresses the media outside Bute House, the official residence of the Scottish First Minister, in Edinburgh. Scottish nationalists won a third term in power but lost their outright majority in one of a series of local and regional elections seen as a key test for Labour leader Jeremy Corbyn

Getty Images

23/30 5 May 2016

Labour Party Mayoral candidate Sadiq Khan and his wife Saadiya pose outside The Richardson Hall St Alban's Church Centre in Streatham after casting their votes in London's Mayoral and Assembly elections

Getty Images

24/30 4 May 2016

An elderly couple relax in the afternoon sunshine in Green Park, central London

Getty Images

25/30 3 May 2016

A London Air Ambulance takes off from Parliament Square in London. The Air Ambulance is thought have been for a man who jumped off Westminster Bridge

Getty Images

26/30 2 May 2016

Leicester City fans celebrate their team becoming the English Premier League champions in central Leicester, after Chelsea held Tottenham Hotspur to a 2-2 draw. Leicester City completed their fairytale quest for the Premier League title after Eden Hazard's stunning late goal earned Chelsea a 2-2 draw with second-place Tottenham Hotspu

EPA

27/30 1 May 2016

Demonstrators from the Democratic Party of Alahwaz protest in Trafalgar Square during a May Day rally in London

Getty Images

28/30 30 April 2016

Sir David Attenborough and David Mooney attend the launch of the London Wildlife Trust's new Flagship nature reserve Woodberry Wetlands in London

Getty Images

29/30 29 April 2016

Sir Peter Soulsby, Mayor of Leicester hangs a 10ft Leicester City FC scarf around the Liberty Statue during a Leicester Backing the Blues Campaign in support of Leicester City

Getty Images

30/30 28 April 2016

SNP leader Nicola Sturgeon is given a kiss by five-year-old Holly in South Queensferry. Sturgeon has launched her party's final week of campaigning setting off on a seven day push for votes around Scotland

Getty Images
Mike Schwarz, a lawyer from Bindmans who is representing nine of the Heathrow 13, said:  "A custodial sentence would be excessive and wrong because there is a long history of recognition by senior judges that an allowance should be made on sentencing for peaceful protests of public importance."
Paul Heron, from the Public Interest Lawyers legal firm, added: "For first time offenders, particularly because they not only alerted the authorities and acted in a peaceful way, it would seem harsh to attract a custodial sentence." Mr Heron is not involved in the case and was speaking in a personal capacity.
Dr Graeme Hayes, a reader in political society at Aston University, who has been researching environmental protests for 25 years, said: "It would be unprecedented in modern times - for an environmental activist to be imprisoned for a peaceful, non-violent protest which the judge recognises as being conducted with honesty, sincerity and integrity."