A study led by Yale University researchers has found that there are over 3 trillion trees on Earth - but they are disappearing at an alarming rate.
The study found that there are around 3.04 trillion trees on Earth, or around 422 for each person on the planet.
The number is a huge increase on the previous global estimate, which was just over 400 billion trees worldwide.
The study was based on on-the-ground data about the number of trees in more than 400,000 plots of forest from all continents except Antarctica.
Wildlife Photographer of the Year 2015
Wildlife Photographer of the Year 2015
1/4 'To Drink or Not' - Carlos Perez Naval, Spain, 10 Years and Under

Carlos was down on the beach at Morro Bay in California, on holiday with his family, when he witnessed a fascinating interaction between two different species. A colony of California ground squirrels lives among the rocks at one side of the bay, fed by locals, who also put out dishes of water for them. What Carlos noticed was that western gulls were monopolizing the water. Whenever a ground squirrel dared to get too close, a gull would chase it away, aiming its powerful beak at the squirrel's head. Carlos was fascinated by the way the ground squirrels would try to sneak in for a sip when the gulls weren't looking. Here, the two competitors' eyes lock over the coveted fresh water. Carlos took the shot just before the gull lunged forwards and the squirrel fled.

Carlos Perez Naval

2/4 'Snow Hare' - Rosamund Macfarlane, UK, Mammals

One of Rosamund's photographic ambitions was to photograph Scottish mountain hares in the snow, camouflaged in their winter coats. Native to Britain, mountain hares moult from brown to white or partially white in winter, depending on temperature. With a local expert, Rosamund climbed a valley in the Scottish Cairngorms, 'at times through knee-deep snow', until they came across a couple of hares that allowed them to approach within photographic range. Their mottled, snow-dusted coats echoed the colours of the snow-covered hillside. For several hours, Rosamund lay on the ground in freezing temperatures, observing the hares snuggled into their forms (shallow depressions) as fine snow blew over them and rime coated their pelts. In the late afternoon, the hares finally became active and started to feed, scraping the snow from the heather and then nibbling the shoots. Positioning herself so that she was looking up a gentle incline directly at one hare, Rosamund captured its determined scrabbling in a head-on portrait.

Rosamund Macfarlane

3/4 'Great Egret Awakening' - Zsolt Kudich, Hungary, Birds

When the River Danube flooded into Hungary's Gemenc Forest, more than a thousand great egrets flocked to the lake to feed on the stranded amphibians, fish and invertebrates. Working on a project to document the last untouched regions of the Danube, including the floodplains, Zsolt was delighted to find a sixth of Hungary's great egret population in the one place. By 1921, hunting had reduced their number to just 31 pairs. Today, habitat loss is the big threat. Using the soft dawn light, Zsolt wanted to convey the impression of a multitude of birds. So he pitched his camouflaged tent nearby, sleeping just a few hours a night for five nights. His chance came when a fishing white-tailed eagle sent some of the egrets into the air. With a slow shutter speed to blur the wings and a large depth of field to keep in focus those standing, Zsolt got his memorable image.

Zsolt Kudich

4/4 'Stork Art' - Francisco Mingorance, Spain, Urban Wildlife

White storks seem equally at home on artificial structures as they are in trees, often nesting on rooftops and telegraph poles. Francisco discovered three pairs high on this sculpture outside the Vostell-Malpartida Museum near Cáceres in Spain. The installation, by German artist Wolf Vostell, incorporates a Russian MiG-21 aircraft, two cars, pianos, computer monitors – and now, three huge nests, which the storks use each year, migrating from their overwintering grounds in southern Africa. Francisco wanted a picture of the storks sleeping under a starry sky, but there was too much light. 'I got special permission for most lights to be shut down,' he says, 'but then the storks kept moving about and flying off.' Using a long exposure, he got just one shot he liked, with the storks quietly asserting their place in the modern world that Vostell depicted.

Francisco Mingorance
Researchers then used satellite imagery and assessed how the data was related to local factors like climate, human activity and soil conditions, and used the information to build a global model.
Despite this seemingly huge number, trees are disappearing fast. Around 15 billion are lost every year due to deforestation, forest management and changes in land use, the research published in the journal Nature found.
Overall, humanity has been bad for trees - the study found that since the start of human civilisation, around 11,700 years ago, the total number of trees has fallen by around 46 per cent.
Although coming up with an accurate estimate of the number of trees is an impressive feat, it also has practical applications - helping other researchers and scientists more accurately study the changing climate and the distribution of animal and plant species.
Thomas Crowther, the lead author of the study and the a post-doctoral fellow at the Yale School of Forestry and Environmental Studies, said: "Trees are among the most prominent and critical organisms on Earth, yet we are only recently beginning to comprehend their global extent and distribution."
"They store huge amounts of carbon, are essential for the cycling of nutrients, for water and air quality, and for countless human services."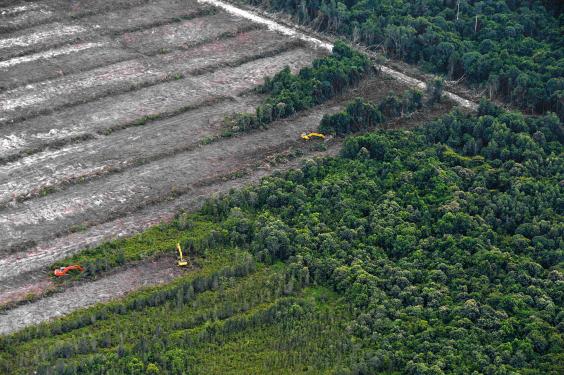 "Yet you ask people to estimate, within an order of magnitude, how many trees there are and they don't know where to begin," he said, adding he was "certainly surprised" to find the estimate was in the trillions.
He said: "We've nearly halved the number of trees on the planet, and we've seen the impacts on climate and human health as a result."
"This study highlights how much more effort is needed if we are to restore healthy forests worldwide."
There are around three billion trees in the UK, or around 47 for every Briton.
The study was prompted by a request from Plant for the Planet, an initiative from the UN Environment Programme's 'billion tree campaign', who wanted a baseline estimate of tree numbers to help set targets for tree-planting initiatives.
Reuse content