Leopards are being wiped out by illegal hunting in one of their strongholds in South Africa, experts have warned.
A study of the population in Soutpansberg Mountains found numbers had declined by nearly two-thirds in just eight years.
Leopards are classed as vulnerable on the International Union for Conservation of Nature's Red List of threatened species.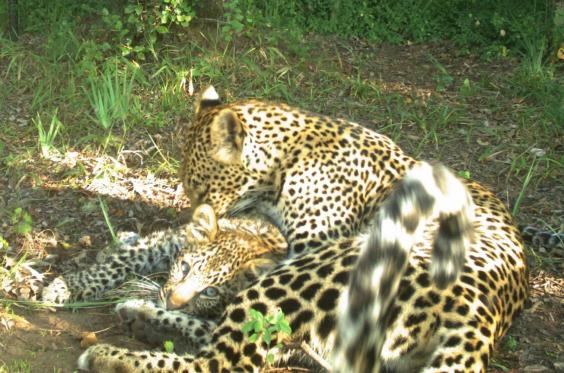 The smallest of the big cats, they can be killed by lions, hyenas and other big predators, which they try to avoid by hunting at night and then carrying their kills high into the trees.
However, the researchers found the biggest threat to their population was humans.
Dr Samual Williams of Durham University, who led the study, said: "Illegal human activities like shooting, snaring and poisoning were the leading cause of death in the leopards we tracked.  
"This was often in response to a perception that leopards were a threat to livestock. 
"There is a clear need for conservation efforts to address these illegal killings. 
"Educating communities and supporting them to adopt non-lethal techniques to help protect their livestock is essential."
Camera traps were set up in 23 places in the mountains, running continuously between 2012 and 2016, to gauge the leopards' numbers. Eight leopards were also fitted with GPS collars. Six of them died during the study. 
The researchers found that the density of leopards fell by 44 per cent between 2012 and 2016 and 66 per cent since 2008, they reported in the journal Royal Society Open Science.
"If the current rate of decline is not slowed down then there will be no leopards left in the western Soutpansberg Mountains by 2020," Dr Williams said.
"This is especially alarming considering that in 2008 this area had one of the highest leopard population densities in Africa."
The trophy-hunting of leopards is currently banned in South Africa while more information about their numbers is collected.
The researchers urged the authorities not to allow hunting to resume in places like Soutpansberg because of the sharp decline in population.
"In areas such as this trophy-hunting is a luxury that cannot be afforded," Dr Williams said.
Animals in decline
Animals in decline
1/8 Harbour seal (Phoca vitulina)

Where: Orkney Islands. What: Between 2001-2006, numbers in Orkney declined by 40 per cent. Why: epidemics of the phocine distemper virus are thought to have caused major declines, but the killing of seals in the Moray Firth to protect salmon farms may have an impact.

Alamy

2/8 African lion (Panthera leo)

Where: Ghana. What: In Ghana's Mole National Park, lion numbers have declined by more than 90 per cent in 40 years. Why: local conflicts are thought to have contributed to the slaughter of lions and are a worrying example of the status of the animal in Western and Central Africa.

3/8 Leatherback turtle (Dermochelys coriacea)

Where: Indonesia, Malaysia, Mexico, Costa Rica. What: Numbers are down in both the Atlantic and Pacific. It declined by 95 per cent between 1989-2002 in Costa Rica. Why: mainly due to them being caught as bycatch, but they've also been affected by local developments.

Alamy

4/8 Wandering albatross (Diomedea exulans)

Where: South Atlantic. What: A rapid decline. One population, from Bird Island, South Georgia, declined by 50 per cent between 1972-2010, according to the British Antarctic Survey. Why: being caught in various commercial longline fisheries.

Alamy

5/8 Saiga Antelope (Saiga tatarica)

Where: Kazakhstan, Mongolia, Russia, Turkmenistan, Uzbekistan. What: fall in populations has been dramatic. In the early 1990s numbers were over a million, but are now estimated to be around 50,000. Why: the break up of the former USSR led to uncontrolled hunting. Increased rural poverty means the species is hunted for its meat

6/8 Swordfish (Xiphias gladius)

Where: found worldwide in tropical, subtropical and temperate seas. Why: at risk from overfishing and as a target in recreational fishing. A significant number of swordfish are also caught by illegal driftnet fisheries in the Mediterranean

7/8 Argali Sheep (Ovis mammon)

Where: Central and Southern Asian mountains,usually at 3,000-5,000 metres altitude. Why: domesticated herds of sheep competing for grazing grounds. Over-hunting and poaching.

8/8 Humphead Wrasse (Cheilinus undulatus)

Where: the Indo-Pacific, from the Red Sea to South Africa and to the Tuamoto Islands (Polynesia), north to the Ryukyu Islands (south-west Japan), and south to New Caledonia. Why: Illegal, Unregulated and Unreported (IUU) fishing and trading of the species
"Large carnivores like leopards are hugely important to the ecosystem of an area and also carry significant economic and cultural importance. 
"Their loss would impoverish both the ecology of the area and human culture so it is vital that we understand the threats leopards face and act on this."
Reuse content