Wildlife experts have launched a study into how a strain of leprosy affects the UK's endangered red squirrels. 
Little is know about the leprosy bacteria, which causes swelling and hair loss to the ears, muzzle and feet and has spread among the species. 
The study aims to find out how the disease affects the animals, how it is passed between them and how conservationists can control the spread. 
Leprosy was first identified in the species in Scotland in 2014 but is believed to have existed among the squirrel population for centuries. 
Post-mortem examinations have also found it in the few spots in England where red squirrels can still be found such as on the Isle of Wight and Brownsea Island - an island owned by the National Trust in Poole Harbour, Dorset. 
The research project will focus on Brownsea Island where the disease is thought to have existed for a while but has only recently been detected. 
The island has an estimated population of 200 red squirrels.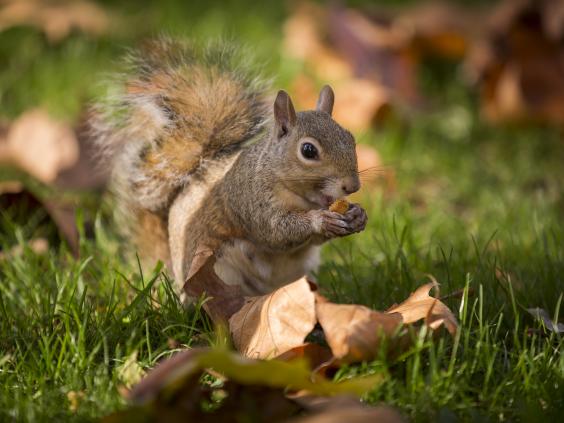 Researchers from the University of Edinburgh will work with the National Trust and the Dorset Wildlife Trust, which manages a large nature reserve on the island.
Humane traps will be used to capture the squirrels for health checks, taking blood and other clinical samples before returning the mammals to the wild.
The island location will enable the researchers to study the animals in a contained location.
The public will still have access to the island while the research is being carried out as the risk to humans from the disease is negligible.
Lead researcher Professor Anna Meredith, of the University of Edinburgh, said: "The aim of our study is to find out how and why red squirrels catch leprosy, and how it affects individuals and populations.
"This disease appears to have been in squirrel populations in Scotland and England's south coast for some time.
"With this research we aim to help conservationists better understand the disease in this iconic species."
Until recently, the biggest threat to the native red squirrel population has been from their grey cousins which were brought over from North America in the 19th century. 
Where not to visit if you love animals
Where not to visit if you love animals
1/9 Monkey shows

Chimpanzees are forced to perform demeaning tricks on leashes and are often subject to cruel training techniques. Animals who are confined to small, barren enclosures and forced to perform unsurprisingly show symptoms of stress and depression. Chimpanzees have been documented rocking back and forth, sucking their lips, salivating and swaying against enclosure perimeters in distress.

Getty Images

2/9 Swimming with dolphins

Some marine parks use bottlenose dolphins in performances and offer visitors the opportunity to swim with dolphins. Unfortunately, people are often unaware that these animals are captured in the wild and torn from their families or traded between different parks around the world.

Getty Images

3/9 Tiger shows

Tigers are forced to live in an unnatural and barren environment and have to endure interactions with a constant stream of tourists. Since tigers never lose their wild instincts, across the world they are reportedly drugged, mutilated and restrained in order to make them "safe" for the public. However, every year, incidents of tiger maulings are reported at this type of tourist attraction.

Getty Images

4/9 Donkey rides

Sunning on the beach is great for humans – we can take a quick dip or catch a bite to eat when we get too hot or hungry. But it's pure hell for donkeys who are confined to the beach and forced to cart children around on the hot sand. Some donkey-ride operators at beach resorts in the UK even keep the animals chained together at all times.

Getty Images

5/9 Marine parks

Some parks confine orcas to concrete tanks and force them to perform meaningless tricks for food - many die in captivity. Orcas are highly intelligent and social mammals who may suffer immensely, both physically and mentally, when they're held in captivity.

Getty Images

6/9 Canned hunting

Lions are confined to fenced areas so that they can easily be cornered, with no chance of escape. Most of them will have been bred in captivity and then taken from their mothers to be hand-reared by the cub-petting industry. When they get too big, they may be drugged before they are released into a "hunting" enclosure. Because these animals are usually kept in fenced enclosures (ranging in size from just a few square yards to thousands of acres), they never stand a chance of surviving.

Getty Images

7/9 Running of the Bulls

Every year, tourists travel to Pamplona for the Running of the Bulls. The bulls who are forced to slip and slide down the town's narrow cobblestone streets are chased straight into the bullring. They are then taunted, stabbed repeatedly and finally killed by the matador in front of a jeering crowd. The majority of Spaniards reject bullfighting, but tourists are keeping the cruel industry on its last legs.

Getty Images

8/9 Horse-drawn carriages

City streets are no place for horses. The animals toil in all weather extremes, suffering from respiratory distress from breathing in exhaust fumes as well as numerous hoof, leg and back problems from walking on pavement all day long. As easily spooked prey animals, horses subjected to the loud noises and unexpected sounds of city streets are likely to be involved in accidents, even deadly ones.

Getty Images

9/9 Zoos

The zoo community regards the animals it keeps as commodities, and animals are regularly bought, sold, borrowed and traded without any regard for established relationships. Zoos breed animals because the presence of babies draws visitors and boosts revenue, yet often, there's nowhere to put the offspring as they grow, and they are killed, as we recently saw with Marius the giraffe in Denmark. Some zoos have introduced evening events with loud music and alcohol which disrupt the incarcerated animals even further.

EPA
Not only do the larger grey squirrels out-compete them, they are also carriers of the squirrelpox virus - which is deadly to the red variety of the species. 
The red squirrel population has now fallen to 140,000 in the UK, with the majority found in Scotland.
Leprosy was once rife among human populations in Europe and Asia but is now treatment with antibiotics.  
According to the World Health Organisation, over 213,000 cases were reported around the globe in 2014 but it is no longer classified as a public health problem.
Additional reporting by PA
Reuse content