Almost two-thirds of the problems caused by climate change, some of which could have significant negative economic effects in the UK, are down to human-generated carbon emissions, new research has revealed.
The study, conducted by the Lawrence Berkeley National Laboratory in the US and the Potsdam Institute for Climate Impact Research in Germany, involved the analysis of 40 years of global climate data, in an effort to find out how many observable effects of climate change - such as melting glaciers, droughts and dwindling ocean ecosystems - could be attributed to man-made emissions, rather than natural causes.
Published in the high-profile Nature Climate Change journal, the study found that the blame for two-thirds of the impacts related to rising temperatures can be "confidently" pinned on humans.
Explaining the significance of the study, Gerrit Hansen from the Potsdam Institute said: "Previous analyses linking observed impacts to climate change have been generic in nature, addressing whether there is an influence of human-related warming on impacts globally, without an inference to individual impacts."
His study was different because it looked at the role of man-made emissions in individual issues caused by climate change, which included glacier retreat, droughts, coastal erosion, wildfires, falling food production and negative effects on human livelihoods and health.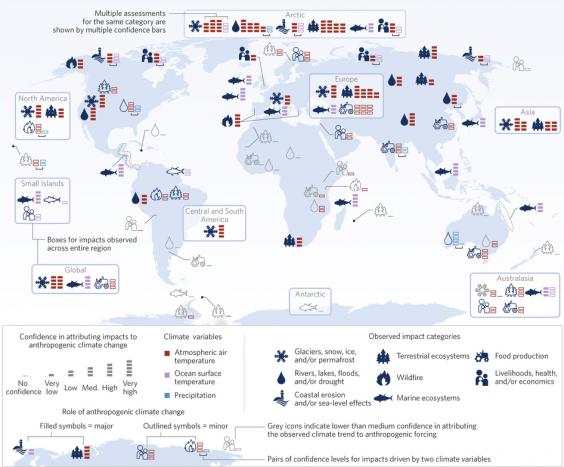 Humanity's contribution to these issues varies across the world, as illustrated by a map released with the study.
For example, it says the researchers only had 'low' confidence levels in attributing the decline of marine ecosystems off the coast of northern South America to man-made emissions, while further north in the Caribbean sea, they were 'very confident' that the same issue was being made worse by human activity.
Other issues that scientists were sure could be attributed to humans included wildfires in southern Europe, melting glaciers in North America, and droughts in central Asia.
They also said there was a 'medium' chance that significant threats to livelihoods, health and the economy posed by climate change in the UK are linked to human emissions.
Not only does the study give us a snapshot of how the planet is coping with human emissions, it could be vital to better predicting the future impacts of a warming global climate.
Wolfgang Cramer, from the Mediterranean Institute for Marine and Terrestrial Biodiversity in France, told EurekAlert: "It is crucial that we continue to develop and maintain observational efforts around the world in order to continue documenting how the world is responding to our greenhouse emissions, as well as to agreed reductions in those emissions."