A genet cat has been filmed riding the back of a rhino on a nature reserve in South Africa.
The genet, a cat-like animal with a long tail and spotted coat, was seen sitting on top of buffalo and rhinos in photographs last year but the act has now been caught on video for the first time.
In the surprising footage, the cat sits on the rhino's back and swats at creatures as they fly past.
The conservationists called the footage a discovery of a new and rare "mammal symbiotic relationship" and have speculated that the cat may have been using the larger animals as a vantage point for hunting its prey.
The rhino gets fed up with being the genet's taxi, it seems, and stampedes off as the cat shrieks and clings on.
It is unclear who wins the tussle as the rhino runs from view.
Wildlife ACT, which focuses on the protection of rhinos, lions, elephants, leopards, cheetahs, wild dogs, vultures and turtles, was astonished to see the cat's behaviour in photos and planned to capture the incident on film.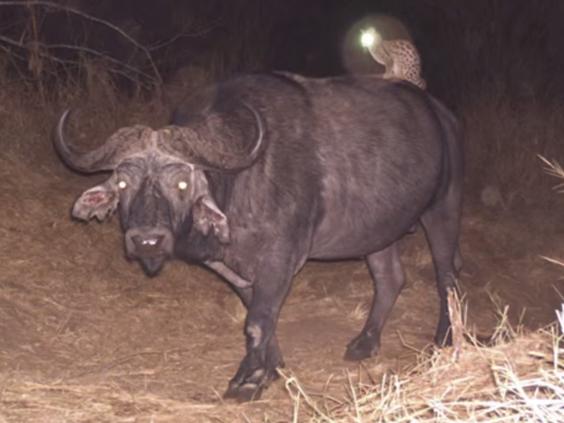 The conservationists uses camera traps as a non-invasive form of wildlife monitoring.
Critically endengered around the world, rhinos are solitary animals which feed at night and before dawn.
Poaching has driven rhinos to the edge of extinction in Africa. Its horn is revered for medicinal uses in China, Taiwan, Hong Kong, and Singapore.
The most incredible nature moments ever caught on camera
The most incredible nature moments ever caught on camera
1/6 Weasel riding woodpecker

This picture of a weasel riding a woodpecker is pretty incredible. This is what the amateur photographer who took it, Martin Le-May, has to say about it: "As I walked, I heard a distressed squawking and I saw that flash of green. It immediately occurred to me that the woodpecker was unnaturally hopping about like it was treading on a hot surface. Lots of wing flapping showing that gloriously yellow/white colour interspersed with the flash of red head feathers. Just after I switched from my binoculars to my camera the bird flew across me and slightly in my direction; suddenly it was obvious it had a small mammal on its back and this was a struggle for life"

All pictures by Martin Le-May

2/6 A bumblebee and a hummingbird impaled each other to death

"This bumblebee was impaled by this hummingbird. They were both killed instantly," Andy Katz, who spotted the clash, wrote, failing to mention that the two had previously been embroiled in a chase through the streets that saw 15 cars and two trucks wrecked and a shoot-out in a nearby park

Andykatz14

3/6 Meteor over Loch Ness

This stunning image of a shooting star is what award-winning photographs are made of – but the man behind the lens said capturing the sight was an "absolute fluke". John Alasdair Macdonald, a tour guide in the Scottish Highlands, caught the meteor on film, on the west shore of Loch Ness. Mr Macdonald had taken his camera outside to capture some photographs of the stars on what he described as a "beautiful night". But as he clicked away, the meteor soared right into his  sights

4/6 Pregnant Mascarene Petrel

A unique photograph has been taken of a bird with a visible egg showing after experts sent to study a critically endangered Mascarene Petrel on a remote Indian Ocean tropical island encountered an undeniably pregnant member of the species

Hadoram Shirihai

5/6 Black Sea Devil anglerfish

Researchers in the US have released what they believe to be the first video footage showing a bizarre-looking Black Sea Devil anglerfish in the wild. As anglerfish live in the deep sea, they are very rarely seen in their natural habitat, and fewer than half a dozen have ever been captured on film or video in the wild, according to experts at the Monterrey Bay Acquarium Research Institute (MBARI)

Monterey Bay Aquarium Research Institute

6/6 Pine marten

Dave Pearce's photograph is the first confirmed sighting of a wild English pine marten in a century

Shropshire Wildlife Trust
The horns are also valued in North Africa and the Middle East as ornamental dagger handles.
Genets usually live in trees and hunt insects, birds, frogs, and rodents, but there have been recordings of the cats killing prey as big as baby antelopes.
The rhino-riding cat, nicknamed Genet Jackson has been given its own Twitter account.
Reuse content